Excerpt from 1946 canning cookbook
What is Flat Sour?
Three vegetables, most generally canned, are tomatoes, corn and peas.
Classified by length of processing time, the difficult vegetables are corn, peas and lima beans. These three, with one or two others, such as beets and string beans, often develop "flat sour." This is experienced more frequently by those who can in glass than in tin because it is impossible to cool glass jars as quickly as tin cans.
THE MOST IMPORTANT STEPS IN ELIMINATING FLAT SOUR
Do not permit produce to become heated in sacks and boxes which have no means of ventilation. Sweating and overheating develop conditions favorable for the growth of this "flat sour" organism.
Being one of the "thermophilic," as its name signifies, it can stand a great deal of heat, and is seldom destroyed in processing. It usually develops at a temperature of 110 to 150 degrees Fahrenheit. There are also species of the "flat sour" which develop at lower temperatures.
Heat cans quickly, cool cans quickly, and little difficulty with this persistent organism will be encountered. Fresh products, canned immediately, quickly heated, processed the required length of time, and cooled quickly, will solve most "flat sour" difficulties.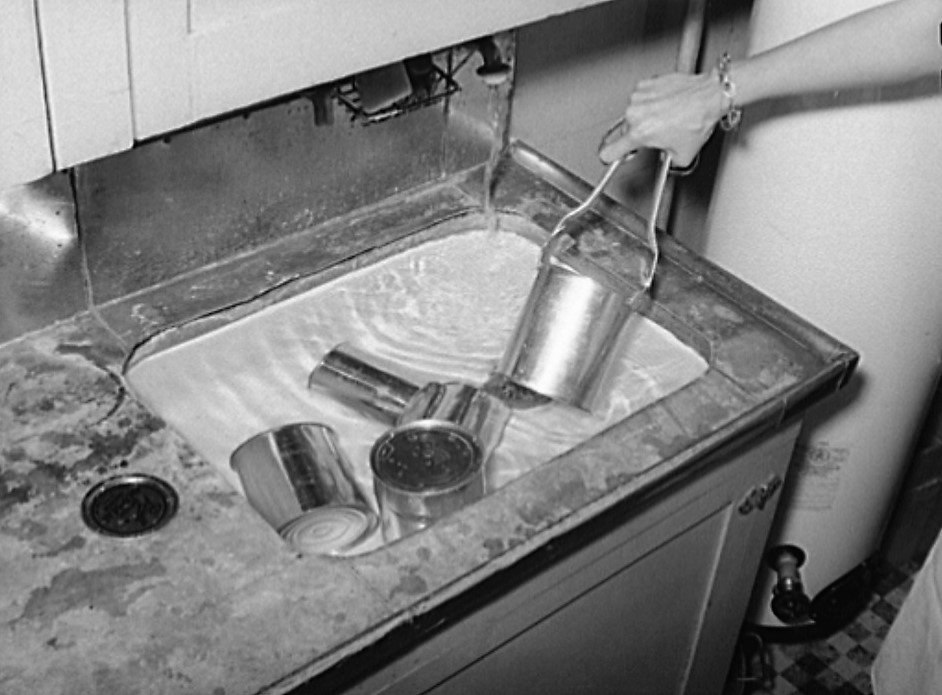 Putting sealed cans of vegetables which were cooked in a pressure cooker into a cold water bath for quickest cooling 1940 (Russell Lee, Library of Congress)
Lima Beans
Use Plain cans
The small, tender beans are best for canning. Wash, hull and sort. Put in kettle with just sufficient water to cover. Bring to a boil and pack hot into cans. Add 1 teaspoonful of salt, and, if desired, 1 teaspoonful of sugar to pint can. Seal with Home Can Sealer.
Process No. 2 Cans 50 minutes at 10 pounds pressure and No. 3 cans 60 minutes at 10 pounds pressure. Remove, cool quickly in cold water. Dry, label and store.
Peas
Use C. Enameled or Plain Cans
Shell and wash fresh, young peas. Discard hard and nearly ripe peas. Put into kettle, cover with water, bring to a boil. While hot, fill No. 2 cans to ½ inch from top. If can to too full, some of the peas will burst, clouding the liquor. Add 1 teaspoonful of salt and 1 teaspoonful of sugar to No. 2 can. Seal with Home Can Sealer.
Process No. 2 cans 40 minutes at 10 pounds pressure. Process large, overripe peas about 10 minutes longer. Cool quickly. Dry, label and store.
Constructed of cast aluminum with heavy duty gear train.

Flywheel handle is easier to turn.

Configured to seal No. 2 can.

Contact seller for other can sizes.

Made in the USA