Lying at the southern extremity of the Appalachian Mountains, Shelby County is richly endowed with abundant natural resources and unrivaled beauty in the profile of low mountains, many lakes and streams, and woodlands. The early white settlers held their lands by virtue of what was known as Squatter's Sovereignty. Most of the first settlers were from North Carolina, Tennessee, Kentucky and South Carolina.
Many early settlers had been soldiers under General Jackson and after the battle of Horseshoe Bend, many men were sent up the Cahawba River to search for the remaining "Red Sticks" and traveled through Shelby County.
Shelby County Alabama Pioneers Volume I 

reveals the relationships between the ACTONS, BAILEYS, CLOWER, CROWSON, LEES, NABORS, NELSON, ROBERTSON, and WILSON families of early Shelby County, AL. Notes, and sources are included. Genealogy reports with all supporting evidence, wills, and deeds when available are included.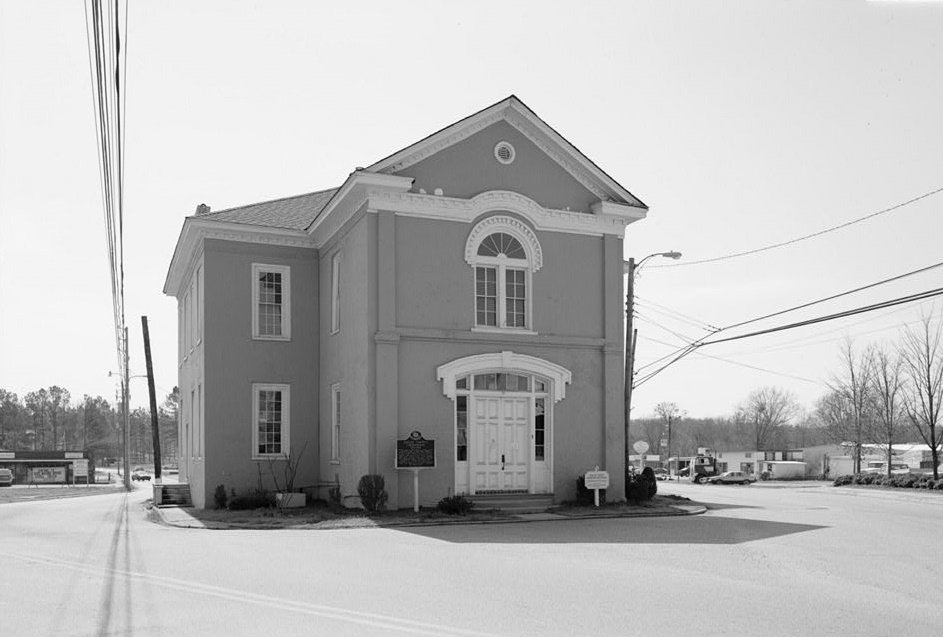 Old Shelby County Courthouse mainstreet Columbiana, Alabama (Library of  Congress)
Surnames found in Shelby County Alabama Pioneers Volume I include: ACTON, ALEXANDER, ALLEN, ALLGOOD, ASHMORE, AVERY, AYETTOTT, AYLETT, BAILEY, BAINS, BAKER, BALCH, BANDY, BARHAM, BARNETT, BARRONS, BASS, BEALER, BEARDEN, BELL, BEMAN, BENGE, BENTON, BEVILL, BILLINGSLEA, BISHOP, BLANTON, BLEDSOE, BLEVINS, BLOUNT, BOOTHE, BOYD, BOYLE, BRAGG, BRASHER, BRIELAND, BRINKER, BRATTON, BRITTON, BROWN, BRYAN, BULLOCK, BURNETT, BURROW, BUTLER, BYARS, BYNUM, BYRUM, CAHILL, CALDWELL, CARPENTER, CARTER, CASEY, CLAYTON, CLEVELAND, CLIETT, CLOWAR, CLOWER, COHEN, CORLEY, CRAIG, CRAWFORD, CROCKETT, CROSS, CROWSON, DANIEL, DAVIS, DEAN, DESHAZO, DICKENSON, DILBANE, DOLLAR, DUKE, ELLIOTT, ELLIS, EDGE, ESSMAN, ESTILL, FANNIN, FARLEY, FARR, FAVRE, FERRELL, FINNEY, FLOURNOY, FOUST, FRASER, FREEZE, FROST, FULTON, GAILEY, GARRETT, GIBSON, GLIDEWELL, GODDEN, GODWIN, GOODGAME, GOODSON, GREEN, GRIFFIN, GRIFFITH, GRIGGS, GRIMMETT, GULLAHORE, GULLEHORN, HAFNER, HAGIN, HAIL, HALE, HAMILTON, HANNAH, HANEY, HANSARD, HARDIN, HARKINS, HARLESS, HARRIS, HARRISON, HAYES, HAZARD, HEARNE, HESTER, HICKS, HILL, HODGES, HOLBROOK, HOLLINGSWORTH, HORTON, HOWARD, HUDSON, HUTCHINSON, JOHNSON, JONES, KIDD, KIERDON, KNOWLES, LALADY, LANIER, LAVINSKY, LAWLER, LEATHERWOOD, LEE, LEEPER, LEONARD, LINDSAY, LINDSEY, LOFTIN,LOONEY, LOVELADY, MAHAN, MARDIS, MARLOW, MARONEY, MASKE, MASON, MATHEWS, MATTHEWS, MAXWELL, MCCAIN, MCCLINTON, MCCRAFT, MCGOWAN, MCLANAHAN, MCLEOD, MCLEROY, MCMAHON, MCNAIR, MCNEAR, MCNEELY, MCNEER, MCPHERSON, MEREDITH, MERONEY, MERRELL, MILES, MILLER, MILLS, MILSTEAD, MITCHELL, MOORE, MORGAN, MORRIS, MOSTELLER, MOWDEY, MUNDINE, MURPHY, MURRY, MUSE, MYRICK, NABORS, NAISH, NEAL, NELSON, NEWMAN, NIVENS, NORTH, NUNNALLY, OLDHAM, ORR, OZLEY, PARKER, PARKS, PATTON, PAYNE, PEARSON, PERRY, PERSON, PETERS, PITNER, POINTER, POWERS, PRENTICE, QUINN, RANDALL, RASBERRY, REED, REEVES, REID, ROBERTS, ROBERTSON, ROGERS, ROY, SAWYER, SHACKELFORD, SHANK, SHAW, SMITH, STERRETT, STORRS, STREET, STRIPLING, TEAGUE, THOMPSON, TRUELL, TURNER, WALDROP, WALLACE, WARD, WARE, WATKINS, WATROUS, WATSON, WEEKS, WEST, WHARTON, WHITE, WIGGINS, WILLINGHAM, WILLSON, WILSON, WOOLEY, WOOLLEY, WRIGHT
Browse the FREE SAMPLE pages on Amazon (which includes a brief descendant outline in the first pages) to see if this is your family line.
Download and read Kindle books on your computer or smart phone with FREE APPS!
Use the Search/Find feature on your electronic device will assist you in finding names or places in this E-book.
Shelby County Alabama Pioneers Volume I