WOMAN'S CHRISTIAN TEMPERANCE UNION IN ALABAMA
A temperance movement is a social movement against the consumption of alcoholic beverages. Temperance movements started in America as early as the American Revolution when farmers formed associations to ban whiskey distilling. The movement spread to eight states, advocating temperance rather than abstinence and refraining from drink on the Sabbath.
Complete abstinence encouraged by 1830
The American Temperance Society was formed in 1826 and grew rapidly. By the 1830s, the complete abstinence of alcoholic beverages was being encouraged. Legal prohibition of all alcohol was the goal of many organizations during the Victorian era.
The Salvation Army was founded in London in 1864 with a heavy emphasis on both abstinence from alcohol and ministering to the working class.
National organization formed
The Woman's Christian Temperance Union, a National organization with State and local branches, originated in the great temperance crusade of 1874. A National Convention was called to meet in Cleveland, Ohio, November 17, of that year, at which sixteen states were represented and the organization formed. By 1916 every state and territory in the nation was organized.
Conditions of membership were to sign the total abstinence pledge and pay annually into the treasury of the local union a sum of not less than 50 cents. Part of the money was retained for local work, and a part was used for auxiliary offices, State, National and World's needs. The total paid membership in the United States in 1919 was about a half million.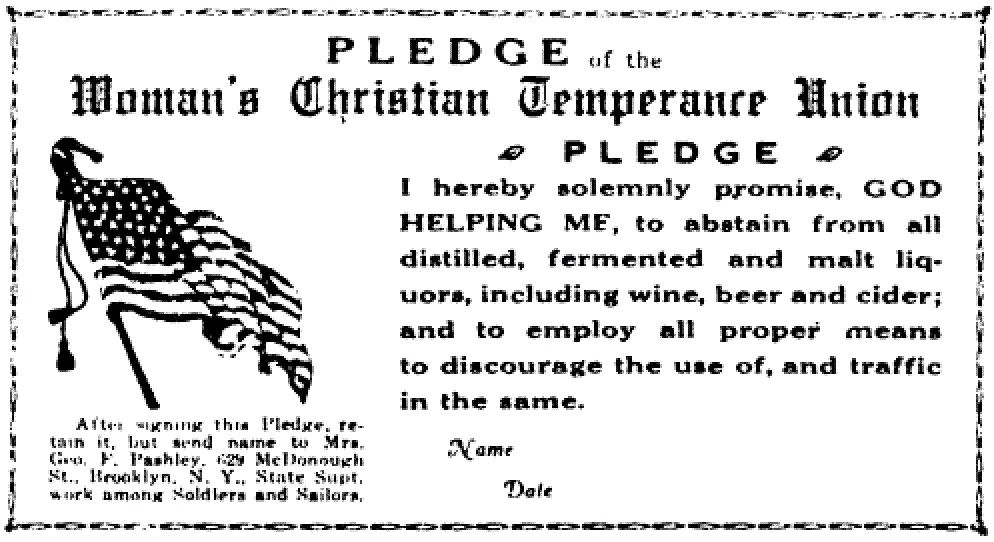 First officers and duties
The badge of the society was a bow of white ribbon. Mrs. Annie Wittenmyer was the first president of the National Society. Miss Frances E. Willard succeeded her in 1879 and held that position until her death in 1898 when Mrs. L. M. N. Stevens, of Maine, became the National President. She was succeeded by Miss Anna A. Gordon in 1914.
The work was carried on by six departments:
Organization: organizers, lecturers and evangelists; young woman's branch; Royal Temperance Legion branch; work among foreign speaking people; work among the colored; work among the Indians.
Prevention: health through temperance.
Educational: scientific temperance instruction; physical education; Sunday School; World's Missionary fund; presenting the cause to influential bodies; temperance and labor; parliamentary uses; cooperating with other societies; W. C. T. U. institutes; anti-narcotics; school saving banks; juvenile courts, industrial education and anti-child labor; medal contests.
Evangelistic: alms houses, unfermented wine at sacrament; the Bible in the Public Schools; proportionate and systematic giving; prison reform; work among railroad men; work among soldiers and sailors; work among lumbermen and miners; Sabbath observance; humane education; moral education and race betterment; mothers' meetings and white ribbon recruits; rescue work; purity in literature and art.
Social: social meetings, red letter days; flower mission and relief work; fairs and open air meetings. Legal: legislation; Christian citizenship; franchise; peace and international arbitration.
There was also a bureau of publicity, a bureau of uniform legislation, and a special committee on anti-polygamy amendment to the Federal Constitution.
Woman's Christian Temperance Union, Alabama
Under the influence of Miss Frances Willard, National President, local branches of the organization sprang up in Alabama. In 1880 a number of citizens of Gadsden and Etowah County petitioned the legislature for local option for the county, which aroused an interest in the subject of temperance. In May, 1882, a local union was organized with Mrs. L. C. Woodliff, president, and fourteen charter members.
In December, 1883, the women of Tuscaloosa, under the leadership of Mrs. Ellen Peter Bryce, Mrs. Reuben Searcy, and Miss Julia Tutwiler, organized a local union under the name of "Woman's Home Union," of which Mrs. Reuben Searcy was elected president. In January, 1884, a State meeting was held in Tuscaloosa at which were present, besides representatives of the unions from Selma, Gadsden, and Tuscaloosa, Mrs. Sallle Chapin of Charleston, S. C., and Miss Henrietta Moore, of Ohio, National Officers. At that convention the State Union was organized, with Mrs. L. C. Woodliff, president, Mrs. Ellen Peter Bryce, of Tuscaloosa, vice-president, Mrs. Charles Sibert, of Gadsden, secretory, and Miss Mattie Coleman, of Montgomery, treasurer, Miss Julia Tutwiler, press superintendent, and Miss Susie P. Martin, superintendent of literature.
President attended the Conventions
In October. 1884, Mrs. Woodliff, the president, attended the 11th National Convention of the W. C. T. U., which was held at St. Louis, Mo., and in November of that year the second annual Convention of the Alabama Union was held at Selma to which Mrs. Woodliff brought great inspiration in her report of the proceedings of the National Convention which she had recently attended.
The third annual State Convention was held at Birmingham in November, 1885, at which time Mrs. Bryce was president. Courage and love of humanity were so highly exemplified by this band of pious women that an account of the initial efforts made by the Tuscaloosa women prepared by Mrs. Ellen Peter Bryce, and preserved in manuscript form in the Department of Archives and History, typifies the efforts of women, at that period entirely unaccustomed to public activities.
Mrs. Bryce writes an article
While sitting in my husband's office reading the paper at our home in the Alabama Insane Hospital—I think it must have been in 1880—in looking over the legislative news I noticed so many acts to prohibit the sale of spirituous liquors within three miles, or five miles of some country church or school house. I believe there were a column of these notices. I asked him what should be done to rid our county of this awful curse.
The Doctor replied that if I would write an article for our town paper, calling a meeting of our citizens at the court house on some convenient evening, that he would help me. I immediately accepted his offer and he headed it, 'Strike While the Iron Is Hot.' I wrote the article and signed it, 'A Woman.' The night we selected turned out to be a cold, sleety night but we went and the court house was crowded with men from the city and county both. I think the time must have been ripe for such a meeting. There were men with their rain coats dripping wet standing in the aisle for want of room. I know that Dr. Searcy, Mr. Woolsey Van Hoose, Dr. Bryce and Dr. Wyman had exerted themselves to get up a crowd. Miss Julia Tutwiler and I were the only two women present.
At last one man rose and said, 'Who got up this meeting anyhow, and what was it for?' He said it in a gruff voice. Then someone asked someone else to take the chair and explain the object of the meeting. I don't remember who took the chair but the chairman said this meeting was in answer to an article in the weekly paper signed, 'A Woman.' I just trembled and Miss Tutwiler, who was sitting just behind me, patted me kindly on the shoulder and said in a low tone to me, 'It is all right, Mrs. Bryce, don't be nervous, it is all right.' There were several speeches made and discussions followed as to how to get rid of the six liquor saloons in our city.
And that was the first prohibition meeting ever held in Tuscaloosa. I know the meeting was good for a prohibition candidate for the legislature was elected soon after.
About that time we were invited by the citizens of Northport to hold a prohibition meeting over there in the Methodist church. Dr. Bryce, Dr. Searcy, Dr. Wyman, Miss Tutwiler and I rode down to the river in a big hospital ambulance. We took our supper and ate it as we rode along.
I remember the great big steamboat, the R. E. Lee, was at the wharf and the big waves it made shook our little canoe. It was awfully muddy and slippery going down that hill and Miss Tutwiler and I got our shoes bogged, up.Our bridge had been burned by the Federals. Just as we got in the middle of the river the lantern went out and Dr. Searcy was hunting for his last match and the light from the barroom of the steamboat was blinding our eyes out there in our little canoe in the middle of the dark river.
We felt then that the handsome steamboat with its gayly lighted barroom was a strong contrast to our little boat with the five prohibitionists struggling in the dark water. We compared one to the liquor traffic and the other to the prohibition party, feebly beating its way along. At any rate, like the prohibition cause, we got safely across. We found many of the citizens of Northport awaiting us at the landing, and one young man stepped up and said that a gentleman and lady who knew my husband and me had sent him down to invite us to supper. But it was then too late and the church was full of a waiting audience, so we had to decline with thanks this kind invitation. A good many speeches were made and I remember especially Col. Powell of Northport gave a fine address.
In December, 1883, the women of Tuscaloosa organized into a union and in January, 1884, we had a state meeting at Tuscaloosa and our union joined the State and National Woman's Christian Temperance Union. Mrs. Sallie Chapin of Charleston organized the union in the Presbyterian lecture room. Mrs. Reuben Searcy was made president and Mrs. John Martin, Miss Julia Tutwiler, myself and about eighty more joined beside the children in the Band of Hope. Later on we had Miss Frances E. Willard and other distinguished women to speak at the court house to crowded houses.
It took years to get rid of the saloons. At one time in our history, when we got rid of the saloons, we had the dispensary. It was a step better than the saloon, but we wanted prohibition which we finally got. At the next election, there was a fierce fight between prohibition and the' open saloon. But we women wrote an earnest plea to the men of our city not to allow whiskey to be brought back. This earnest cry of the women to the husbands, fathers, and brothers in Tuscaloosa was published in our city paper, we telephoned every woman in Tuscaloosa whom we could possibly reach and read the petition to them and got their permission to sign their names. Not a woman refused to let her name go on the petition!
The women met at that time at each other's homes and prayed earnestly for deliverance from the liquor traffic. The consequence was that our city voted for "no whiskey." Our prayers were heard by Heaven and our petition heeded by the men of our city, and from that day Tuscaloosa has been dry—both city and county.
Although there are a few blind tigers occasionally caught, mostly the negroes, we are happy to know that our beautiful University town is free from those pitfalls to ruin our young men. Many a mother's heart rejoices over this.
In the early days we had Frances Willard and other distinguished women to speak and later on Gov. Glenn, Dr. Denny, Richmond Hobson and others. Judge H. B. Foster, Mr. Luther Maxwell and others have always stood squarely up to the cause."
(Prepared by Mrs. Ellen Peter Bryce, and copy made from the original, in the hands of Mrs. Annie K. Weisel, President of the Woman's Christian Temperance Union, Birmingham, Ala., 1917.)
Annual Conventions, 1882-1916
The list which follows gives the number of session, place of meeting, inclusive dates, and bibliography of the Minutes.
Tuscaloosa, Jan. 22-24, 1884, pp. 14.
Selma, Nov. 13-14, 1884, pp. 28.
Montgomery, Nov. 17-18, 1886, pp. 80.
Mobile, Dec. 1-2, 1887, pp. 86.
Tuscaloosa, Apr. 16-17, 1890, pp. 64.
Selma, Dec. 1-3, 1893, pp. 74.
New Decatur, Jan. 7-9, 1903, pp. 68.
Anniston, Nov. 9-11, 1904. pp. 50.
Birmingham, Dec. 5-7, 1905, pp. 49.
Montgomery, Oct. 16-18, 1907, pp. 52.
Mobile, Nov. 17-19, 1908, pp. 51.
Birmingham, Nov. 17-18, 1909, pp. 63.
Guntersville, Oct. 18-20, 1910, pp. 60.
New Decatur, Oct. 17-20, 1911, pp. 62.
Opelika, Oct. 2-4, 1912, pp. 72.
Mobile, Sept. 29-Oct. 2, 1913, pp. 84.
Gadsden, Nov. 3-5. 1914, pp. 63.
Birmingham, Oct. 26-28, 1915, pp. 60.
Huntsville, Oct. 10-12, 1916, pp. 39.
Early Presidents.—
Mrs. L. C. Woodliff, 1884;
Mrs. Ellen P. Bryce. 1885-1887;
Mrs. M. L. Stratford, 1888-1889;
Mrs. J. Morgan Smith, 1890;
Mrs. Mattie L. Spencer, 1891-1904;
Mrs. Marv T. Jeffries, 1905-1907;
Mrs. C. M. Mullan, 1906;
Mrs. J. B. Chatfield. 19081911;
Mrs. Annie K. Weisel, 1912-1916.
SOURCES
History of Alabama and dictionary of Alabama biography, Volume 2 By Thomas McAdory Owen, Marie Bankhead Owen
Wikipekia
Faith and Courage: 2nd edition -A Novel of Colonial America (Tapestry of Love Book 2): Book 2 in Tapestry of Love Series

In this

action-packed novel, George Willson witnesses the execution of King Charles II and is forced to leave the woman he loves to witch hunters in 17th century England as he flees to his sister, Mary, and her husband Ambrose Dixons home in Colonial American. Ridden with guilt over difficult decisions he made to survive, George Willson and the Dixon's embrace the Quaker faith which creates more problems for their survival in the New World.