Communication with the outside world was slow coming in Greensboro, Alabama1
Telegraph Lines
In 1869, the citizens of Greensboro donated a thousand dollars to induce the Western Union Telegraph Company to extend its line from Marion to this place. The first office was opened in Greensboro during that year. It was through the untiring efforts of Henry Beck, Al Stollenwerck and A. S. Jeffries that the line was brought here.
Twenty-four years after this, the citizens do not appear to have been so anxious for a telegraph line as formerly, for in 1893, the Postal Company humbly petitioned the Mayor and Council to allow it to enter the town and maintain an office,—which petition was granted, and the Postal opened for business in Greensboro in 1893.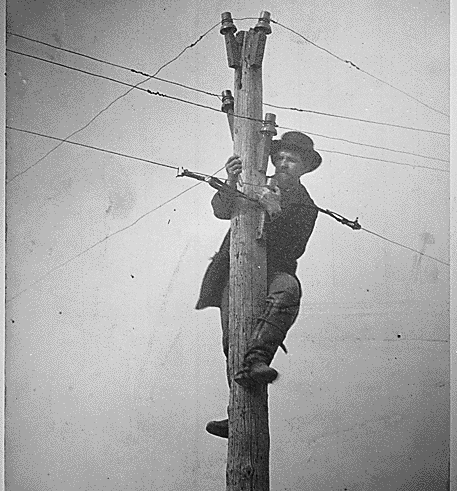 Telegraph worker from 1862 repairing line (Library of Congress)
Local Telephone
In 1895, T. B. Fitzpatrick was granted a franchise for a period of twenty-five years to establish and operate a telephone system in Greensboro. He at once went to work on the line, but died in September of that year, and his wife, Mrs. Lucy Fitzpatrick, carried the work to completion. On the 15th of April, 1896, the local telephone commenced business and was conducted by Mrs. Fitzpatrick until 1907, when she sold the property to the Southern Bell Company, who now operate it.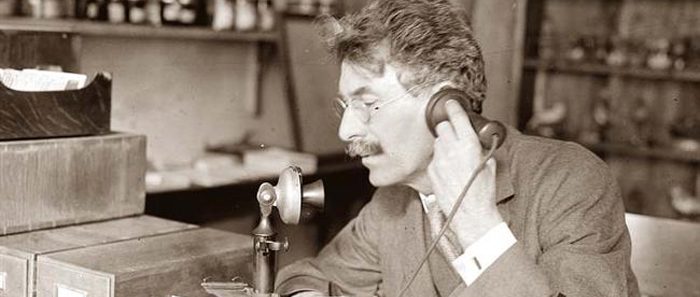 Typical Old telephone (Library of Congress)
Long Distance Telephone
The Southern Bell Telephone Company was granted the privilege of entering the town by the Mayor and Council in the year 1895. It did only a "long distance" business in Greensboro until 1907, when the company purchased the local telephone system from Mrs. Fitzpatrick, since which time it has had exclusive charge of both the long distance and the local telephone service.