Old newspapers are good sources of information about family history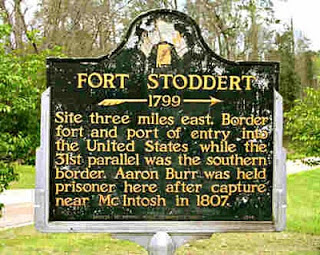 Did you know on May 23, 1811….
The first newspaper in Alabama, The Mobile Centinel, was published at Fort Stoddert.  You can read the 2nd edition of the Mobile Centinel published on May 30, 1811 in a digital format at The Alabama State Archives.
The Archives also has No. 16 published Jan. 29, 1812 in digital format.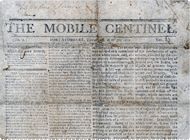 It was filled mainly with news from Spanish West Florida
The Paper was published by Samuel Miller and John B. Hood who traveled to Mobile to establish the newspaper. It sold for four dollars a year.  The second number had four pages of four columns each. It contained some foreign news of the Peninsular War, and from the House of Commons, but is filled principally with articles and news regarding Spanish West Florida, whose acquisition Poindexter was advocating in Congress, although he had prosecuted Burr in Mississippi for attempting almost the same thing.
First two papers within the State of Alabama
The first newspaper in Mississippi Territory had been "The Natchez Gazette," founded by Andrew Marschalk in 1802, but "The Centinel" was the first within the limits of what was to be Alabama. The Centinel was only published for two years. The Madison Gazetter was the 2nd newspaper published in Alabama and lasted longer.
 SOURCES
Encyclopedia of Library and Information Science: Volume 24 – Printers and Printing: Arabic Printing to Public Policy: Copyright, and Information Technology Allen Kent, Harold Lancour, Jay E. Daily CRC Press, Mar 1, 1978 –
Alabama State Archives
Start researching your family genealogy research in minutes! This Ebook has simple instructions on where to start. Download 

WHERE DO I START? Hints and Tips for Beginning Genealogists with On-line resources

 

t

o your computer immediately with the FREE APP below and begin your research today!