During the years leading to the turn of the century, the University of Alabama attracted consultants, students, instructors and tutors interested in the coal, and iron-making industry of Alabama. Many of the men included in this book expanded their careers to other states and became world-renowned scientists.
This book, UNIVERSITY OF ALABAMA OFFICERS 1831-1901 includes the names of the officers, instructors, commandants, assistants and tutors of the University of Alabama prior to 1901. They are listed alphabetically with available genealogical, biographical notes and sources of information on their ancestry.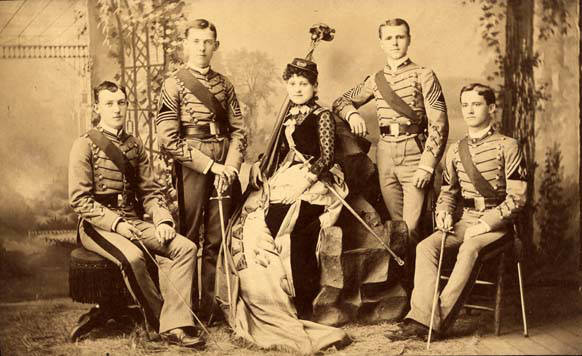 Cadet staff of the class of 1887 at the University of Alabama in Tuscaloosa (Alabama Department of Archives and History)
Surnames of the officers mentioned in this book include: ABBOTT, ALDRICH, ANDERSON, AVERY, BAILEY, BARNWELL, BARR, BATTLE, BAYLIES, BEESON, BENAGH, BLUE, BREWER, BROOKS, BROWNELL, BRUMBY, BURGETT, BURKE, CHISHOLM, CLARK, CLEMENTS, COLEMAN, CROOK, CUNNINGHAM, DANIEL, DELOFFRE, DICKSON, DONALDSON, DUNLAP, DYKES, EDGAR, ELEY, ELLIOTT, ELMORE, FIELDER, FITTS, FLEMMING, FORNEY, FOSTER, FRANCIS, FURMAN, GARRNETT, GIBBES, GIBSON, GILBERT, GORGAS, GOULD, GRAHAM, GRAVES, GREENE, GROTE, HARDAWAY, HARGROVE, HARRIS, HARRISON, HAYES, HAYNES, HENRY, HERRICK, HESTER, HITCHCOCK, HIXSON, HODGES, HORTON, HOUSER, HOWZE, HUDMON, HUSE, JEMISON, JOHNSON, JOHNSTON, JONES, KELLERMAN, LANGDON, LAPSLEY, LAWSON, LESQUTREUX, LEWIS, LIEBER, LITTLE, LUMSDEN, MCCALL, MCCALLEY, MCCONNELL, MCCORVEY, MCKENZIE, MALLETT, MANNING, MASSEY, MATHIS, MAYFIELD, MEYER, MOHR, MOORE, MORRISON, MORROW, MURFEE, MURFEE, NEWTON, OTEY, PALMER, PARKES, PEARSON, PERSONS, PETTUS, PETTWAY, PETTUS, PHILLIPS, PICKEL, POWELL, POYNOR, READ, RICHARDSON, RIES, SAFFOLD, SAYRE, SEARCY, SHERMAN, SIBERT, SIMPSON, SMITH, SOMERVILLE, SQUIRE, STICKNEY, STONE, STUBBS, TARRANT, TAYLOR, THORINGTON, THORNTON, TUOMEY, VAUGHAN, WALDEN, WEST, WHITING, WILLOUGHBY, WOODRUFF, WYMAN, YUILLE

Ebooks can be downloaded directly to your computer with Amazon's FREE READING APPS – where they can be easily searched for names.