RICKWOOD FIELD – THE OLDEST STANDING BASEBALL STADIUM IN THE NATION HAS A BIRTHDAY ON AUGUST 18TH
Thanks to A. H. "Rick" Woodward, Birmingham, Alabama has the oldest standing baseball stadium anywhere. Woodward, a Birmingham industrialist, bought the controlling interest in the city's professional baseball team, the Coal Barons. With the help of Connie Mack, he designed and built the "finest minor league ballpark ever" in the booming town of Birmingham.
Photo from The Birmingham News photo files at Birmingham Public Library
(Wayne Martin – 1985 article about Rickwood Field in The Birmingham News)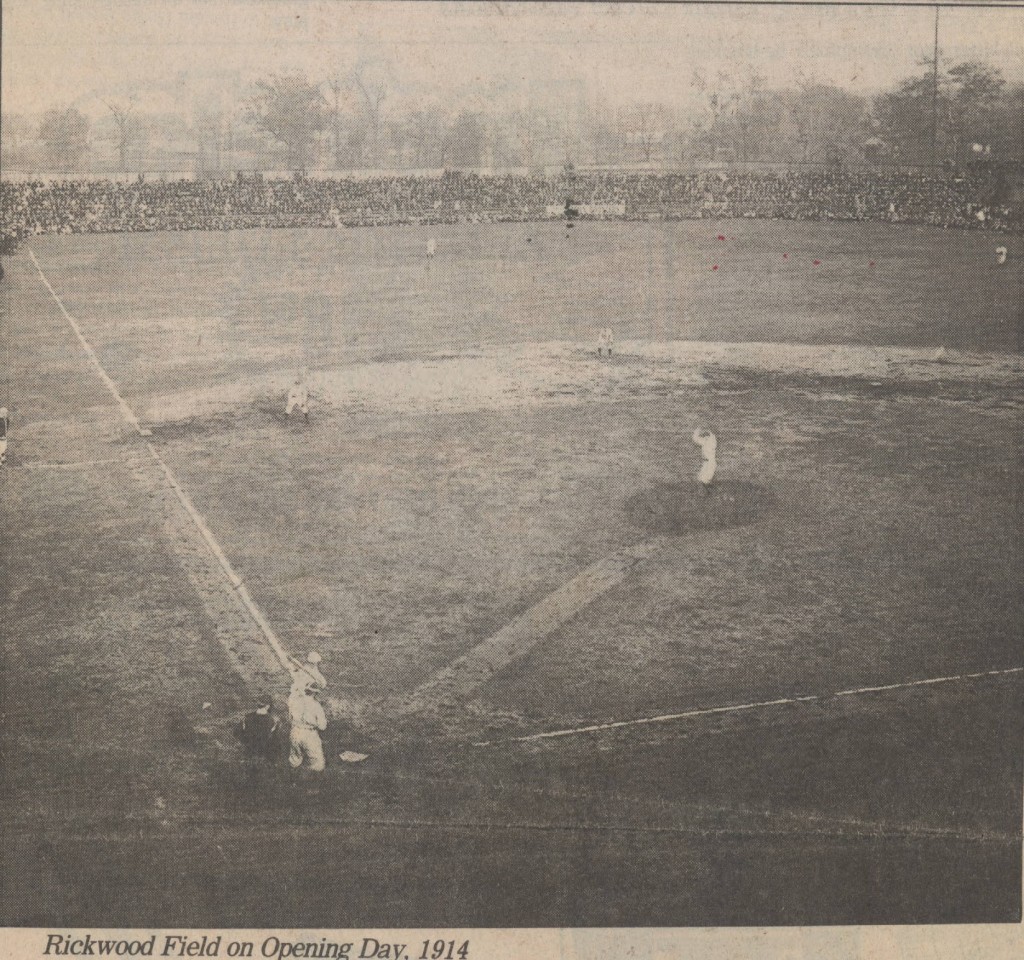 On opening day, August 18, 1910, the entire city of Birmingham was closed for business. The dedication game was against the Climbers of Montgomery.i "Montgomery scored in the top of the ninth to make it 2-1, then in the bottom of the inning, four Birmingham bunts made the Barons the winners, 3-2."ii
Opening Day Rickwood Field – 1912 – Park is in the foreground – Camera was the east end of the grandstand
(by O. V. Hunt – from William H. Brantley –  Samford University Library)
View of playing field looking west (Library of Congress)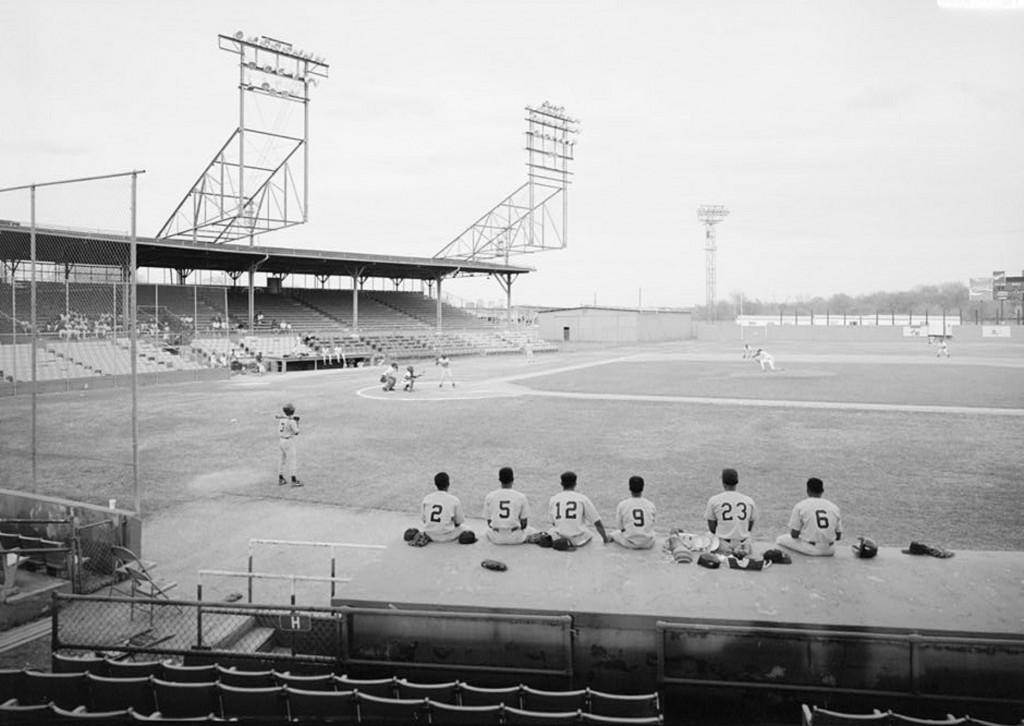 A little over 10,000 people turned out for the game and it was reported by The Birmingham News the Birmingham Electric streetcar company didn't have enough cars to carry the fans. Since that day, "the gates have opened to millions of fans."
Interior view of the dugout (Library of Congress)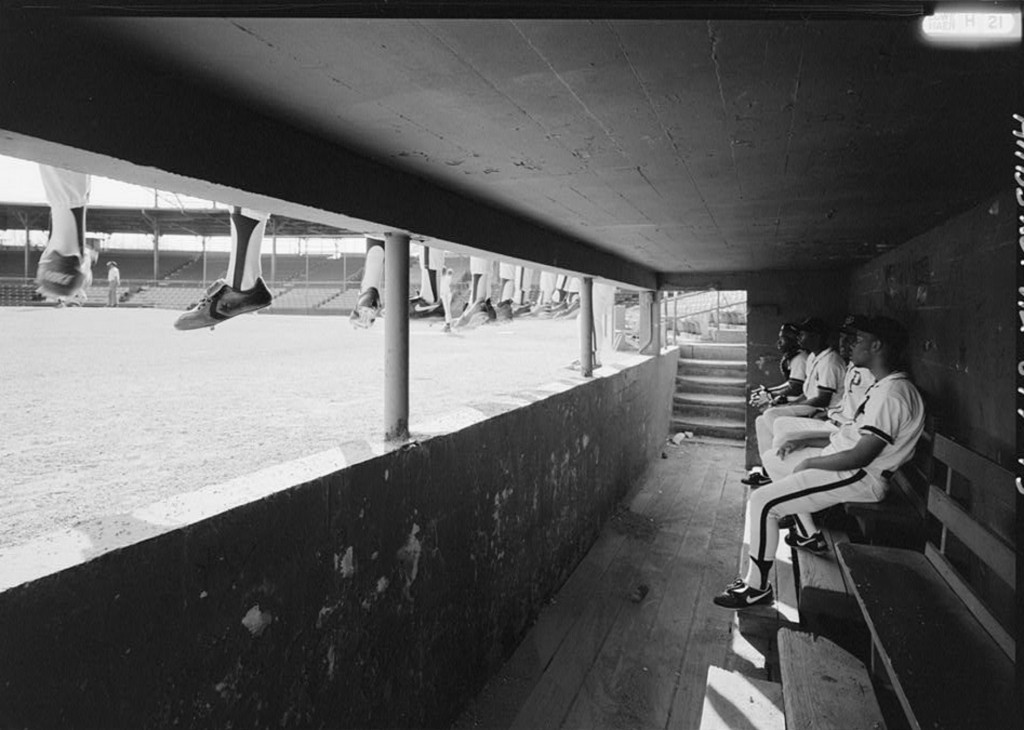 Rickwood Field also hosted college football games. From 1912 to 1927, the Alabama Crimson Tide played its Birmingham home dates in Rickwood.
Interior of Pressbox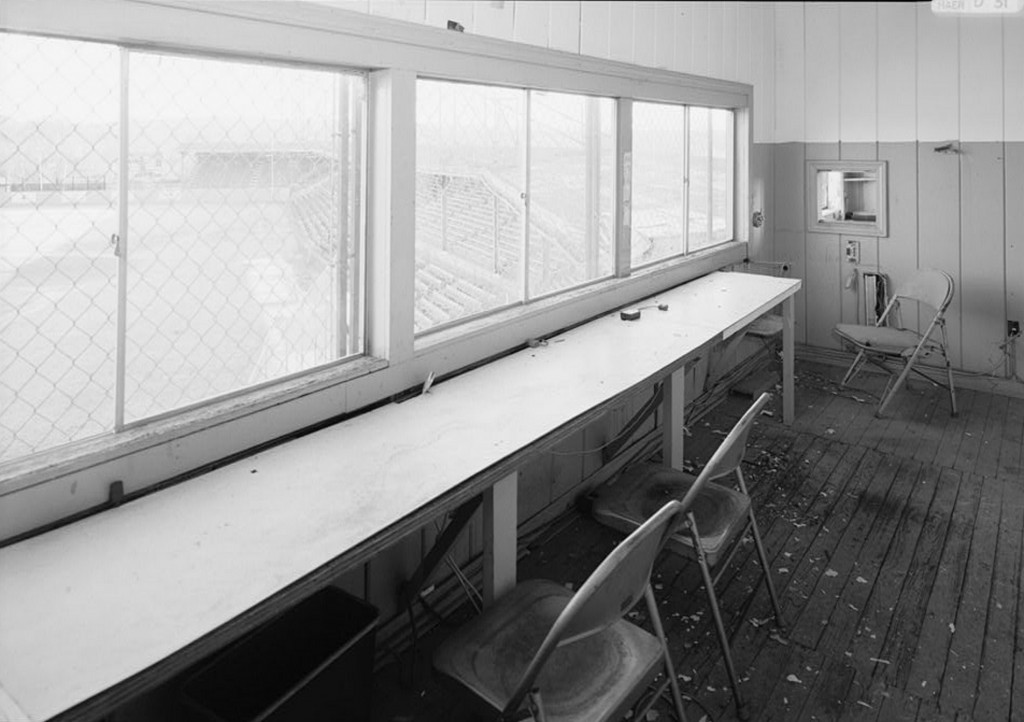 Rickwood was modeled after Forbes Field in Pittsburgh and in the early 1910s, it brought "standing-room-only crowds and future Hall of Famers to the field.
On Alternate weekends with the Barons, the Black Barons played and drew thousands who came to watch the Negro American League.
Birmingham Barons – Southern League of Champs 1906 news clipping (Birmingham Public Library)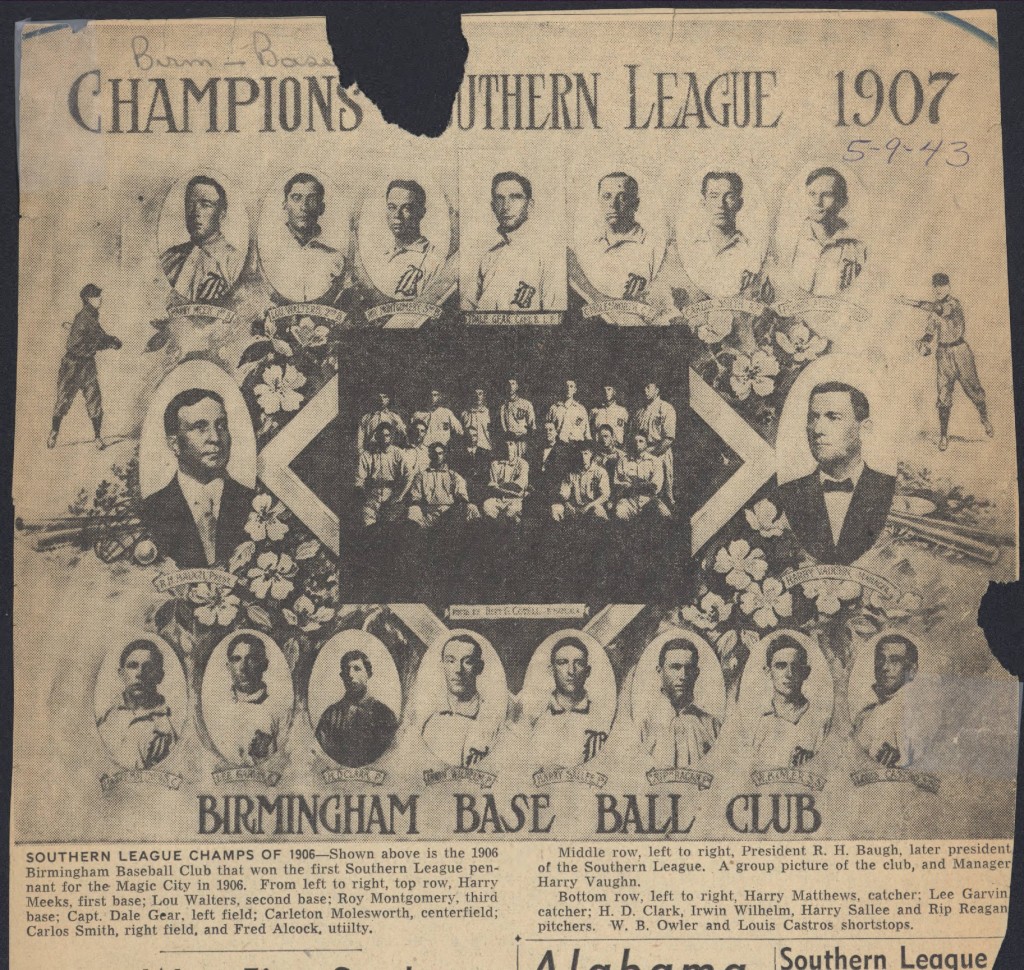 1946 Black Barons
Frequent visitors included Babe Ruth, Rogers Hornsby, and "Shoeless" Joe Jackson as well as George "Mule" Suttles, the all-time Negro American League home run record holder.
People wore coats and ties in 1952 – The Birmingham News photos at Birmingham Public Library
(Wayne Martin – 1985 article about Rickwood Field in The Birmingham News)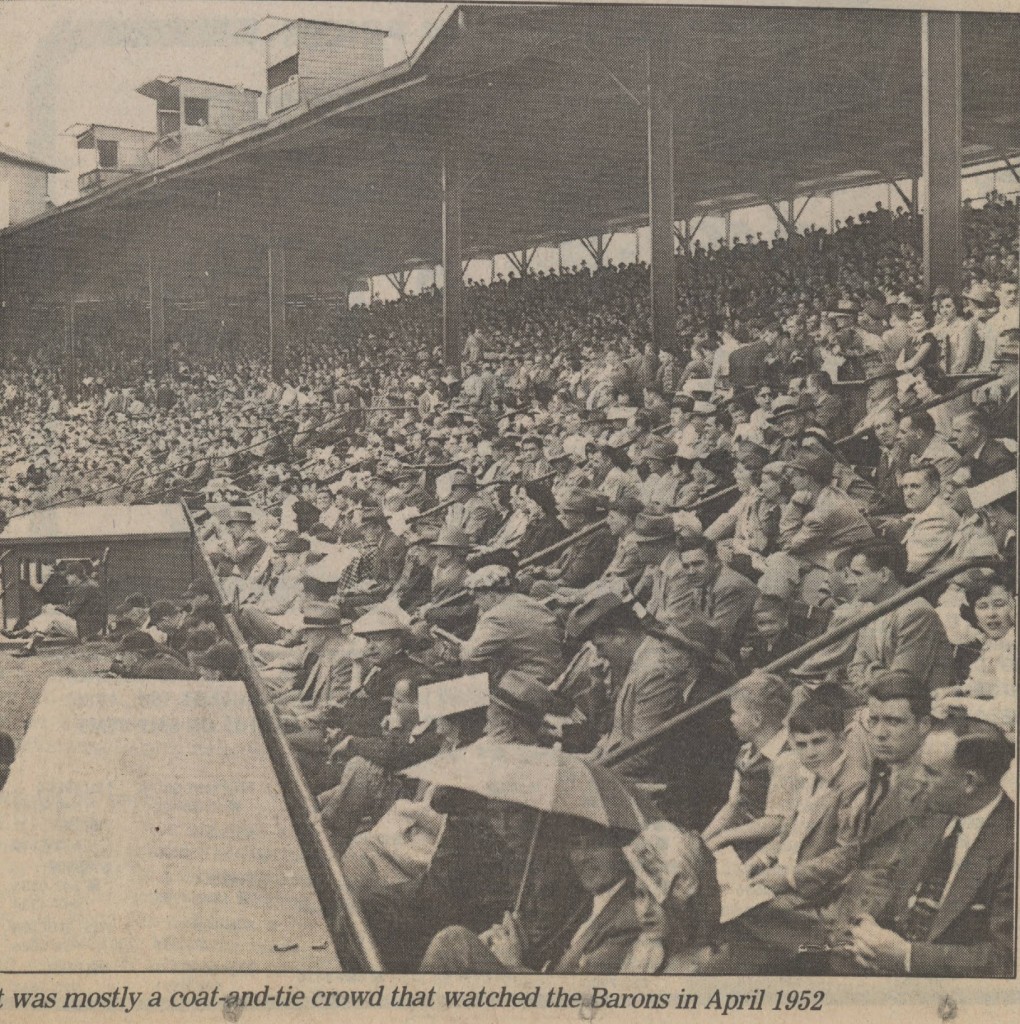 Since 1992, Rickwood Field has been under the care of the Friends of Rickwood who are restoring the facility to its former glory. The organization plans to create a working museum for visitors to see and experience baseball as it once was. The original 1910 blueprints are being used to create a place that brings back memories.
Rickwood field photograph by Carol Highsmith March 2010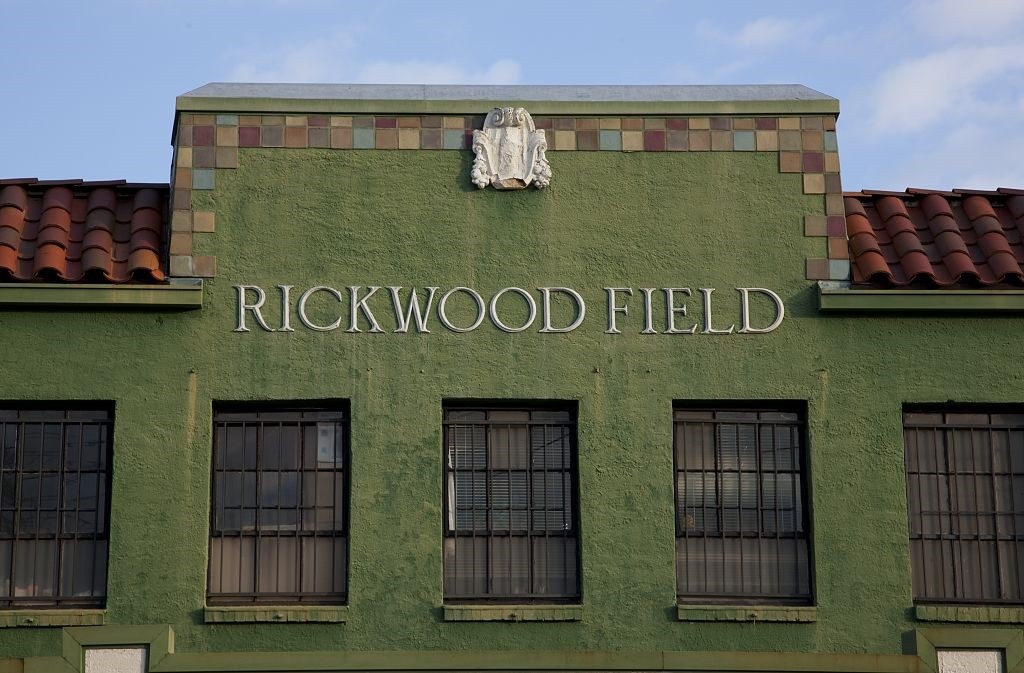 Here is a great overhead view of Rickwood Field done by: www.SkyBama.com
i Martin, Wayne – Park that Rick Woodward built celebrates its 75th, Birmingham News August 15, 1985
ii Martin, Wayne – Park that Rick Woodward built celebrates its 75th, Birmingham News August 15, 1985
Some stories include:
The true story of the first Mardi Gras in America and where it took place
The Mississippi Bubble Burst – how it affected the settlers
Did you know that many people devoted to the Crown settled in Alabama –
Sophia McGillivray- what she did when she was nine months pregnant
Alabama had its first Interstate in the early days of settlement