(This is the actual 1877 newspaper account of a murder that took place between two respected families in Selma, Alabama. What a tragedy over something so minor!)
THE SELMA TRAGEDY OF 1877
(from The Birmingham Iron Age July 4, 1877)
There are two families dwelling at Selma next door one to the other. The head of one of these families, Mr. J. A. Harral, of Harral & Clay, is well known as a merchant. The other Capt. Catesby Jones, was distinguished as one of the heroes of the naval battle of Hampton Roads as he was captain of Admiral Buchanan's flagship Virginia, which did so much there to destroy the Northern fleet.
Captain Catesby Jones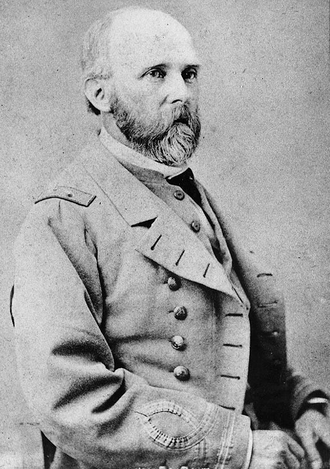 Captain Catesby Jones
Son of Jones playing in the yard of Mr. Harral
Last Monday a son of Capt. Jones was playing in the yard of Mr. Harral, with the latter's children. He slapped a little daughter of Mr. H., which caused a fight with the girl's brother. Mrs. Harral parted the boys, whereat young Jones was impudent to her. The families were quite friendly, and when Mrs. Jones learned of the misconduct of her son she was mortified. (The two ladies were reared near to each other in Dallas, Mrs. J. being a Miss Tarver, and Mrs. H. a Miss Strong).
Son was punished
Mrs. J. punished her son, and the next morning sent him over with a note of apology to Mrs. H., and charged him to apologise (sic) in words to her. (this line wrinkled unable to read) and gave him the note, and the latter took it into his mother. She was dressing, and asked her son to take it to his father. Mr. Harral, meantime, heard who the messenger was, and he went to the door, and was upbraiding him for his conduct when his son brought him Mrs. J.'s note. Without reading it, he told his son to fight the Jones lad, who had returned sharp words in reply to Mr. H.'s.
Boys began to fight
The boys began to fight fiercely, the Harral scion being the larger of the two. They were thus hotly engaged when a sister of Mrs. Jones came by; and seeing the affair urged Mr. H. to part the combatants; but he did not, and she entered the yard, and succeeded in doing so, and in taking her nephew home. Capt. Jones was there, and the facts were made known to him. He went over at once to Mr. H.'s and the latter answered the pull of the bell.
Confrontation escalated
Capt. J. asked in an earnest tone, what Mr. H. meant by his conduct; that his wife had sent a note of apology relative to the affair of the day before, and if that die not suffice. Mr. H. said he had not read the note till after the fight, or he would not have allowed it; but wished to know if Capt. J. came there to seek a difficulty. Capt. J. told him he did not; that he would not allow himself to be drawn into a difficulty with such a contemptible puppy as he (Mr. H.) was. Whereat, without more ado, Mr. Harrel drew a pistol, and fired on his visitor, inflicting a wound which caused death within 24 hours.
These are the facts as we get them from one to whom Mr. Harral told them, and are probably as favorable to Mr. H. as are likely to be admitted by the other side. The event has created much talk in Dallas where the parties are well known. – Hayneville Examiner.
Continued in another part of the same paper on July 4, 1877
The trial of Mr. J. A. Haral, in Selma, for the killing of Capt. Catesby Jones, was concluded late Wednesday. Judge Harolson, of the City Court of Selma, before whom was heard the application for bail, allowed bail to be given and fixed the sum at $15,000.
In May 29, 1878 Birmingham Iron Age
Followup on this story. The case of the State vs. J. A. Harrell was tried in the city court of Selma during this and a part of last week. He killed it will be remembered Capt. Catesby Jones, last year, and he was indicted for murder. The jury brought in a verdict of "not guilty."
Additional Notes found on internet not verified: J. A. Haral is Jared Alphonzo Harral. The incident described above happened on June 19, 1877, in Selma, Alabama. Harral lived on Tremont Street on the NW corner of the intersection with 2nd Street (the names have since changed). Jones lived on the same block.