LEGEND OF COOSA
During the 1930s, Great Depression era, many writers were employed to interview people around the United States, so their experiences and life history could be recorded. The program was named the U.S. Work Projects Administration, Federal Writers' Project and it gave employment to historians, teachers, writers, librarians, and other white-collar workers. The following story about Coosa is an unedited, transcribed story written around 1936.
The Indians were sent down by the Great Father from the clouds. They had with them fire, and two medicines, the pasa and the mike_hoyanidjo and among them were seven mikes. At first there were two camps of the Indians but one of the camps decided they would return to the place from whence they came. They kept secret their intentions and waited until night had fallen, then they said "We are ready" and departed into the sky.
In the other camp were the seven mikes, seeing the other Indians leave they said "Tomorrow we will depart as night now steals over the land". When tomorrow came one of their number was dead, they couldn't leave him in the world, or could they take him with them, so they must remain on earth.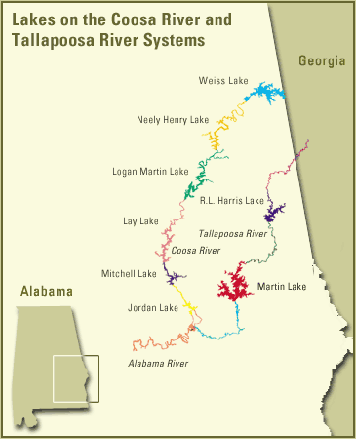 Let us travel
They staid in that place for some time and then said "Let us travel". They journeyed towards the north some miles and then they stopped and set up a walking_stick into the ground. It turned towards the south, and they said this must be the way the Great Spirit wants us to go. So they moved towards the south, then set the walking_stick up in the ground again.
This time it remained straight and upright. Here they said "We will rest, here we will remain."
So they settled there but their thoughts often turned to their friends, relatives and companions who remained in the place from whence they came.
The seven mikes who remained were to be the chiefs and kings of the land. This goodly country, hunting ground and well favored land they called Coosa. Their chiefs when installed were placed a buckskin which had been dressed by a virgin.
This legend was told me by Mrs. Mollie Henderson, who was reared near Childersburg, (Old Coosa).
ALABAMA FOOTPRINTS Confrontation: Lost & Forgotten Stories is a collection of lost and forgotten stories that reveals why and how the confrontation between the Native American population and settlers developed into the Creek-Indian War as well as stories of the bravery and heroism of participants from both sides.
Some stores include:
Tecumseh Causes Earthquake
Terrified Settlers Abandon Farms
Survivor Stories From Fort Mims Massacre
Hillabee Massacre
Threat of Starvation Men Turn To Mutiny
Red Eagle After The War