Touring Alabama in 1820, 18211
Written ca. 1820
by
Adam Hodgson
Part III
Arrived at Fort Dale
We arrived in the evening at a few palings which have dignified the place with the appellation of Fort Dale, where travellers are accommodated tolerably on a flourishing plantation. Our landlord was an intelligent man; and among his books, I saw the Bible, the Koran, a Hymn book, Nicholson's Encyclopedia, Sterne, Burns, Cowper, Celebs, Camilla, and the Acts of the Alabama Legislature, of which he was a member.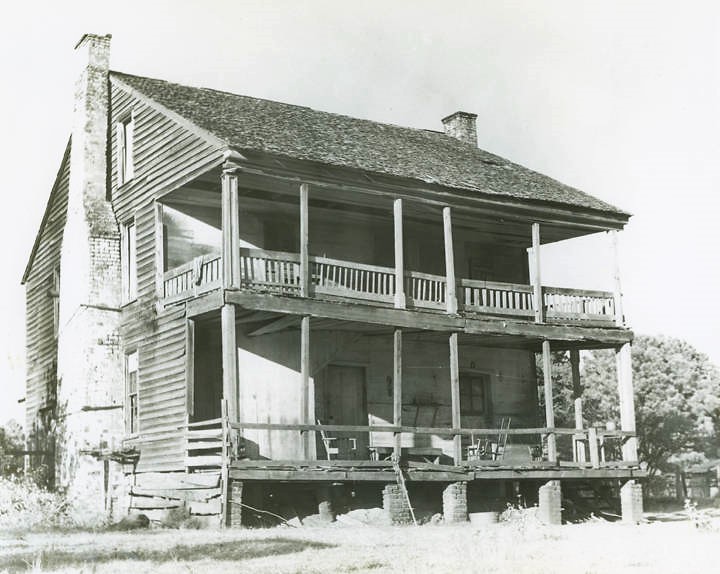 The Palings (Joseph Hartley House) on the north side of County Road 58 in Fort Dale, Butler Co. Alabama. ca, 1930 (Alabama Department of Archives and History)
The next morning we breakfasted at a retired house 20 miles distant, kept by one of three families who came out of Georgia two years since to settle and to protect each other. The husband of one of the party has since been shot by the Indians in the woods. He died in three hours after he was found weltering in his blood, and was attended by the woman who gave me the account. The wife of another of the party was murdered by the Indians a few days afterwards, when on a visit to some friends fifteen miles distant, where five women and four children were butchered and scalped; and the house of the narrator was soon afterwards burnt to the ground by the same enemy, provoked probably by some injury or insult offered by travellers through their nation, which they would retaliate on the Whites whenever they had an opportunity.
Reached Murder Creek
We passed in the afternoon by "Indian Path;" and about twilight arrived at Murder Creek, a deep glen, where we took up our abode for the night. The name sounded rather terrific, after the dismal stories we had heard in the day; but as the man and his wife, my servant, two travellers in a bed, and three in their blankets on the floor, all slept in the same room as myself, a single glance in any direction was sufficient, with the aid of the glimmering of our wood fire, to dispel any fearful visions of the night. This little creek and valley derive their name from the murder of 18 or 20 Whites by the Indians, fifteen years since. They were camping out when the Indians fell upon them; and the scene of the massacre is marked out by a black stump in the garden.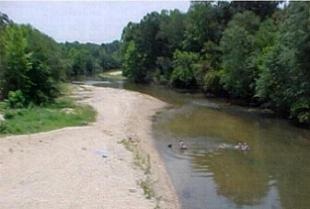 Murder Creek, Brewton, Alabama
Breakfasted in the middle of the forest
We left Murder Creek by moonlight, at four o'clock on the 1st inst.; and passing by Burnt Corn, where we quitted the usual road to Mobile, we took the nearer but more solitary route to Blakely. We breakfasted with a very pleasing family in the middle of the forest.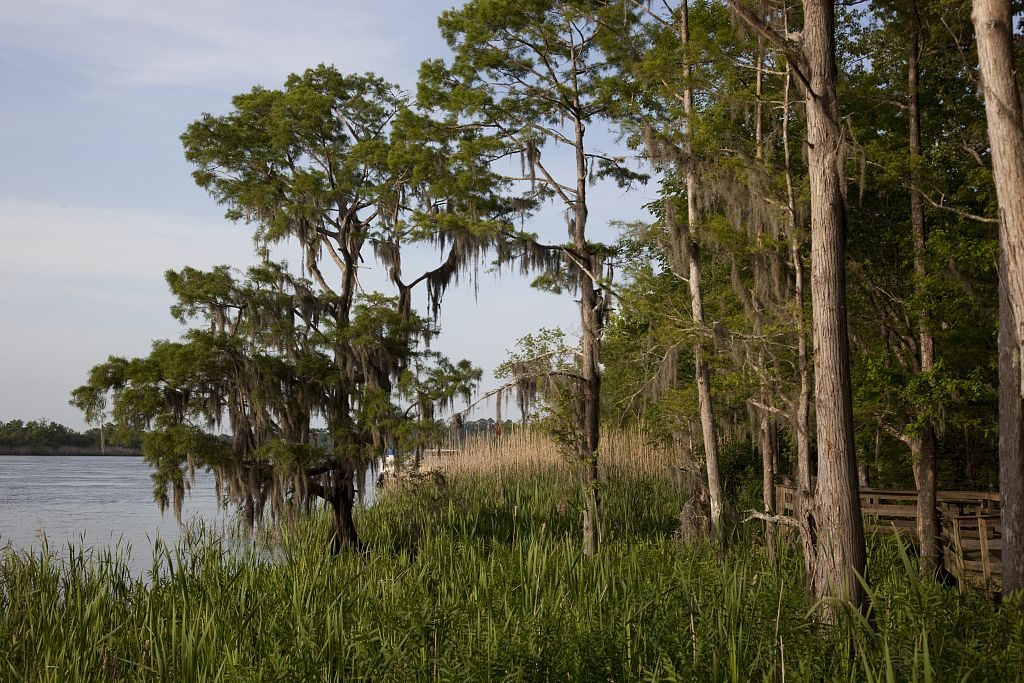 Blakely State Park 2010 (Carol Highsmith, Library of Congress)
They were the first whom I heard regret that they had quitted Georgia; they said that although they could do better here than in Georgia, the manners of their neighbours were rough and ill-suited to their taste. They stated, however, that things were improving; that the laws respecting the observance of the Sabbath were enforced; and that they hoped much from the liberal provision made by Government, in the sale of the public lands, for an extensive school in the centre of every township of six miles square. Their children were attending gratis (as is customary) the school in their township, which is already established, although the population is as yet very scanty. The master, who teaches Latin, and, I believe, French, has a salary of 700 dollars per annum, and the neighbours are providing him with assistant tutors.
This liberal provision for schools in all the newly settled countries does great credit to the American Government; and it is impossible to estimate too highly its probable ultimate effects. Our host and his family gave us a little provision for the night; as they told us that we must not expect to get "a bite" for ourselves or our horses in less than fifty miles, and we had already travelled thirteen.
Felt lonely and distant from home
Our road again lay through a most solitary pine barren on a high ridge. The only thing which attracted my attention during the morning was a finger-post of wood fastened to a tree and pointing down a grass path, and on which was written "To Pensacola."
I felt more lonely and more distant from home at that moment than at any time since I lost sight of my native shores.
Hurricane damage
In the afternoon we were surprised by one of the most sublimely dreadful spectacles I ever beheld. Thousands of large pine trees lay torn and shattered on each other, only one in four or five having been left standing, by a dreadful hurricane which occurred a fortnight before, and the ravages of which extended nearly twelve miles. Some had been thrown down with such prodigious violence, that their thick trunks were broken in two or three pieces by the fall; others were splintered from the top nearly to the bottom, while others were lying on each other four or five feet thick, with their branches intertwined as if they had been torn up by the roots in a body.
But it is in vain to attempt to describe the spectacle. I will only say, that the most dreadful tossing of the ocean never impressed me so strongly with the idea of uncontrollable power, as this magnificent scene of devastation.
Our road was so completely buried that we had to hunt our track at some distance in the woods. My servant observed, "What a many hundred miles people in England would go to see such a sight!" It is such hurricanes as these that Volney describes, as twisting off and laying level the largest trees within the limits of their range; and he very aptly compares their course through the forest to that of a reaper through a field of wheat.
Proceeded to a better place to rest
We had intended to stop at sunset, as in these latitudes there is little or no twilight; but as usual we could not persuade ourselves that the night would close upon us immediately, and the ground was so wet on the Tableland of the ridge, that we proceeded in order to discover a better place to rest for the night, till we found ourselves benighted among the swamps, our horses sinking and stumbling, and frequently passing through water two or three feet deep, out of which we could scarcely see our way.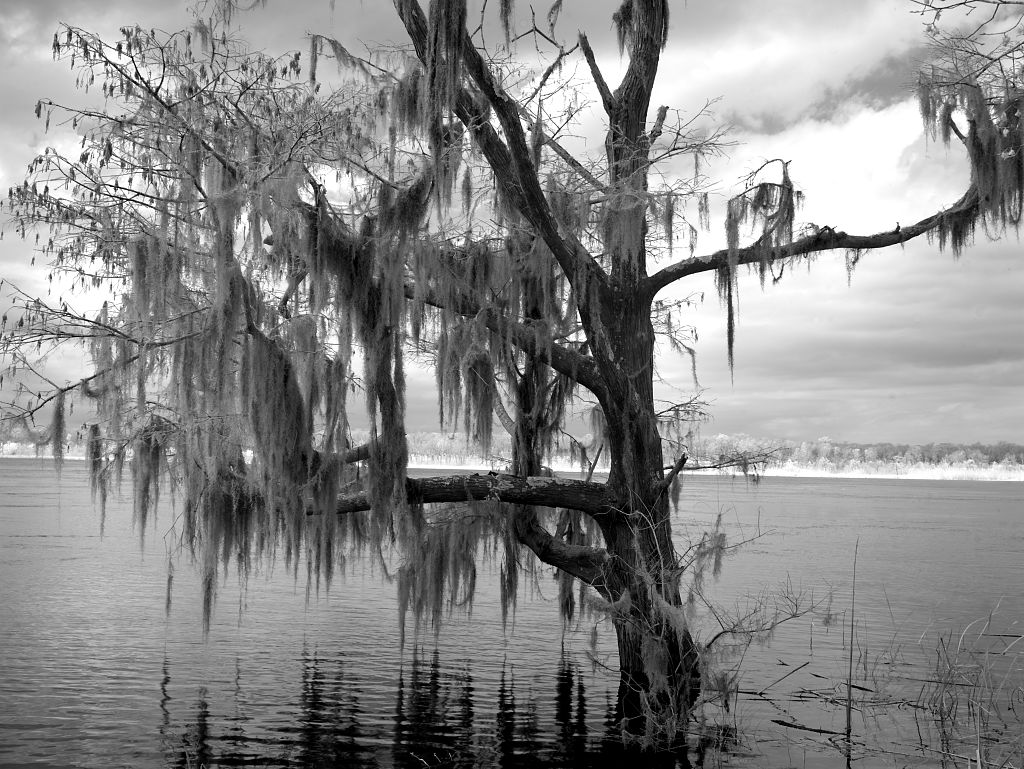 Blakeley 2010 Carol M. Highsmith photographer  (Library of Congress)
The damps of the night in this watery region, prevented our alighting to try to make a fire, till the moon should enable us to proceed; and indeed we did not think it prudent to dismount, on account of the alligators, which abound here: we had about sunset passed very near one.
Our ears were stunned with the frog concerts, which now and then arose, and depressed our spirits, by intimating that we were approaching another swamp, although it was too dark to see it. What different emotions the frog concerts in Africa excited in Mungo Park, who hailed them as symptoms of his approach to the water, for which he was panting.
This was the first time I had really felt in an awkward situation, and my servant's spirits began to fail him. He told me afterwards, that for two hours, the perspiration was dripping from his face, and his knees were shaking as if he was in an ague; the more so as he was afraid that our pound of bacon, which was in his saddle-bag, would allure the alligators to him.
Beautiful moving lights
We were suddenly surprised by a number of moving lights, which led us to suppose that some persons were scouring the forest; but we heard no noise: even when many of them appeared to be moving round us within a few yards distance, all was silent when we stopped our horses.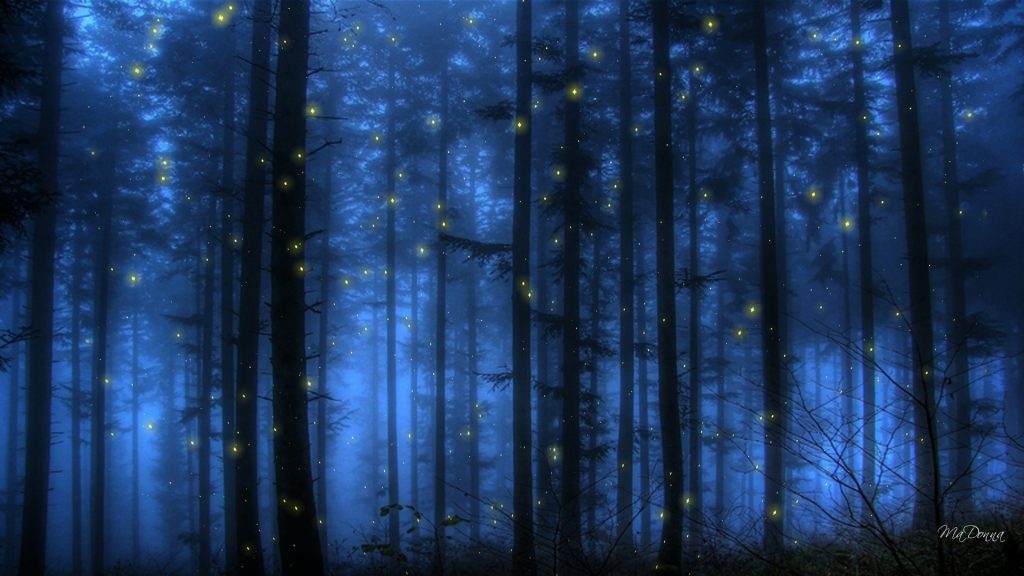 At last, it flashed across my mind that these moving lights must proceed from the beautiful fireflies we had often heard of, but which I had supposed were confined to the East. Even at such a moment, I was delighted with their beauty, evanescent as it was; for they soon disappeared.
Occasionally we were again deluded by a solitary firefly at a distance, which twinkled like a light from a cottage window, and to which we several times bent our steps, our spirits depressed by every successive disappointment.
Reached an Elevated spot
At last, just as the moon rose, we reached an elevated spot, where we lighted our fire, toasted our bacon, and after securing our horses by a little fence of saplings lay down on our blankets under the trees with no common satisfaction.
We started before four o'clock the next morning and breakfasted at a house about ten miles distant. The settlement was established about fifteen years since—the Indians, contrary to their usual custom, having permitted it: but although the owner had more than 2000 head of cattle grazing in the woods, he had neither milk nor butter to give us to our coffee.
This is an extreme case; but it is not uncommon, in this part of the country, to be unable to procure either milk or butter where eighteen or twenty cows are kept, solid animal food being much preferred. Humboldt, you recollect, in the account of his journey from the mountains of Parapara to the banks of the Apure, mentions arriving at a farm where he was told of herds of several thousand cows grazing in the steppes; and yet he asked in vain for a bowl of milk.
At the house where we breakfasted, we saw the skin of a bear drying in the sun: seven miles farther we passed a large panther, or tiger, as it is called, which had been lately killed, and stuffed. At the next house was the skin of a rattlesnake, which the woman who lived there had killed a few nights before.
A violent thunderstorm
At this retired house we were detained two or three hours, by a violent thunder-storm, with extremely heavy rain. As soon as the rain abated we set off again to Blakeley, which we were anxious to reach, as it was Saturday night.
Indeed, for the last three days we had travelled forty-five miles each day, in order to arrive before Sunday; but to our disappointment, we found there was no church or meeting there of any description: and we accordingly crossed the bay in the morning to go to church at this place, [Mobile,] where we were equally disappointed; for, to the disgrace of Protestant America, no place of worship is established here except a Catholic church, built by the French or Spanish.
1Remarks During a Journey Through North America in the Years 1819, 1820, and 1821, Adam Hodgson; Samuel Whiting, 1823 – Indians of North America
From the time of the discovery of America through the time of De Soto's daring expedition, restless, resolute, and adventurous men crossed oceans in pursuit of their destiny.Alabama Footprints – Exploration – is a collection of lost and forgotten stories about the people who discovered and initially settled in Alabama.

Stories include:

First Mardi Gras in America
The Mississippi Bubble Burst
Royalists settle in Alabama
Sophia McGillivray- A Remarkable Woman
The Federal Road – Alabama's First Interstate