A Tale of Two Churches
By
Amanda Gallatin
On a rural stretch of Russell County Highway 22, one can find two of the oldest and best preserved examples of Greek Revival architecture in Alabama. Constructed in the late 1850s by L. Scott Johnson, the Good Hope Baptist and Uchee Chapel Methodist churches were built in the old temple front style.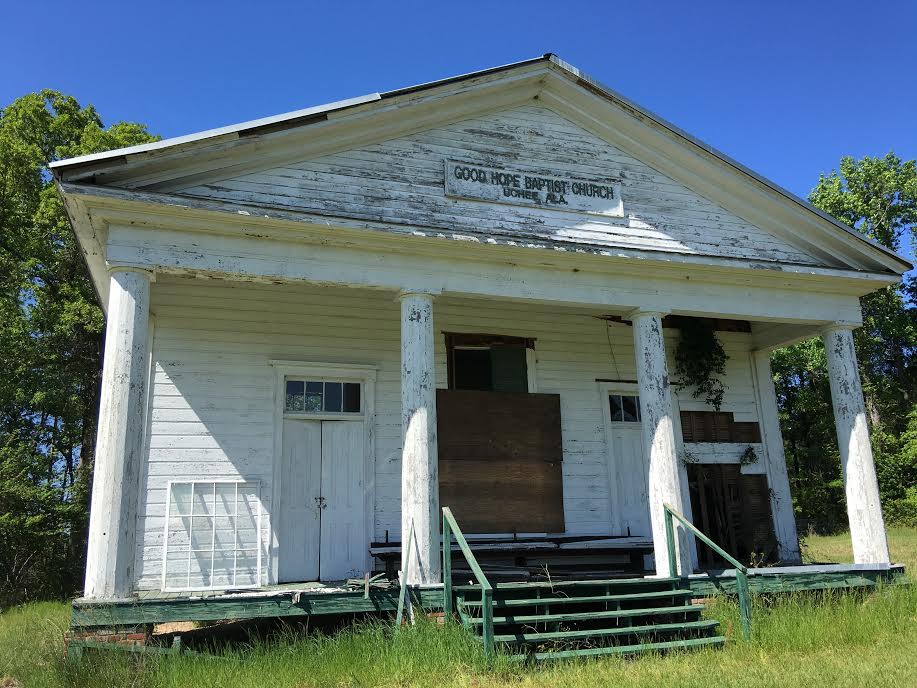 The facade of Good Hope Baptist still stands (Photograph copyrighted by Amanda Gallatin)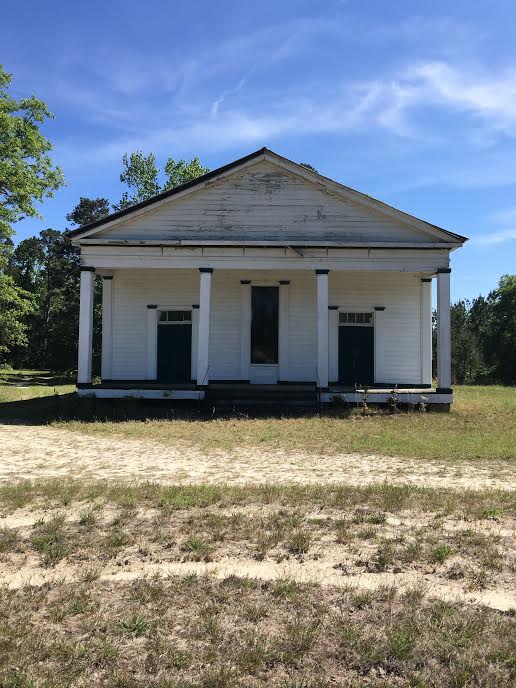 Uchee Chapel Methodist exhibits rural Greek Revival architecture in its purest form (Photograph copyrighted by Amanda Gallatin)
Men and women entered separately
This style of architecture was inspired by the facade of ancient Greek temples, and the resemblance is clear. On each church, four prominent but plain columns support a substantial gabled porch roof. Two entrances frame a single large window. Some speculate the two entrances allowed men and women to enter separately and sit on opposite sides of a central aisle.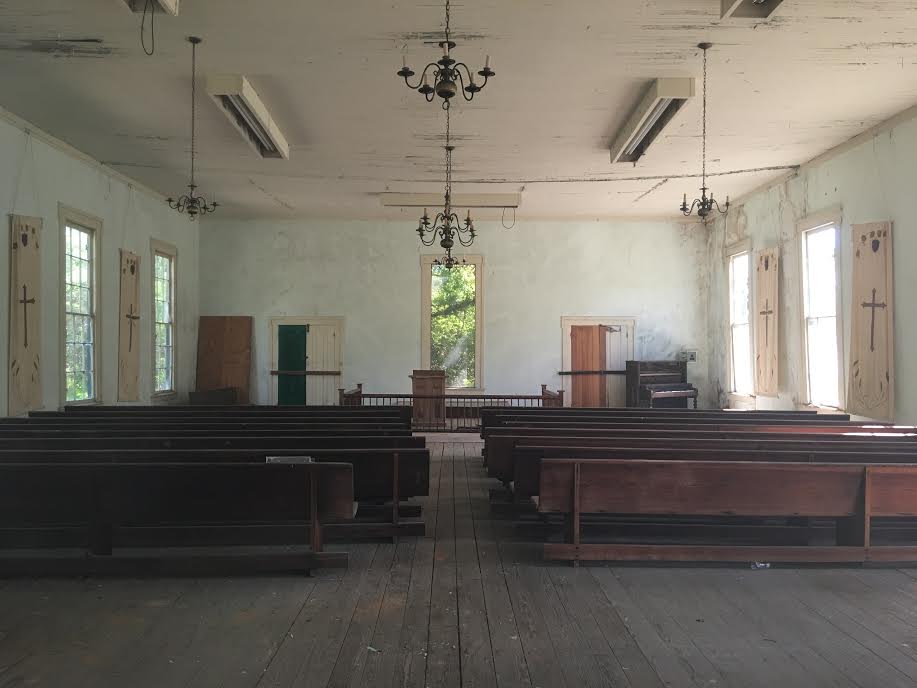 Photo taken from front entrance. This is not the original configuration; the pulpit and dais would have faced the rear entrance. The chandeliers and fluorescent lights were added by congregants in 1980. (Photograph copyrighted by Amanda Gallatin)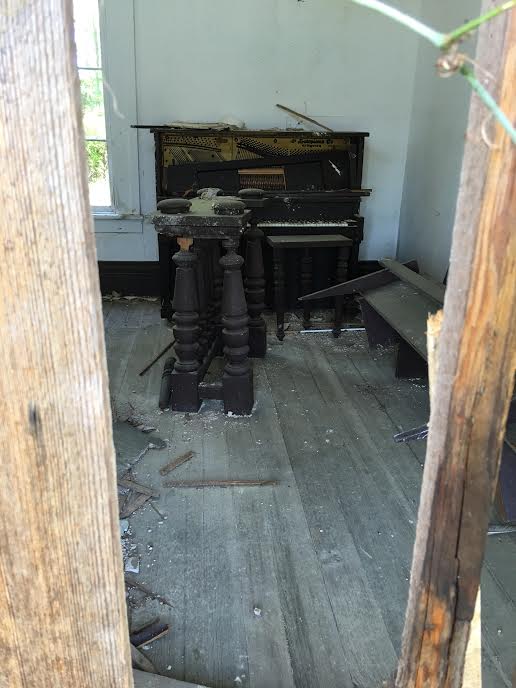 Antique piano inside the remains of Good Hope Baptist (Photograph copyrighted by Amanda Gallatin)
Seating was segregated
Seating was also segregated by race. The rear entrances mirrored the front and were used by black congregants. Unfortunately, the rear portion of Good Hope Baptist was destroyed by storm in the 1990s, but Uchee Chapel Methodist remains wholly intact.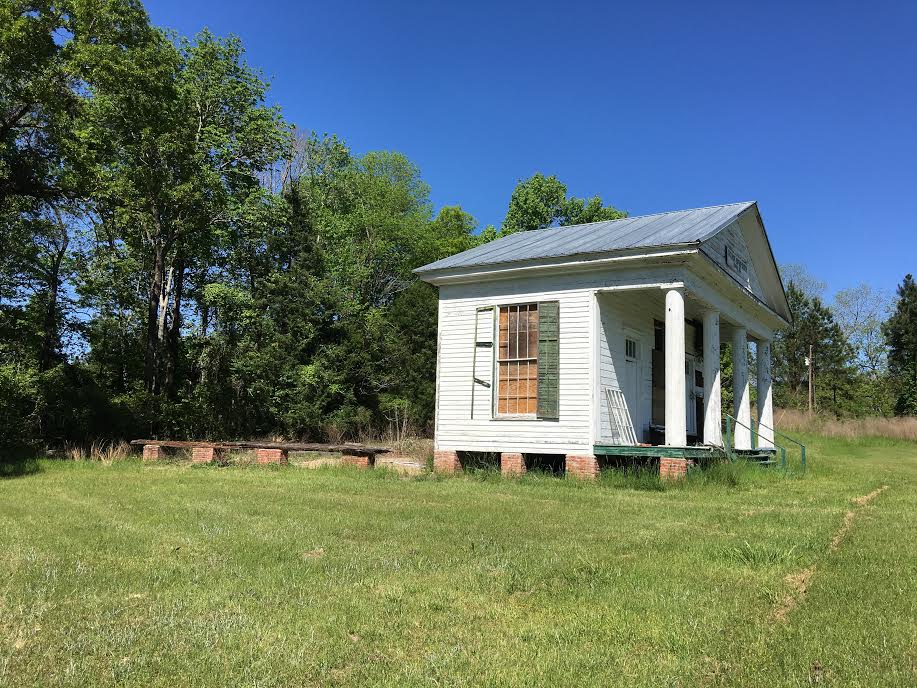 A storm destroyed the rear portion of Good Hope Baptist. Locals fortified the remaining structure. (Photograph copyrighted by Amanda Gallatin)
Uchee Chapel renovated
Church members renovated Uchee Chapel Methodist in the 1980s, lovingly preserving it as best they could. They added electric lighting and replaced the paned front window with plate glass to deter vandals. The pulpit, dais, and pews are still inside, though not in their original arrangement. Although no longer in use, this local treasure is guarded by community members who remain committed to its preservation. Uchee Chapel Methodist was added to the National Register of Historic places in 1997.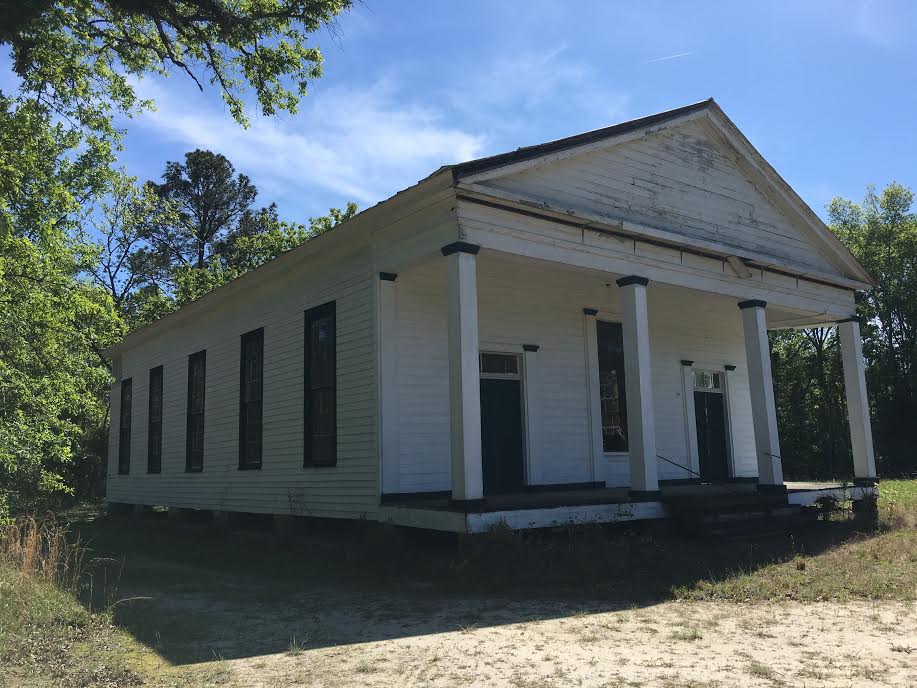 Thanks to dedicated community members, Uchee Chapel Methodist is in remarkable condition. (Photograph copyrighted by Amanda Gallatin)
Time has not been so kind to the nearby Good Hope Baptist. A storm destroyed most of the structure, though thankfully the magnificent façade was spared and subsequently reinforced by caring members of the community. Brick foundation pillars show the building's original footprint. It sits atop a gentle hill, an indication of its once prominent role in the settlement of Uchee. Records show church membership grew rapidly, and Good Hope eventually became the oldest continually active congregation in the county.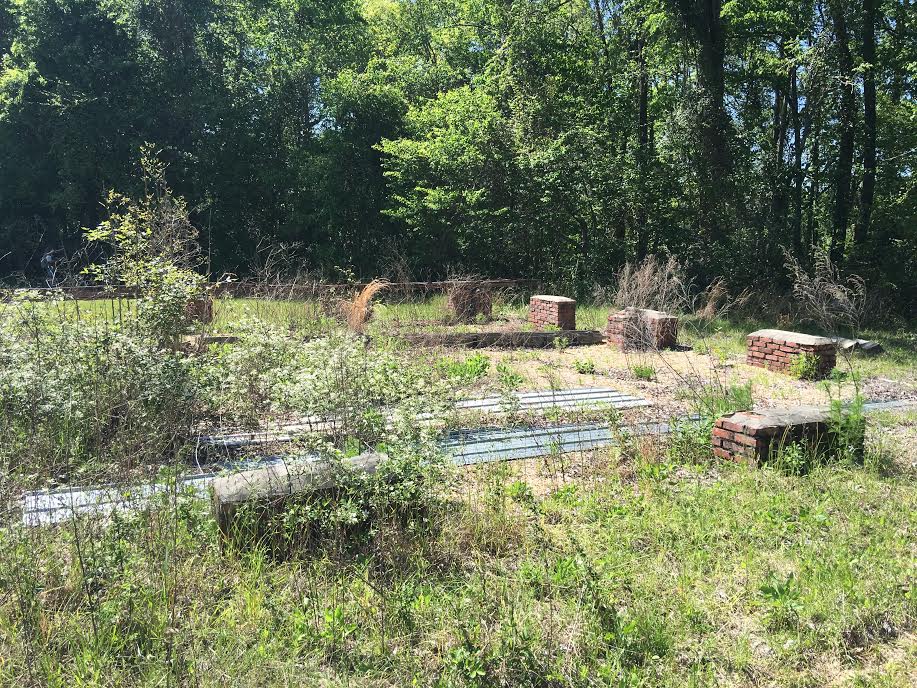 The original foundation of Good Hope Baptist is still visible. (Photograph copyrighted by Amanda Gallatin)
Both churches are situated on the Old Federal Road, which started as a narrow postal route and eventually became the main thoroughfare for white settlers to the Creek Indian territory. These churches were pillars of their frontier communities, and their significance grows with each passing decade.
Some stories include:
The true story of the first Mardi Gras in America and where it took place
The Mississippi Bubble Burst – how it affected the settlers
Did you know that many people devoted to the Crown settled in Alabama –
Sophia McGillivray- what she did when she was nine months pregnant
Alabama had its first Interstate in the early days of settlement