On July 10, 1820, Alabama's first governor, William Wyatt Bibb, died as a result of injuries received in a riding accident on his plantation. As specified in the 1819 constitution the president of the state senate automatically became the new governor.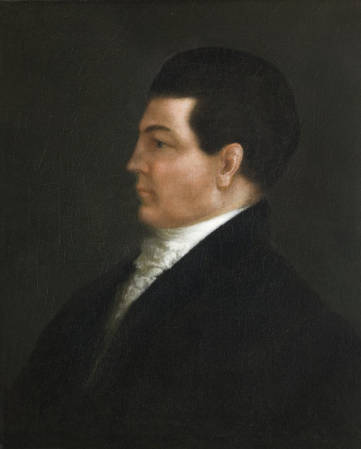 William Wyatt Bibb
The new governor was Bibb's younger brother, Thomas Bibb, who had represented Limestone County at the Constitutional Convention and in the state senate. Thomas did not stand for re-election, but later served again in the legislature and as director of the Huntsville Branch of the Bank of Alabama.
Captain William Bibb, an officer in the Revolutionary army and a member of the Virginia legislature, and Sally Wyatt Bibb. The family migrated to Georgia around 1784 with a large number of Virginians who accompanied General George Mathews, hero of the Battle of Brandywine. Most of the general's followers were veterans like himself, who with their families took advantage of the new nation's offer of land bounties for former soldiers. They established tobacco farms on the rich lands around the confluence of the Broad and Savannah Rivers in northeastern Georgia. The Bibbs are recorded as one of the earliest pioneer families in Elbert County.
While riding near his plantation in Autauga County, he was thrown from his horse, bruising his head and kidney. He spent much of early 1820 bedridden and in "as much pain . . . as ever fell to the lot of any man." The 1819 Constitution provided that a governor who was no longer able to serve was to be replaced by the president of the state senate, which meant that Bibb's brother, Thomas, became governor of Alabama in 1820. William Bibb died in July 1820 at the age of 39, leaving behind his wife and two children.
SOURCES
Alabama State Archives
Check out genealogy and novels by Donna R. Causey