In 1965 Judge Annie Lola Price, the first woman to serve on the high court of Alabama as Chief Court of Criminal Appeals, was quoted in a news story by News Staff Writer Jean Quillen of the Anniston Star, "Women are not full citizens of Alabama until they are allowed to sit as jurors."
Women were considered property
It may be hard to imagine now, but before 1965, only men served on juries in the State of Alabama.  Annie Lola Price was a Judge yet she, herself,  was forbidden by the Alabama State Law to sit as a juror. On Jan 12, 1951, Annie Lola Price of Cullman became the first woman to serve on the Alabama Court of Appeals when she is appointed to the court by Gov. Jim Folsom.  In 1952 Price was elected to the three-person court and served the state as an appeals judge until her death in 1972.
In 1819 when Alabama became a state, women were still considered property of their husbands, comparable to that of livestock.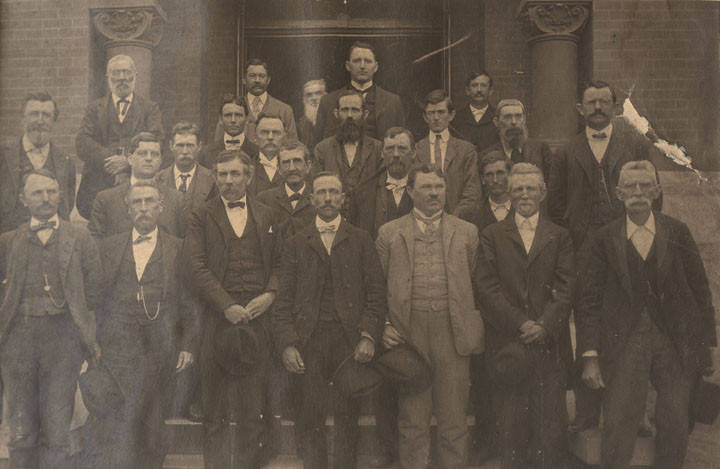 A Sumter County, Alabama Grand Jury, with lawyers, officers 1906 – The following men are pictured: Jack Roberts, T. F. Seale, Dr. M. B. Cameron, Judge P. B. Jarman, E. N. Kring, James R. Jackson, C. Hooks, F. I. Derby, J. P. Spratt, L.D. Norville, Tom Hunter, C. J. Brockway, William B. Henagan, W. B. Oliver, Woodie Beville, Joseph Wrenn, W. T. Atkins, W. L. Cockrell, R. L. McDonald, R. S. Mason,Sid War, Hugh Davis, T. P. Tate, and D. O. McKinley – (Q8980 Alabama Department of Archives and History)
The 19th Amendment to the U. S. Constitution which was ratified in 1920 gave women the right to vote and made them free to hold public office and to sit on federal juries.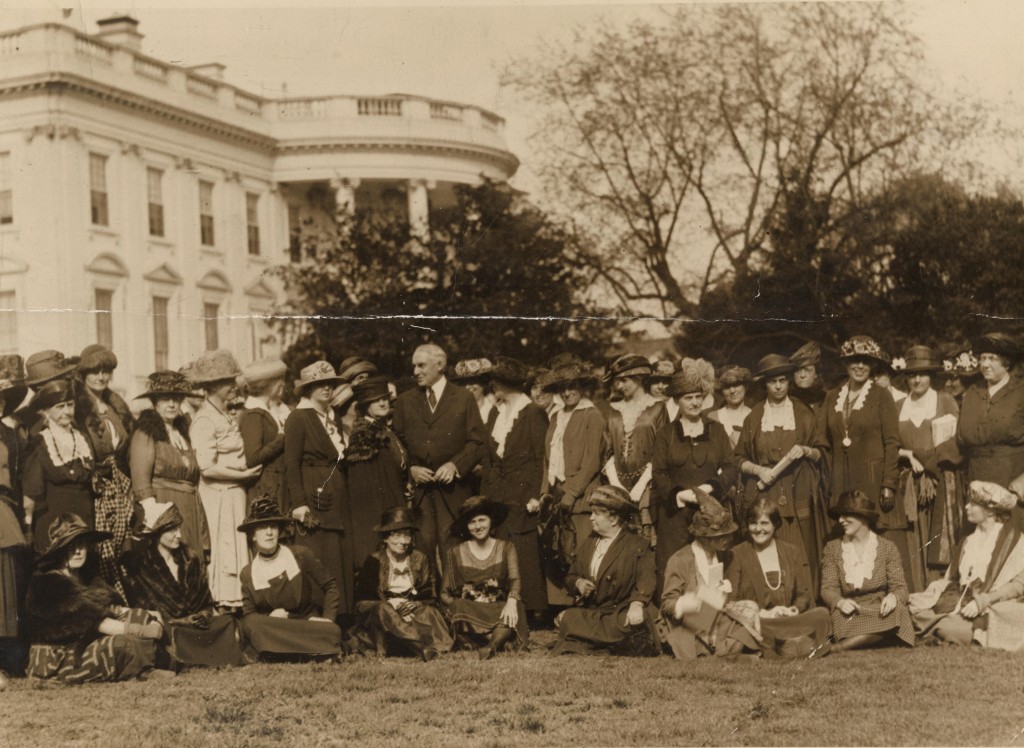 Women Ask President for Equal Rights Legislation. Fifty prominent members of the New National Woman's Party called at the White House today to ask the president's aid in passing an "Equal Rights Bill" in the next Congress. The bill would give women full equality in the government service, give married women citizenship in their own right and make women of the District of Columbia eligible to serve on juries, equal guardianship rights, and equal rights of inheritance and contract. Photograph shows suffragists with President Harding at the White House. (Underwood & Underwood Studios – Library of Congress 4/6/1921)
Alabama defeated the 19th Amendment
Alabama, however, was one of six states that voted against the 19th Amendment in a 1919 vote, along with Georgia, Mississippi, South Carolina, Virginia and Maryland. Six more states had unique situations such as not holding sessions until 1921.
Even though it was Alabama voted against ratification, the women in Alabama could legally vote because enough states had ratified the the 19th Amendment for it to become part of the Constitution. Decades later on September 8, 1953, Alabama finally ratified the 19th Amendment.
19th Amendment

"The right of citizens of the United States to vote shall not be denied or abridged by the United States or by any State on account of sex. Congress shall have power to enforce this article by appropriate legislation."

Still not allowed on juries
Alabama could vote, but by Alabama State law, they were not allowed to serve on juries in state court. It wasn't until November 18, 1957, that a woman was allowed to serve on a federal jury in Alabama.  Prior to 1957, since Alabama law prohibited women from jury duty in state courts federal court juries had to comply with the same qualifications as those fixed in the various states.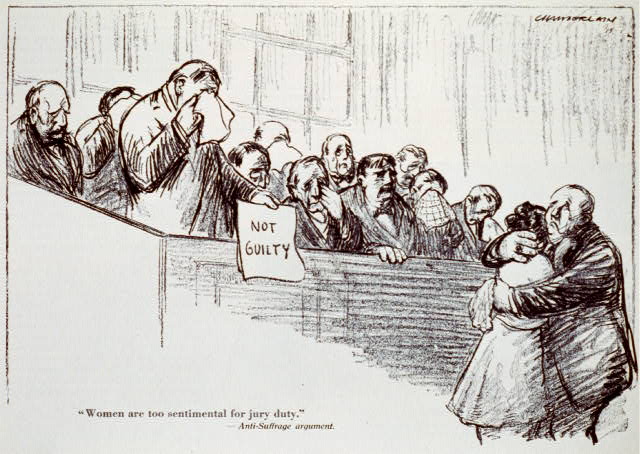 Women too sentimental for jury duty published by artist Kenneth Russell Chamberlain – 1915 (Library of Congress)
Civil Rights law in 1957
The Civil Rights law in 1957 changed this ruling and women were allowed on the federal court. The first three women chosen to serve on a jury in U. S. District Court were: Mrs. Olive Andrews, wife of an insurance man and a member of the League of Women Voters; Mrs. Alma M. Glover, wife of the manager of a Montgomery plumbing and heating company; and Mrs. Alsie M. Bell, mother of two; all of Montgomery. Mrs. Glover was a secretary and the other two were housewives.1 Eight other women's names were included on the 49 member jury list called for that term for criminal court.
Some reasons the Alabama Legislature gave for women not be allowed to participate in jury duty were related by News Staff Writer of the Anniston Star Jean Quillen in her article in the The Tuscaloosa News Jun 14,1965.
We don't want our women on lock-up juries sleeping in the same room with men jurors.
There aren't separate bathrooms.
Women should be spared the sordid details of criminal testimony.
In the same article, Quillen quoted Judge Price again. "I know of only about four counties that provide overnight quarters for their juries in the courthouse. Jurors were usually taken to a hotel or motel," where men and women can be housed separately."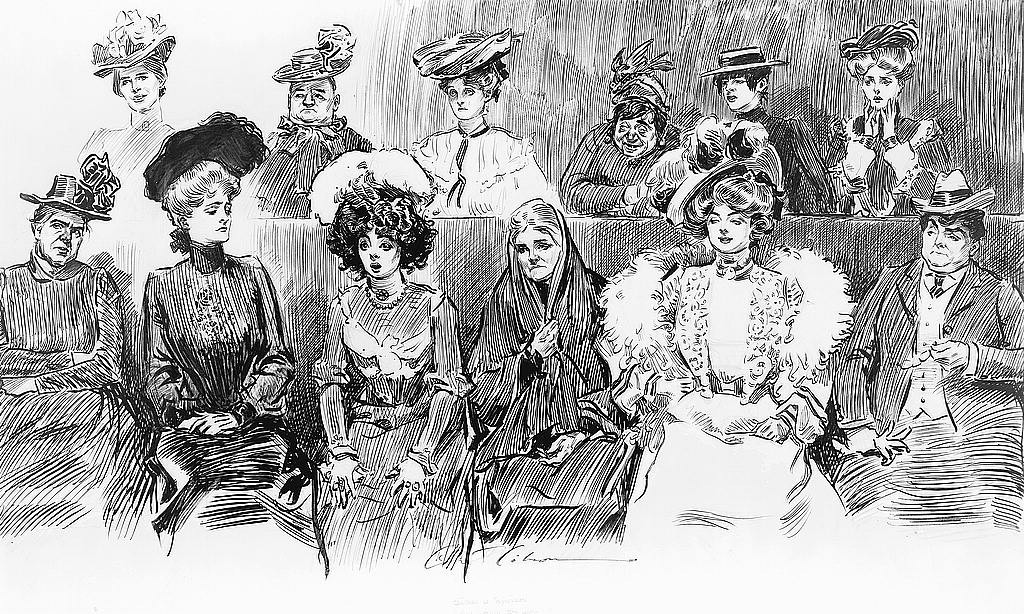 When women are jurors by Artist Charles Dana Gibson ca. 1902 (Library of Congress)
Federal Court rules
In February 1966, a federal court, in a ruling unprecedented in the nation's history, ordered Alabama to start putting women on juries in state courts. At the time, Alabama was only one of three states with a law that kept women off juries in state courts. The other two states were Mississippi and South Carolina.2
Last state to prohibit women
Finally, after decades of argument, late in 1966, Alabama became the last state to eliminate prohibitions on women serving on juries.
In October 1966, Irene Plummer Wilbanks, a former British subject who became a naturalized citizen ten years prior, signed a little yellow card and became the first woman in Etowah County to register for jury duty. She was the wife of Etowah County Jury Commissioner C. L. Wilbanks and watched with interest as the Legislature debated, then made a law allowing women to be subject to jury duty.
The first to serve
The names of two ladies listed below in 1966 newspapers were the first women to serve on juries in their respective counties.
In October 1966, Louise Holt was the first woman called for jury duty at Montgomery, Alabama. She was a assistant clerk of the Alabama Supreme Court.
In December 1966, Mrs. John E. Willingham of Tuscumbia was the first woman called for jury duty in Colbert County, Alabama. She was a member of the Business and Professional Women's Club that worked hard to get legislation passed for women to serve on juries. 3
1"Alabama Women Serve On Jury, First In State", Gadsden Times, November 18, 1957
2Thomas, Rex, "Alabama Ordered to Halt Discrimination on Juries", The Telegraph, Nashua, N. H., Feb. 8, 1966
3Prince, Lucille, "First Woman in Colbert Called for Jury Duty," The Florence Times, Florence, Alabama, Dec. 30, 1966
Alabama Footprints Confrontation is a collection of lost and forgotten stories that reveals why and how the confrontation between the Native American population and settlers developed into the Creek-Indian War as well as stories of the bravery and heroism of participants from both sides.
Some stores include:
Tecumseh Causes Earthquake
Terrified Settlers Abandon Farms
Survivor Stories From Fort Mims Massacre
Hillabee Massacre
Threat of Starvation Men Turn To Mutiny
Red Eagle After The War