Lying at the southern extremity of the Appalachian Mountains, Shelby County is richly endowed with abundant natural resources and unrivaled beauty in the profile of low mountains, many lakes and streams, and woodlands.
Squatter's Sovereignty
Before Shelby County was established by an act of the first session of the Legislature Council and House of Representatives of the Alabama Territory in February 1818, it was already settled by a few early pioneers. The early white settlers held their lands by virtue of what was known as Squatter's Sovereignty. Most of the first settlers were from North Carolina, Tennessee, Kentucky and South Carolina.
Served under General Jackson
Many early settlers had been soldiers under General Jackson and after the battle of Horseshoe Bend, many men were sent up the Cahawba River to search for the remaining "Red Sticks" and traveled through Shelby County. When they returned to Tennessee and Kentucky, they decided to bring their families to the newly opened territory, traveling mostly by pack-horse.
Following the Treaty of Fort Jackson in 1814, land was ceded to the government and many former soldiers settled in the soon to be towns in Shelby County of Montevallo, Harpersville, and Wilsonville and Shelbyville.
First white settler in Montevallo
Montevallo is the thought to be the oldest settlement with it's first white settler being Jesse Wilson who built his cabin on the big hill west of the depot in 1814. A village soon blossomed around him that was called Wilson's Hill. Some other early area settlers include Robert McClellan (1805-1858) who has the oldest marked grave in the Elliottsville Cemetery in Alabaster, Shelby County, Alabama and Blassengame Nabors (1787-1874) who is buried in the Siluria Cemetery now located on Winterhaven Cove in Alabaster.
"Most of the first settlers came from South Carolina, Tennessee, and Kentucky and returned to this region after the victorious Battle of Horseshoe Bend in 1814. They brought their families and their household goods, traveling chiefly by pack horse, to remain in this section of Alabama"
Another early settler was Edmund King from Georgia. Early settlers were in constant dread of attacks from marauding bands of Indians who made forays into the area and burned or stole the settlers possessions.
Titles not granted until 1821
Titles were not granted in Shelby County until 1821 when government land offices were opened, and farmers and others who had selected acreage rushed in to apply and receive title to the places they already occupied.
Originally, the county embraced "all the tract of country lying west of the Cherokee boundary line: south and east through the southern extremity of Cahaba Valley, from the eastern boundary of said county of Blount, to the Coosa River and thence up said river to where it is intersected by said Cherokee Boundary."
David Neal, Job Mason, Benjamin C. Haslett, Ezekiel Henry, Henry Avery, James Franklin and Thomas Beecher, Sr., were appointed in 1821 to select the site for the courthouse; and, a year later, Daniel McLaughlin, William Gilbert, Isaac Hutcheson, Edmund King, Bennett Ware, Webb Kidd, and Abraham Smith were appointed for the same purpose.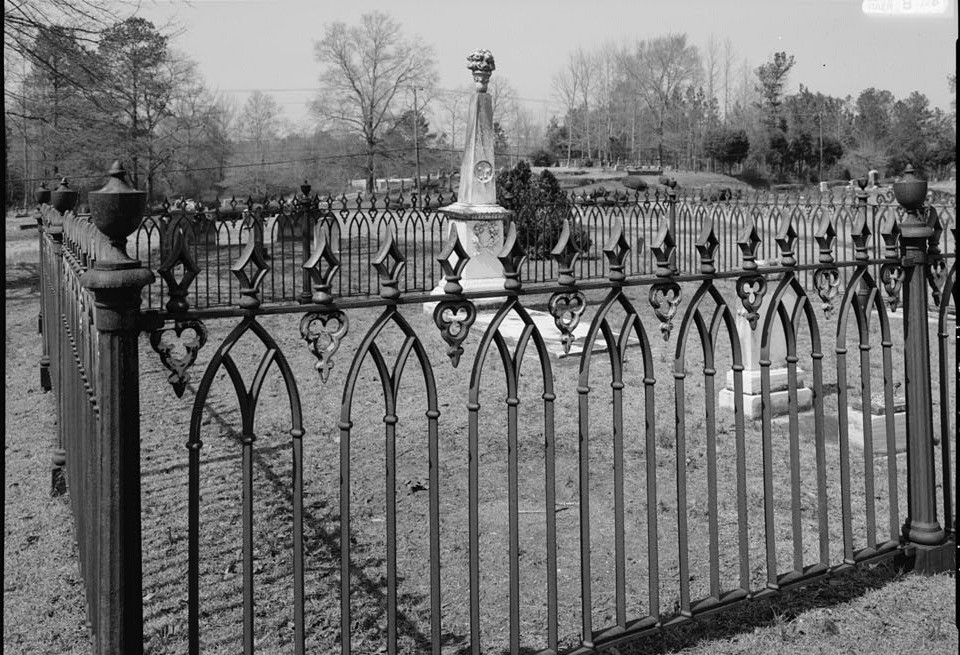 Ware Cemetery Plot, Shelby County Road 25, Columbiana, Shelby County, AL (Historic house survey – Alabama Department of Archives and History)
Temporary Court at William S. Wallace's home
A temporary Superior Court of Law and Equity that met semi-annually and a county court that met quarterly was established by the same act that created Shelby County. It was held at the home of William S. Wallace until a court house could be built in 1820 at the town of Shelbyville.
The building was to cost $53 and was to be 24 feet long, 20 feet wide and eight feet from door to eaves. It was built of logs that were limed and chinked. It had a clapboard roof. Benches and a door with a shutter was included. Thomas A. Rogers was awarded the contract to build the court house. The little log court house was somewhere near the present town of Pelham and although it was never intended to be a permanent building, sessions were held there until 1826. The first Judge was Thomas W. Smith.
Courthouse location was moved
In 1826 the location of the courthouse was moved to an old school building in Columbia, located in the central part of Shelby County. An act of the Legislature changed its name to Columbiana on January 13, 1832, and the county seat was then permanently located at Columbiana. The "Petition to Incorporate Columbiana" is found in Will Book "K" dated August 10, 1853 and was signed by A.A. Sterrett, Wm. M. Allen, B.O. Nabors, N.B. Mardis, R.H. Brasher, John T. McComic, A.M. Elliott, E.G. Lawley, J.A. Teague, Samuel Leeper, S. Brasher, H.V. Nabors, D.W. Caldwell, J.L. Wilson, D.N. McClanahan, A.J. Donus, A. Parnell, Jos. Roper, Jno. Baker, and L.F. Elliott. In 1854, the decision was made to build another courthouse, which is today referred to as the "old courthouse" and currently is the historical museum. In 1982, the Shelby County Historical Society and Shelby County Museum and Archives moved in the "old courthouse."Construction began on the current stone courthouse in 1905 at a then-price of $300,000. The cornerstone ceremony was held April 5, 1906. An addition was completed in 1954. It received a multi-million dollar renovation in the early 1990's. On March 4, 2006 the contents were removed from the cornerstone and placed on display at the Shelby County Museum & Archives. The "100-year celebration and cornerstone ceremony" was held June 24, 2006.
Old courthouse – now a museum, Columbiana, Alabama (Library of Congress)
First secretary of the first Senate
George Phillips and Thomas Amis Rogers were residents of the northern part of the county and represented the county at the first Constitutional Convention held in 1819 at Huntsville. Rogers was a lawyer as well as a contractor and became the first secretary of the first Senate of Alabama. He was also the first secretary of State of Alabama but died while holding his office in 1821.
Named for Revolutionary War hero
"The county was named for Isaac Shelby, Kentucky's soldier-governor. He was a Revolutionary War hero and a hero of the King's Mountain Battle. He had refused election to a second term as governor in order to fight the Indian Wars. In the 1820 census Shelby County, two years after it was created contained 2492 people, 2044 whites and 448 negroes."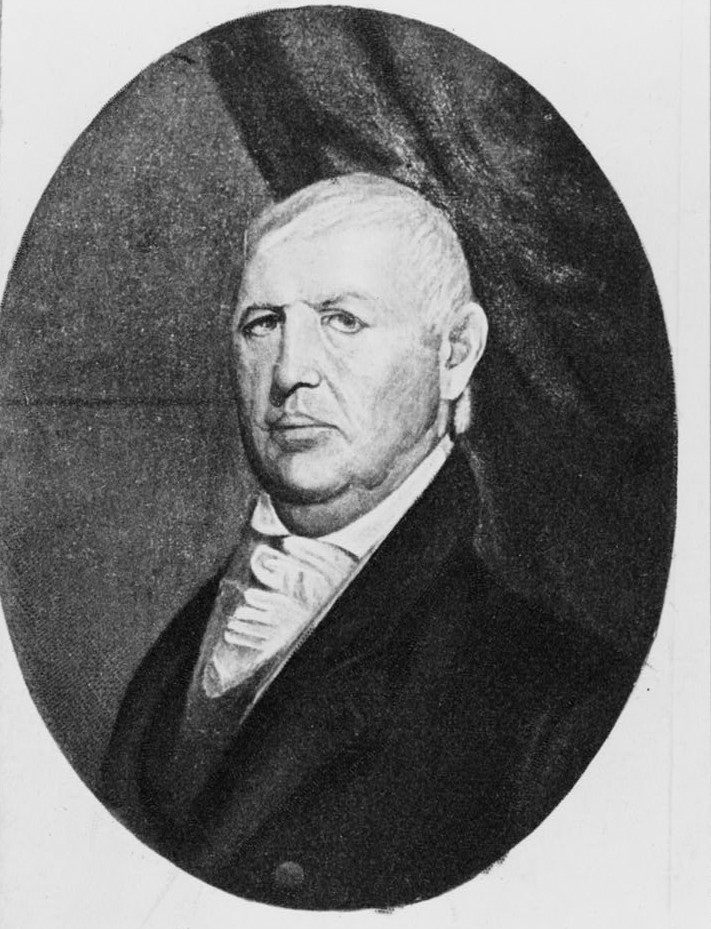 Isaac Shelby, first Governor of Kentucky (Library of Congress)
First structures
In Montevallo, T. T. Walker built a mill on its banks in 1823 and later, Alexander Nelson built a flour mill where residents of the Cahawba Valley brought their wheat. Also in 1823 Edmund King built a large kiln on his land and here he burned the bricks of which he was to build the "King Mansion." The old house still stands on the University of Montevallo's campus today as a treasured reminder of one of Shelby County's most important men in the development of the county.
The King residence and a building erected by Daniel E. Watrous as a drugstore on Main Street, and the home of Henry Harless were the first brick structures in Shelby County. The King Mansion was the first in the county to have glass windows.
Edmund King home Montevallo, Alabama (Library of Congress)
Montevallo is located on land selected to be part of the grant made to the State for the benefit of the State University, in the Act providing for the admission of Alabama into the Union. Dr. Shackleford, who lived near Montevallo, wrote the resolution that provided for the laying off of the town at Wilson's Hill, and it was in a report of the survey and the map describing it, that the town was first called Montevallo in 1823. He was also one of the first trustees of the University of Montevallo.
Prominent Men
Many of Alabama's eminent citizens were natives of or long-time residents of Montevallo or contiguous villages and towns. Some early Senators representing Shelby County were Bennett Ware (1819) Jack Shackleford (1822) James Jackson (1825) Thomas Crawford (1828) Joab Lawler (1831) Alexander Hill (1832) James M. Nabors (1834 & 1847) Daniel E. Waltrous (1837-1843 & 1849) Moses Kelly (1853) H. W. Nelson (1855 & 1859) John S. Storrs ( 1857) John P. Morgan, (1861) M. T. Porter (1863) & Gilbert T. Deason
Representatives include Jesse Wilson, Arthur Taylor (1819) Benjamin Davis, Jack Shackleford (1820) Benjamin Davis, Thomas McHenry (1821) Benjamin Davis (1821) Samuel W. Mardis (1822-1825 & 1828-1830) Joab Lawler (1826-1830) Leonard Tarrant (1831-1833) James M. Nabors (1831 & 1839) George Hill (1832-1833) Martin H. McHenry (1834-1836) Alphonzo A. Sterrett (1834 & 1835 & 1853)
John M. McClanahan (1836-1838 & 1855) John T. Primm (1837) William J. Peters (1838 & 1840) Wade H. Griffin (1839-1841) John S. Storrs (1841-1851) Willim M. Kidd (1842) David Own (1843) Joseph Roper (1845 & 1853) Thomas H. Brazier (1847-1848) W. L. Prentice (1851-1853) T. P. Lawrence (1853) N. R. King (1855) N. B. Mardis (1857) J. P. Morgan (1857) D. T. Seal (1859) W. G. Bowdon (1859) J. P. West (1861) S. Brashier (1861) J. Keenan (1863) Samuel Leeper (1863) Burwell B. Lewis (1870)
George Phillips and Thomas A. Rodgers represented Shelby in the convention of 1819; George D. Shortridge and John M. McClanahan in that of 1861; and James T. Leeper and N. B. Mardis in that of 1865.
Burwell B. Lewis, listed above was president of the University of Alabama from 1875 to 1885 and returned to Montevallo where he retired to spend the rest of his life in the house built by his family. The house was used as by the Methodist Church of Montevallo as its pastorium for years.
Siluria was once the old muster ground where the "Shelby County Volunteers" for the Indian War was organized in 1836.
SOURCE
Alabama: Her History, Resources, War Record, And Public Men From 1540 To 1872, By Willis Brewer, Published in Montgomery, Alabama 1872
History of Shelby County, Alabama Contributed by Bobby Seales
Shelby County Alabama Pioneers Volume I This Volume reveals the relationships between the ACTONS, BAILEYS, CLOWER, CROWSON, LEES, NABORS, NELSON, ROBERTSON, and WILSON families of early Shelby County, AL. Notes, and sources are included. Genealogy reports with all supporting evidence, wills, and deeds when available are included.