Condensed by Josephine Lindsay Bass on July 26, 1996.
Georgia surrendered to the United States all her claims to land in this part of the world, (present day Jackson County, Alabama) on April 24, 1802.
Old Indian stone house on the Ridley place in Jackson County, Alabama. (ADAH)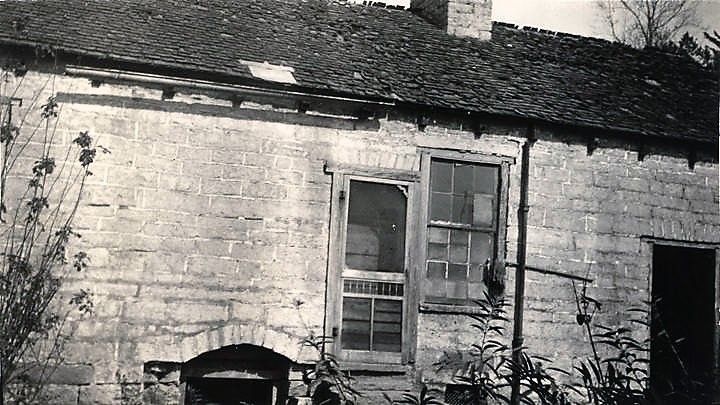 Path immigrants took to Jackson County, Alabama
A census made in Madison Co. AL in 1809 by Thomas Freeman, U.S. Surveyor for the District, says that others had "extended their settlements over the Indian boundary up in the coves of the mountains on the Cherokee". These coves were in the present Jackson County. A vast majority came from TN, NC, SC, VA, GA, and KY.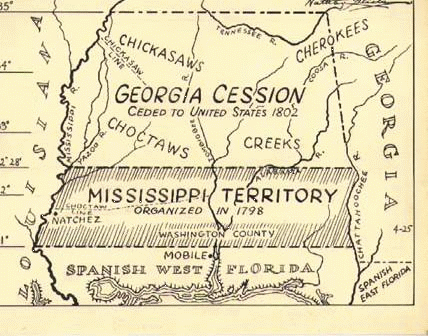 There was a road that passed southwestward through the Valley of Virginia, then down the Holston River to Knoxville. From Knoxville, one part of the highway passed westward to Huntsville, which soon became an important route of travel.

Those immigrants from N and S Carolina passed through Saluda Gap in the Blue Ridge where it borders N and S Carolina, then to Ashville NC, and along the course of the French Broad River to Knoxville, TN, and then to Jackson County, AL, either by land or by float-boat down the Tennessee River.
Settlers from Madison County, Alabama located later in Jackson County
Many settlers first came to Madison Co. AL and then moved to this county. Upper Paint Rock Valley was settled largely by people from Franklin, Warren, and other TN counties.
Some came in covered wagons, on pack horses and some wealthier ones brought herds of cattle and hogs. Elder John Smith brought with him from Kentucky to Madison County, Al in 1814, some eighty-five head of hogs and fifty head of cattle.
About 1814 Paint Rock Valley (Jackson County, Alabama) was getting her first settlers. Captain James Doran settled in Doran's Cove; Henry Derrick came to Old Woodville in 1815, from East Tennessee; Hans Kennamer and sons, Jacob, Samuel, Stephen, and Abram were living in Kennamer Cove. John Gross and family came down the Tennessee River in 1817.
Stories include:
The Yazoo land fraud;
Daily life as an Alabama pioneer;
The capture and arrest of Vice-president AaronBurr;
The early life of William Barrentt Travis in Alabama, hero of the Alamo;
Description of Native Americans of early Alabama including the visit by Tecumseh;
Treaties and building the first roads in Alabama.