(Transcribed and unedited (with misspelled, capitals and grammatical errors) excerpt from a story written by WPA (Works Projects Administration) writer Annie L. Bowman, Escambia County, Alabama, February 8, 1940
Mayor W. R. Holly
Savior of the town of Atmore
written 1940 by
Annie L. Bowman
Mayor W. R. Holly of Atmore was born and reared at Abbeville, Alabama. Although he moved here when quite a young man, Mayor Holly is looked upon as the savior of the town of Atmore. He is about sixty years old and has been instrumental in saving the town from financial and embarrassing debts.
He finished high school in Abbeville and attended the University of Alabama, where he graduated with high honors. He says he did a little of every thing while in college, studied a little, went to see the girls, gambled and drank some with the boys and played football, but he managed to get by some way.
Principal of Brewton Institute
After he finished school he took up teaching as a career and was principal of the Brewton Institute for a number of years. During this time he married a girl from his home town. He became disgusted with this work it was too slow a way to make money.
In 1809 (?) he and his wife Ruth left Brewton and moved to Atmore where he went into the Drug Store business. He owned the Escambia Drug Store for years. He later sold it at a big profit and retired for a while. Sitting still was a hard task for him and he reopened a Drug store across the railroad from the Escambia. Here he prospered as he did in the other store He says he found this so confining he sold out and bought farm and city property. He built a row of business houses in the northern part of the town which is called Holly Block. Aside from this he sells mules and horses to the farmers about the country.
He says, it is harder to take care of the money you make than it is to make it. Things were not going in the town administration to suit him. "I had to look out for my property the best I could. I thought the best way would be to run for Mayor"
Town was heavily indebted
He has been in office nearly eight years now. When he took the office the town was something like the country before Roosevelt went in office. It was badly in debt and things were getting worse. He began to clean up the waste and prepare for better government.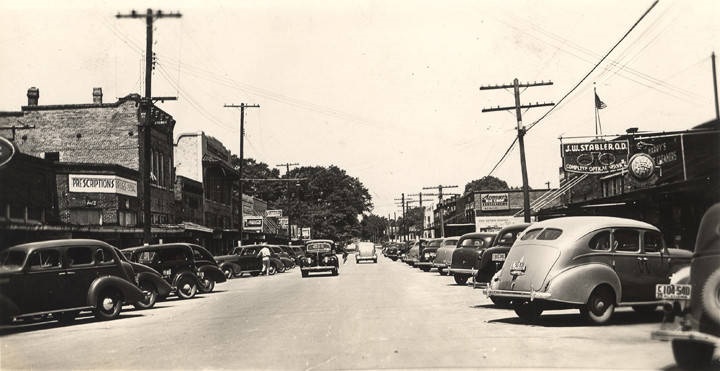 1930s business section on North Main Street in Atmore, Alabama (Alabama Department of Archives and History)
Now the town is in better shape than found in most small cities. After making substantial payments on old accumulated debts, the city treasury showed a surplus of $10.000 this year. A new city hall has been built that is a credit to a town much larger than Atmore. A trim brick building which was built in 1936, at a cost of $10,000 faces the railroad near the center of the town. Seven miles of street were paved also under this administration with city funds and about twenty miles of sidewalks were laid mostly with city funds.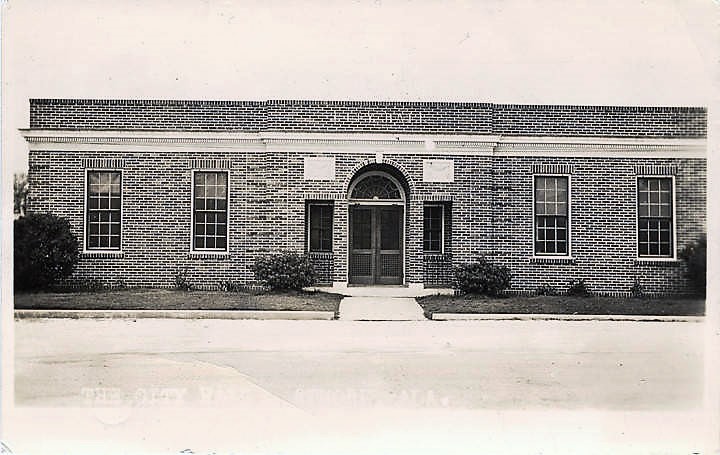 City Hall in Atmore, Alabama ca. 1936 (Alabama Department of Archives and History)
Debts paid in full
The towns debts are paid in full. Brewton Standard and the Mobile Register have been very complimentary to Mr. Holly to the financial handling of the towns money and have paid their respects with articles of his good work in their papers. Mayor Holly says, he is proud of this little community and was more than proud to say that Atmores financial conditions was in good shape and would continue this way as long as he is Mayor.
Do you need some guidance in your genealogy search? Save time and avoid pitfalls in your research. This book provides simple, no-nonsense instructions to help you get started. Many FREE research links included. Where Do I Start is filled with Hints and Tips to begin your family genealogy research and acquire Genealogy information.
WHERE TO FIND – online resources, experienced genealogists will not be aware of many of these.
COURT RESEARCH – how to do court house research, where to find birth, death, social security records free online.
EIGHTY – ONE QUESTIONS – you should ask your elderly loved-ones before it's too late.
TIPS ON BREAKING DOWN THE WALL – Everyone faces some difficulties in research, often called a 'brick wall' but WHERE DO I START? provides suggestions for overcoming them.

Download Where do I Start? to your Kindle in less than 30 seconds or to your PC, iPAD, iPhone, MAC or Android device with FREE Apps from Kindle.