Many Alabama ancestors originate in the DelMarVa (Delaware, Maryland, Virginia) on the Eastern Shore of the United States. Seeking more land for planting, pioneers flocked to the land in Alabama after the Native Americans were forced to leave.
Reviews:
Historical and entertaining As I begin the third novel in this series, I felt the urge to come back to review the first. Donna Causey's writing pulled me in and held me from the first page until the last. The story was interesting, surprising and passionate while maintaining its respect for historical events. Even the reader who is not a history buff should find this to be very enjoyable reading. Highly recommended!
Great Read! I just finished this book and loved how the historical accounts were validated at the end of the book. The author did a great job in taking these accounts and creating a beautiful story. Loved it so much I just downloaded the next two books in the series!
Ribbon of Love is a must Another book of Colonial America and finished it in 2 days. So very interesting and couldn't put it down. I learn so much about the times of early America and written in very good taste. It had love, Truth, wars etc that naturally took place, but I love it in novel form. I am a learner and this book by Donna Causey is full of it. You must read! Jan
Tapestry of Love Series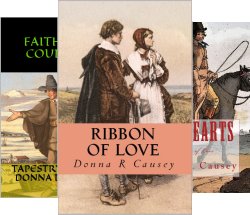 RIBBON OF LOVE: 2nd

edition

– A Novel of Colonial America

Inspired by actual people and historical events! Based on the Cottingham ancestors of Bibb County, Alabama.