HISTORIC VISIT
BY
A few years ago, I made a special effort to attend the Annual Meeting of the Alabama Historical Association. That year, the meeting was in Gadsden, AL near Attalla where I grew up. I was quite surprised to learn that one of their places of local interest was the site of the
Dwight Manufacturing Company
in Alabama City, one of the Gadsden communities.
Family worked there
Dwight Manufacturing Company no longer existed; but had been a booming cotton mill when I was a child. I have fond memories of that location. The mother and aunt of one of my cousins worked there. They lived in company housing, which intrigued me. This would have been in the mid-late 1940's. My cousin's grandparents lived in the home too. They took care of their grand daughter while the two employed ladies were at work. By that time, child labor regulations were being enforced.

Minimum age was twelve
I did not realize until recently that those cotton mills had a reputation of working children younger than the now minimum age of fourteen. During the earlier days, the minimum was age twelve and the hours were more strenuous than the reduced hours permitted by today's Child Labor Laws.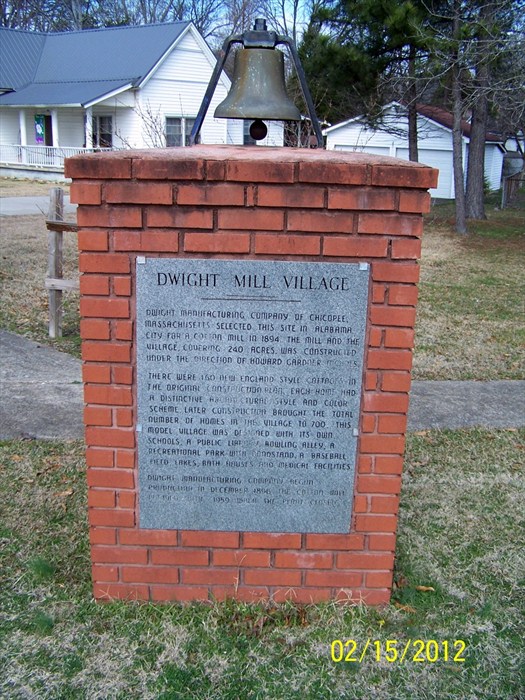 Whistles blew shift changes
The houses owned by the mill were within walking distance of the plant. When my parents, brother and I would visit our relatives, we could hear the shift change whistles blow. This was old hat to my Dad as he worked for a steel mill located in the same little town. It was, however, exciting for my brother and me.
Dwight Mill Village Map (Alabama Department of Archives)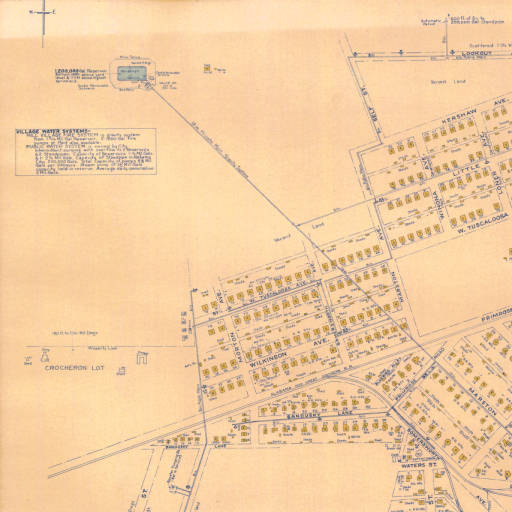 Watching Shift Changes was exciting
A brother and sister-in-law of my Dad worked for the Coosa Manufacturing Company in Piedmont. An uncle of my Dad also worked there. We would occasionally time visits in the area to see my Dad's brother as he was leaving work.
Seeing all those men and women moving in and out of the plant during shift change time was exciting for my brother and me. You must remember, there was no television at the time; so we got our excitement where ever we could find it! Fortunately we did not see any pre-teens reporting to work.
Demise was Devastating
The demise of the cotton mills in Alabama was devastating to the families who lived and worked in the mill towns. It had quite an impact on the economy of those towns. My cousin and her family relocated. My uncle and aunt who lived in Piedmont were fortunate enough to reach retirement age before the Coosa Manufacturing Company closed.
Related stories
List of Cotton Mills in Alabama with [1910 photographs and film] –
My first job at Sylacauga cotton Mill – with [rare film footage of Avondale Mills in 50's]
Today, this old cotton mill village in Huntsville has been revitalized [vintage pictures]
Start researching your family genealogy research in minutes. This inexpensive Ebook has simple instructions on how to get started with FREE sources. Download WHERE DO I START? Hints and Tips for Beginning Genealogists with On-line resources
Reviews
"This book was very informative and at a very modest price. One web site I may have missed in your book that has been very helpful to me is genealogybank.com. I found articles about several of my ancestors in their newspaper archives. Thank you for your great newsletter and this book."
"The book was clear & concise, with excellent information for beginners. As an experienced genealogist, I enjoyed the chapter with lists of interview questions. I'd recommend this book to those who are just beginning to work on their genealogies. For more experienced genealogists, it provides a nice refresher."
Inez McCollum grew up in Etowah County.  Married Mack McCollum, a BI-vocational minister.  Moved to Birmingham to work while he worked and went to Howard College/Samford University.  Inez and Mack had three sons, Jay, Joe and John.  They bought their first home in what is now Hoover.  Inez continues to be active in Shades Mountain Baptist Church and some of the civic organizations in Hoover.  Inez also enjoys reading, travel and spending time with friends.