(Have you ever wondered where the unusual name of some of Andalusia's street names such as Three Notch Street comes from? The name goes back to Andrew Jackson's visit after the War of 1812.)
Andalusia is the county seat of Covington County, in the central part of the county and about 3 miles from the Conecuh River.
Covington County Courthouse ca. 1930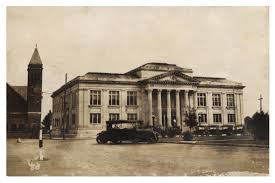 "The area which now composes Covington County, Alabama, was originally inhabited by the Creek Indians. There are Indian mounds, arrowheads, and other relics to be found here. The county is located in South Alabama.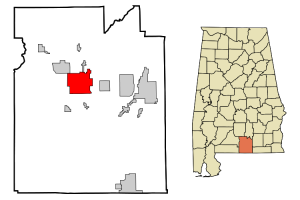 "After the War of 1812, Andrew Jackson, legend has it, came from South Carolina and traveled through this area in route to New Orleans. He cut three notches on trees as he passed through this wilderness to enable him to find his way back. Andalusia has an East Three Notch Street and a South Three Notch Street. Troy has a North Three Notch Street and a South Three Notch Street. These streets are supposed to lie on the famous "Three Notch Trail." It was incorporated by the legislature in 1901.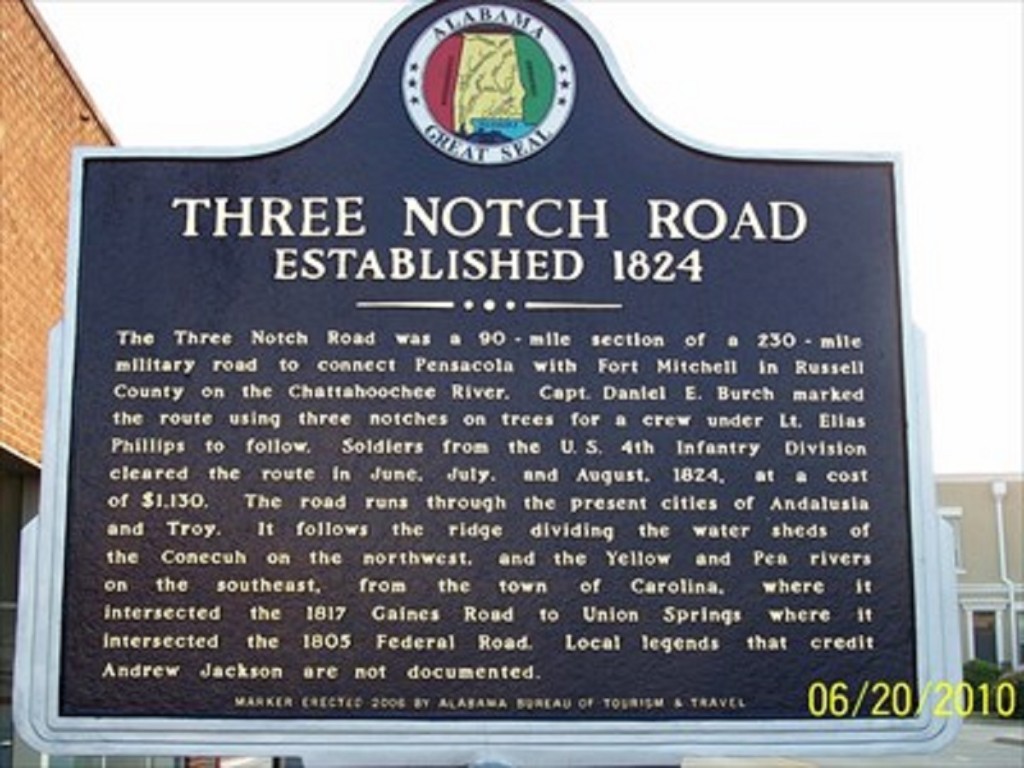 The Three Notch Museum exhibits an historic post office and log cabin and objects and other items related to Andalusia and Covington County.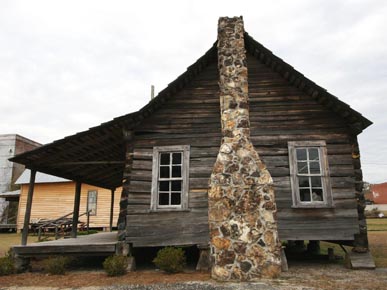 In 1916, there were three Banks: the Bank of Andalusia, the First National Bank, and the Andalusia Bank & Trust Co. Industries were: packing plant, established in 1916, valued at $150,000; cottonseed oil mill; two turpentine distilleries; a lumber plant, 12 miles south of the town, incorporated, with $1.000,000 capital.
In 1847, the name of this community was New Site, and its selection as the county seat was due to the destruction of Montezuma, the old county seat, by an overflow of Conecuh River. The land on which Andalusia is located was entered by John W. Robinson, who gave 40 acres to secure for the town the permanent establishment of the county seat. In 1878 the courthouse and all the county records were destroyed by fire.
A new building was completed in 1916, at a cost of $10,000. Among the early settlers of this section were Jeremiah Jones, W. T. Acree, Lorenzo Adams, Alford Holley, Ephraim Liles and George Snowden. In the establishment of the town, a lot for a union church was set aside. It is now the property of the Baptists. On the Conecuh River, near Andalusia, there are several large Indian mounds.
SOURCES
Brewer, Alabama (1872), p. 202; Northern Alabama (1888), p. 233
Shop Amazon Gift Cards – Instant Delivery or Free One-Day Shipping
Vinegar of the Four Thieves was a recipe that was known for its antibacterial, antiviral, antiseptic and antifungal properties for years. It was even used to cure the Bubonic Plague. See Thomas Jefferson's recipe in

VINEGAR OF THE FOUR THIEVES: Recipes & curious tips from the past With Bonus: First two chapters of novel Ribbon of Love