Andrew Thomas, Jr. was born around 1759 in South Carolina. It is believed he married Sarah (last name unknown) about 1790. Andrew moved to Shelby County, Alabama, then later to Perry County, Alabama where he died. He and his wife Sarah are believed to be buried in unmarked graves on their land near Mt. Herman Methodist Church. Their son John Robert Thomas was living in Brush Creek, Perry County, Alabama in the 1860s. He married Dempsey Poole, daughter of John and Mahulda (Holloway) Poole Feb. 11, 1820, in Shelby County, Alabama.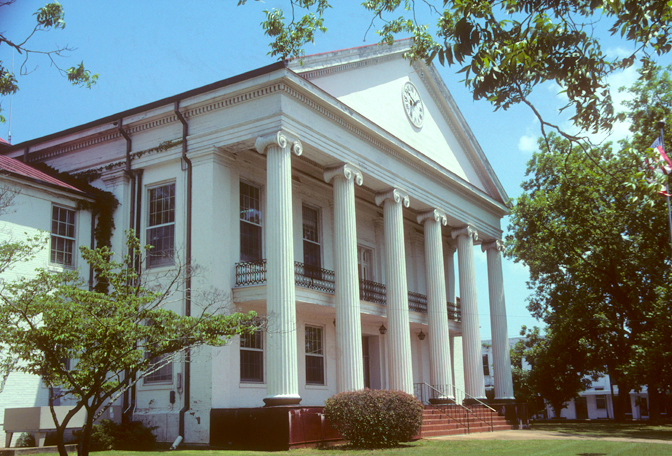 Perry County Courthouse (Wikipedia)
Don't waste time and money completing genealogy research others have done! Take advantage of what other genealogy researchers have discovered and download
E-books can be easily downloaded directly to your computer with this link for FREE APPS from Amazon. Amazon.com – Read eBooks using the FREE Kindle Reading App on Most Devices
. Check the outline of descendants in the Free Sample to see if this is your family line.
Some descendant surnames of John Robert Thomas and Dempsey are: ARRINGTON, BARTON, BASINGER, BISHOP, BLACKERBY, BONNER, CHRISTENBERRY, CHRISTOPHER, CORNWELL, COX, CRAWFORD, CURB, DOMINICK, DORMAN, EVERETT, FIELD, FINDLAY, GATLIN, GOLDEN, GRIFFIN, HAGIN, HALL, HARPER, HARTLEY, HARTON, HAZELWOOD, HENDERSON, HENRY, HODGES, HOLLEY, JAGGARS, JOHNSON, JONES, KORNEGAY, LOWREY, MADISON, MEEKS, MEREDITH, MORELAND, PERKINS, PERRY, POOL, RAWLS, RAY, RICHARDSON, RUSSELL, SMITH, SPENCER, SQUIRES, STEWART, THAMES, THIGPIN, WALTON, WIGGER, WILLIAMS, YEAGER