OLD BIGGS SETTLEMENT CEMETERY
by
Sherry S. Johnston
As I walked among the gravestones in the old Biggs Settlement Cemetery, there were many names I recognized. Of course, I knew the Biggs to be associated with my good friend, Ann Biggs-Williams, as well as others. Still, the name of John Roley intrigued me; so I began to research him some more, and discovered another good friend of mine was related to him, both as his own as well as his wife's family.
Ken Johnson suggested that his great great grandfather, John Roley, was born in London, England about 1813. Family legends claim that as a young teenager, John stowed away on a ship bound for America. Other family stories indicate that he was legitimately employed by a shipping business in London, sailing to America on shipping business.
Evidently, he found work as a sailor for many years; and in a Florida coastal town, he fell in love with Jane Larrimore who was born 4 October 1824 to James & Feraby (Tootle) Larrimore of Tattnall Co., GA. Lovestruck, John Roley, deserted the shipping business and married Jane in Tattnall Co, GA on 8 December 1842. It was in the 1850s that the Roley family migrated to Monroe County, AL. The Roley's had a very large family, with 11 children. John Roley died 22 July 1884 and was buried in the Biggs Settlement Cemetery near Peterman, AL.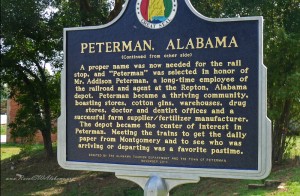 Jane died 15 April 1896 and is supposedly buried in the Hendrix Family Cemetery near Frisco City, AL
Although John & Jane never lived in Escambia County, FL, 7 of their 11 children did, having moved to the Bratt Community sometime during the 1900s. The families with Monroe and Conecuh connections include John Jackson Roley, b 1848, married Mary Ellen Fore, b 1850—they are buried at Mexia, Monroe Co., AL. Thomas Henry Roley, b 1850, married Martha Morelle Hendrix, b 1859—she is buried at the Hendrix Cemetery, he at Godwin Cemetery; George H. Roley, b 1852, married Isabella Charity Ann Biggs, b 1849—are buried at Biggs Settlement Cemetery, Monroe Co., AL; Armittie E. Roley, b 1854, married James Marion Kirby, b 1836, buried at Godwin Cemetery. Laura Jane Roley, b 1859, married James Lee Brown, b 1854, buried at Pine Level Primitive Baptist Cemetery in Atmore, AL; Joseph Glenn Roley, b 1861, married Elizabeth Blanton, b 1867, buried at Godwin Cemetery; Emma Rosetta Roley, b 1863, married Oliver Jefferson Wiggins, b 1858, buried at Godwin Cemetery; and other children. A large percentage of the citizens of today in Bratt FL can claim kin with the Immigrant, John Roley.
For more information on the Roley family of England, America, Monroe County, AL & Escambia County, FL visit the Evergreen-Conecuh County Public Library.
Did you know that all E-books can be downloaded immediately from Amazon.com? Click below to see how.