The History and Legend of Chief Chinnabee
November 20, 1936
During the 1930s, Great Depression era, many writers were employed to interview people around the United States, so their experiences and life history could be recorded The program was named the U.S. Work Projects Administration, Federal Writers' Project and it gave employment to historians, teachers, writers, librarians, and other white-collar workers. This is an unedited transcribed story written Nov. 20, 1936.
A few white families had begun to move into the territory of the Creek Indians. The whites came in covered wagons drawn by oxen or worn out horses. The men with their dogs walked behind the wagons and guided the animals. these early settlers lived in dread of the Indians and the women with their full skirts and bonnets peeped out of the covered wagons. The hostile Creeks feared the white men would take their lands from them, and they resented the white families moving near their village.
Advantage for trade
Old Chief Chinnabee was a smart as well as a good Indian, and he saw at once the trade advantage to his tribe of having the white men for neighbors. Chinnabee had 160 Indians in his tribe and naturally, they all were friendly to the whites, but there were 5000 other Creek Indians near by who were hostile to the white men, and also to Chinnabee and his tribe.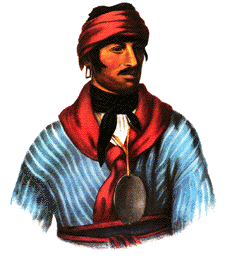 Chief Chinnabee
The hostile Creeks often made raids on the whites that lived near them, but Chief Chinnabee did all he could to save them from being scalped. He would notify them at night when the redskins were coming and to be prepared. He would hide the whites down by the river until he could quiet the raiders.
One night old Chinnabee failed to learn about the raid, and the hostile redskins returned from the raid with several scalps worn around their waists. The warriors who could wear scalps of the white people were heroes, and all the Indians surrounded them and danced and yelled "Nire, seoon". (?)
White folks are good
The Chiefs of the hostile Indians held a pow-pow, (?) and Chinnabee was present. They said to him, "Chinnabee, why are you and your tribe good to those whites who have settled near our hunting grounds? Don't you know that they are killing all the wild animals and taking our land away from us?"
Chinnabee replied, "Big chiefs, these white folks are good. They give me yellow shirts and red handkerchiefs, they give me tobacco to smoke the pipe of peace, and I am going to be their friend and my tribe will be their friends."
I had a dream
"Big Chief I am going to tell you more why I like the whites. I got on my pony and rode alone from Talladega to Washington City and I signed a peace treaty with President Andrew Jackson that I and my tribe would always be friends to the whites. The President gave me deeds to thousands of acres of good Talladega land and I am going to tell you something else not long ago a good white family located near my land. These folks had a gun, a white pony and two horses but no land. They were good to me and let me shoot their gun and ride their pony. One morning I went to the white mans house and I said, I dreamed I gave you 1000 acres of land over there, and you gave me that white pony."
"The white man said, Take the pony Chinabee, and give me the land."
"The next day the white man came to my wigwam and said "Chinnabee, I had a dream too. I dreamed I gave you this gun and you gave me another 1000 acres of land. Now don't you see how good the white people are to me? I got this gun and this pony for almost nothing, just 2000 acres of land."
Chinnabee was a great friend of Pres. Andrew Jackson who gave him a miniature of himself. That and his gun, he also gave him were buried with him. His grave was later opened and his sons Orbikihola and Billy Whip were buried with him.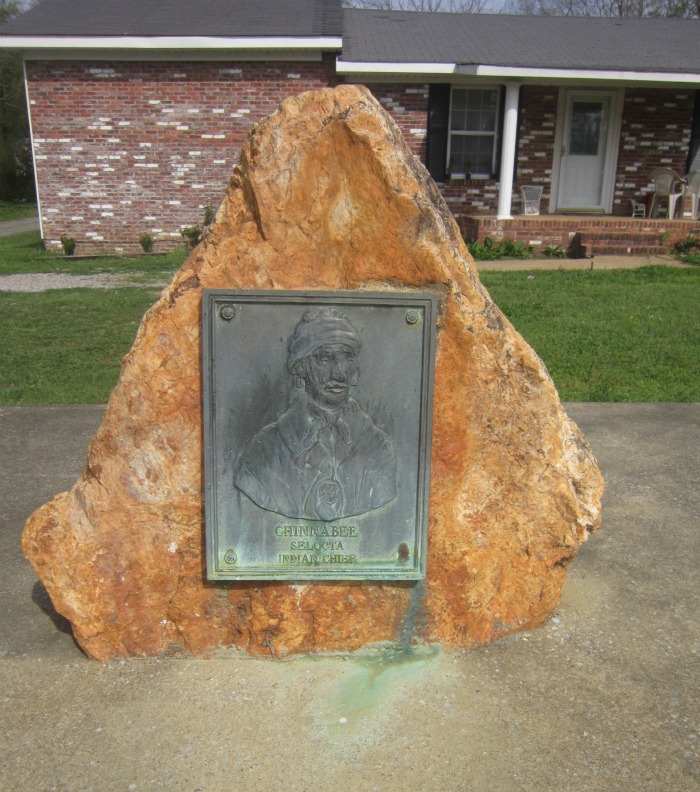 Photo of McElderry Family Cemetery submitted to findagrave.com by mike reeves
This legend about the dream was given me by Miss Mittie McElderry whose father was the white man spoken of, Thomas McElderry. 
ALABAMA FOOTPRINTS Confrontation: Lost & Forgotten Stories is a collection of lost and forgotten stories that reveals why and how the confrontation between the Native American population and settlers developed into the Creek-Indian War as well as stories of the bravery and heroism of participants from both sides.
Some stores include:
Tecumseh Causes Earthquake
Terrified Settlers Abandon Farms
Survivor Stories From Fort Mims Massacre
Hillabee Massacre
Threat of Starvation Men Turn To Mutiny
Red Eagle After The War