Early 1950s High School Fashions
by
Jean Butterworth
It is almost funny to recall those days of high school in the early 1950s. What we thought was "cool" (in 21st century language) seems a bit odd now.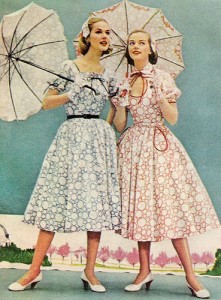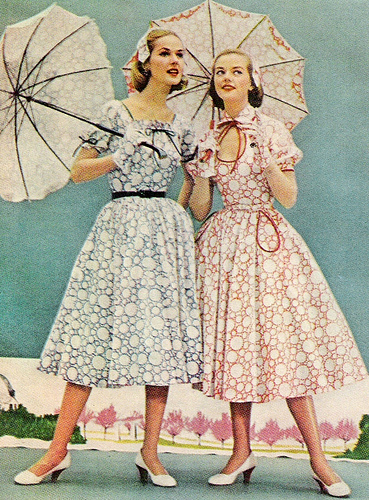 But still most of all I loved the 1950's music.  Elvis Presley was our age and had just started his career. Sometimes I can catch a tune on the radio and it brings back so many great memories.
Fashion for girls was in tune with the beginning of rock and roll.  We wore the slim fitted skirts mid-calf and wool plaid pleated shirts with a belt. The tops were short sleeved pastel sweaters with a square of silk around our neck or a sweater worn with a white Peter Pan collar. Shoes were brown loafers with above the ankle socks.  In my school girls did not were pants to school.  A favorite for some girls was to wear your boyfriend's football letter sweater, even being way over-sized for them.
Boys wore blue jeans or slacks and solid color or plaid shirts. For dress they would wear the popular pink dress shirt with a tie. Brown shoes for causal wear or for dress, white bucks.  Tennis shoes were not worn to classes, only to play basketball.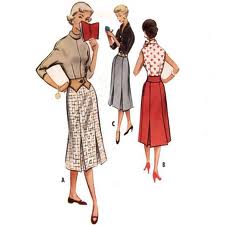 Girl's hairstyles were short or mid shoulder, parted on the side with some bangs on the forehead. Straight hair was not the mode, having no curling irons, straighteners, hair dryers or styling gel.
Hairstyles for boys were short, parted on the side with a little help from hair oil. Old Spice was the favorite cologne for the guys.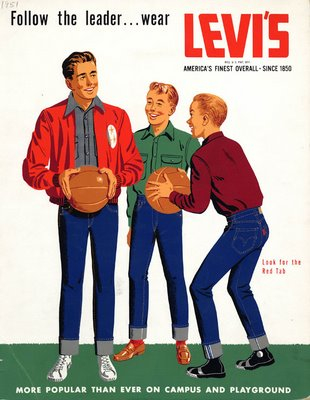 Majorettes marching in front of the band wore one piece white satin costumes with short pleated shirts. No bare mid drifts! White leather cowboy boots with white tassels completed the outfit along with a drum hat that fastened under the chin.
Female cheerleaders wore ballerina wool long skirts, which had reversible colors of white or blue. Tops were pull over sweaters with the school's letter on the front.
The Home-Coming Queen Court was a big event and selection was by popularity. The three girls selected wore suits and small hats.  They carried large bouquets of white mums out on the playing field where the homecoming court was presented during the half time at the football game.
There were not many dances held at the school due to distances the students lived from the school.  My school was a county school and pulled high school students from outlying communities such as Taylorville, Duncanville, Romulus and Coker. The Junior- Senior Prom brought out the evening dresses and rented tux for the guys.   Usually, we had a beauty walk every year and already evening gowns were strapless.  Some of the evening dresses were even home made, as mine was.
Fashions do change, but I hope we don't go back to the 1950's era!  I'm content with the casual dress of today for men and women.