Our traditional Thanksgiving Day was started in 1621 when Plymouth colonists and Wampanoag Indians shared an autumn harvest feast. However, Native American groups throughout the Americas, organized harvest festivals, ceremonial dances and other celebrations of thanks for centuries before the arrival of Europeans in North America.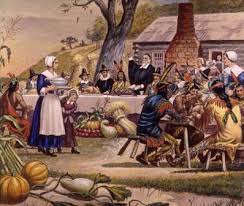 There were earlier ceremonies of European settlers in North America, including one Dec. 1619, at Berkeley Plantation, Virginia when British settlers led by Captain John Woodlief knelt in prayer and pledged "Thanksgiving" to God for their healthy arrival after a long voyage across the Atlantic.
Thanksgiving has been celebrated nationally on and off since 1789, after a proclamation by George Washington. It has been celebrated as a federal holiday every year since 1863, when, during the American Civil War, President Abraham Lincoln proclaimed a national day of "Thanksgiving and Praise to our beneficent Father who dwelleth in the Heavens," to be celebrated on the last Thursday in November.