Condensed by Josephine Lindsay Bass on July 26, 1996.
About 1814 Paint Rock Valley (Jackson County, Alabama) was getting her first settlers. Captain James Doran settled in Doran's Cove; Henry Derrick came to Old Woodville in 1815, from East Tennessee; Hans Kennamer and sons, Jacob, Samuel, Stephen, and Abram were living in Kennamer Cove. John Gross and family came down the Tennessee River in 1817.
Bluff at Paint Rock, Alabama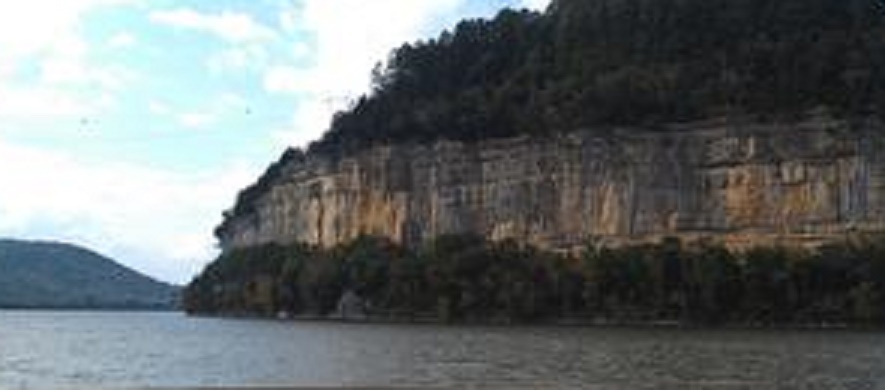 All that part north of the Tennessee River, east of Madison County as then existed was ceded to the national government by the Cherokee Indians on Feb 27, 1819. Congress authorized the Alabama Territory to form a State and William Wyatt Bibb became the first governor on the 25th day of Oct 1819.
Jackson County created 1819
Jackson County was created by an Act of the State Legislature on December 13, 1819, then in session in Huntsville, AL, and was named in honor of General Andrew Jackson. He was then visiting in Huntsville and racing his steeds at the Old Green Bottom Race Track. On Dec 14, 1819, Alabama was admitted as a State in the Union.
Boundaries have been changed six times
The boundaries of Jackson Co. have been changed six times. The temporary seat of Justice was Sauta, which was some four miles south of Larkinsville, near the old Birdsong Spring or House of Happiness.
In 1821 Decatur County was created out of Jackson Co. and the part of Madison Co. east of Flint River. Further clarified in 1822 as follows: Beginning at the mouth of Sauta Creek; thence up said creek to where the Winchester road crosses said, Sauta Creek; thence to Jesse Thompson's; then to Caswell Bibey's; then from said Bibey's to the top of the mountain above William E. Haskin's, where the Winchester road descends Cumberland Mountains; thence to the leading point of the mountain between the mouth of Lick Fork and the mouth of Larkin's Fork of Paint Rock River; thence to the top of the mountain; thence northwest course to the Tennessee State line.
Commissioners appointed and county seat established
Joseph Kirby, Benjamin Cloud, Thomas Russell, John Handcock, James Scruggs, John McVary, and McLand Cross were appointed commissioners to fix on a temporary site for the seat of Justice for Jackson Co.
Commissioners appointed to purchase county seat land in 1828 were W. A. Davis, N. Hudson, C. L. Roach, R. B. Clayton, and Joseph Kirby. The county seat was moved from Bellefonte to Scottsboro in 1868. The northern part of Marshall County was a part of Jackson County until 1836. The portion of the present county south and east of the Tennessee River was not added until 1836; it being lately acquired from the Cherokee Indians by a treaty signed at New Echota (near Rome Georgia) on Dec 29, 1835.
Short life of Decatur County
Decatur County received criminal jurisdiction over all that tract of county within the limits of the Cherokee Nation of Indians, which lies west of Willstown Valley and east of the road leading from Ditto's Landing to the town of Blountsville. Thus was included in Decatur County the whole of the present Marshall County's territory, as well as a great part of DeKalb, Etowah and Blount Counties.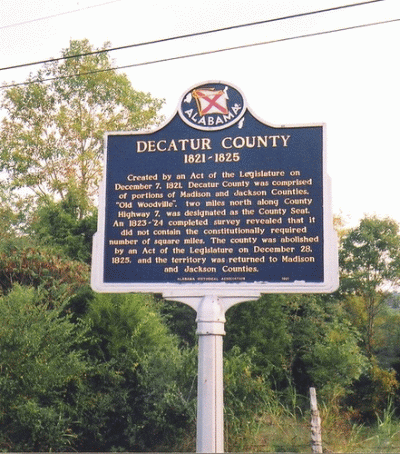 A commission was appointed to select a seat of Justice, which consisted of the following persons: Robert McCamey, James G. Holmes, John Kennamer, John Snow, Alex W. Dulaney, David Boshart, Aaron Rice, William Legg, and Mr. Barnett (who lived near the mouth of the Paint Rock River). Hesekiah Bayles, a Revolutionary soldier from Virginia, who had lived a short time in Madison County, was its first County Court Judge, having been elected by the Legislature.
Decatur County was named for Stephen Decatur, Jr. who was a famous naval hero. His brilliant exploits in the war with Tripoli were greatly admired. He lost his life in a duel, as Decatur County was killed by an act of the Legislature. All the present county of Marshall north of the Tennessee River was given back to Jackson County, and all the western part of Decatur County east of Flint River and West of Jackson was added to Madison Co. This territory is often called New Madison.
Stories include:
The Yazoo land fraud;
Daily life as an Alabama pioneer;
The capture and arrest of Vice-president AaronBurr;
The early life of William Barrentt Travis in Alabama, hero of the Alamo;
Description of Native Americans of early Alabama including the visit by Tecumseh;
Treaties and building the first roads in Alabama.