JOHN T. 'SQUIRE' BOYD, an early pioneer of Perry County, Alabama is believed to have been the son of Robert and Rosannah (Stewart) Boyd of Newberry, SC. He was born Oct. 11, 1795 in Newberry, SC and died Nov. 9, 1872 in Morgan Springs, Perry County, Alabama.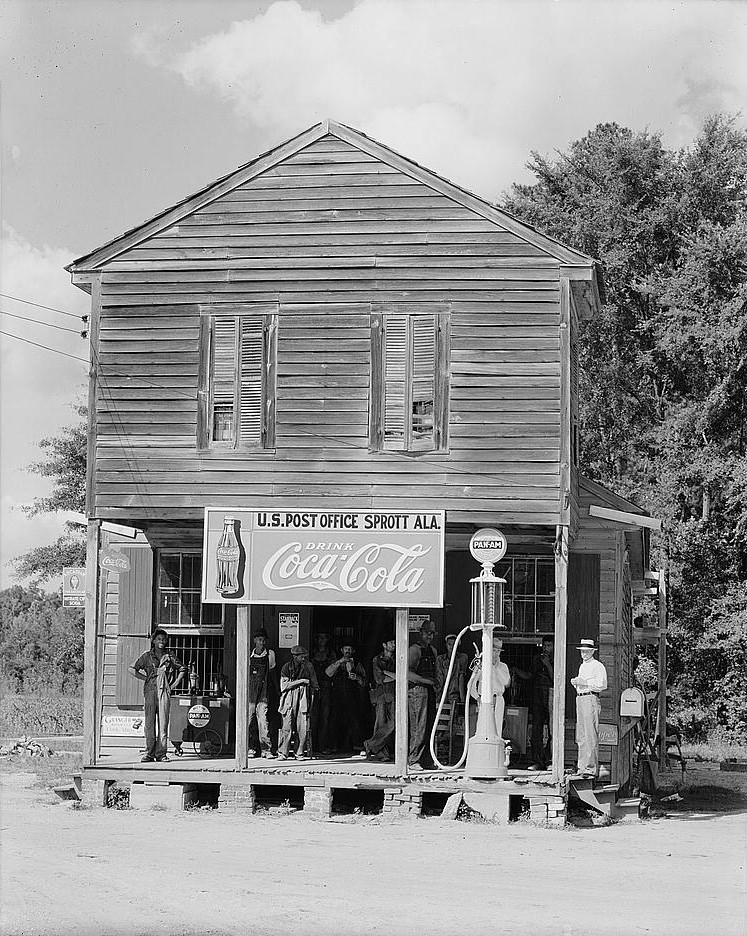 Grocery Store in Sprott, Perry County, Alabama 1936 (Library of Congress)
JOHN T. 'SQUIRE' BOYD married Elizabeth Blackburn, daughter of John and Nancy (Harris) Blackburn Sep 25, 1817 in Newberry District, South Carolina. Elizabeth was born January 21, 1797 in Newberry, SC and died August 24, 1856 in Morgan Springs, Perry County, Alabama. John and Elizabeth moved to the Brushy Creek, Perry County, Alabama area by 1820 when their 2nd child Rosanah S. Boyd was born. Many of his descendants moved west to Texas.
John and Elizabeth had at least ten known children. After Elizabeth died in 1856, John married 2nd Chellie Marinda Nixon in 1857.
Descendant surnames include: ALLEN, BAKER, BELL, BLACKBURN, BLACKWELL, BROWN, CANNON, CHRISTENBERRY, COLLINS, COOKSEY, CRAIG, CRAWFORD, CURB, DENSON, DOMINICK, DORMAN, ELLIS, FINDLAY, FOWLER, HALL, HARPER, HOPKINS, HUNT, HURLEY, JOHNSON, MACKEY, MOORE, MORELAND, MORLAND, NIXON, OLDHAM, OLIVER, PAYNE, POPE, RAY, SANFORD, SINGLY, SLAUGHTER, SPENCER, THIGPEN, THOMAS, TRAMIL, TRAMMEL, TUBB, TURNER, WESTBROOK, WILBURN, WILLIAMS, WOODALL, WOODS
Browse the FREE SAMPLE pages of Some Descendants of JOHN T. 'SQUIRE' BOYD (1795 SC-1872 AL) (which includes a brief descendant outline in the first pages) on Amazon to see if this is your family line.
READ THIS BOOK FOR FREE ON YOUR COMPUTER!
THEN SIGN-UP FOR THE 30-DAY FREE TRIAL BELOW: