Bibb County, Alabama was settled around the time that Alabama became a state. The biographies in Biographies of Notable and Not-so-Notable Alabama Pioneers Vol. III are some pioneers who settled in Bibb County, Alabama before 1850. They lived on the west side of the Cahaba River.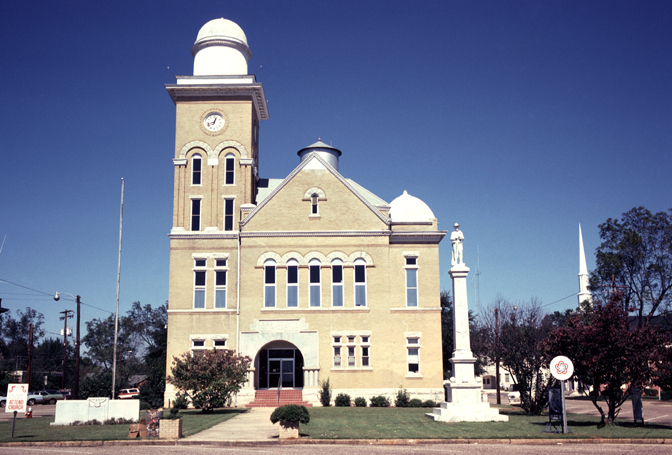 Bibb County Courthouse & Jail, Courthouse Square, Centreville, Bibb County, AL
Many of these pioneers arrived in Bibb County, Alabama as groups and often married close neighbors. Some descendants in this Volume moved further west or elsewhere in the state or Alabama. While several children moved to Milam, Texas and Falls County, Texas. Burial sites and census records are included in this book whenever possible.
The heads of families included in this volume include: WILLIAM and JANE (MAJOR) NICHOLS; AMELIA STACY; NIRUM PETERSON; JOSHUA YEATES/YATES;THOMAS and KARON HAPPUE "CARRIE" (TUBB) MEGGS/MEIGS; JAMES MASON; ZACHARY "ZACH" YOUNG – married JENIFER MOORE PERKINS and MARY ANN PERKINS; DAVID and POLLY (SHUTTLESWORTH) THOMPSON; WILLIAM MCTYER/MCTIER; WILLIAM and JANE K. (MOORE) PERKINS.
Biographies of Notable and Not-so-Notable Alabama Pioneers Vol. III