After the Revolutionary War, free bounty land was offered by the federal government to citizens and soldiers for their service.  Men were not the only patriots.  ALABAMA REVOLUTIONARY WAR SOLDIERS VOLUME II, 

the second book of this series, includes a story of Mary Hooks Slocumb's patriotism.
This book is the 2nd Volume in a series of books which includes genealogical and biographical information on some Revolutionary Soldiers who were in early Alabama and/or collected military pensions for their service.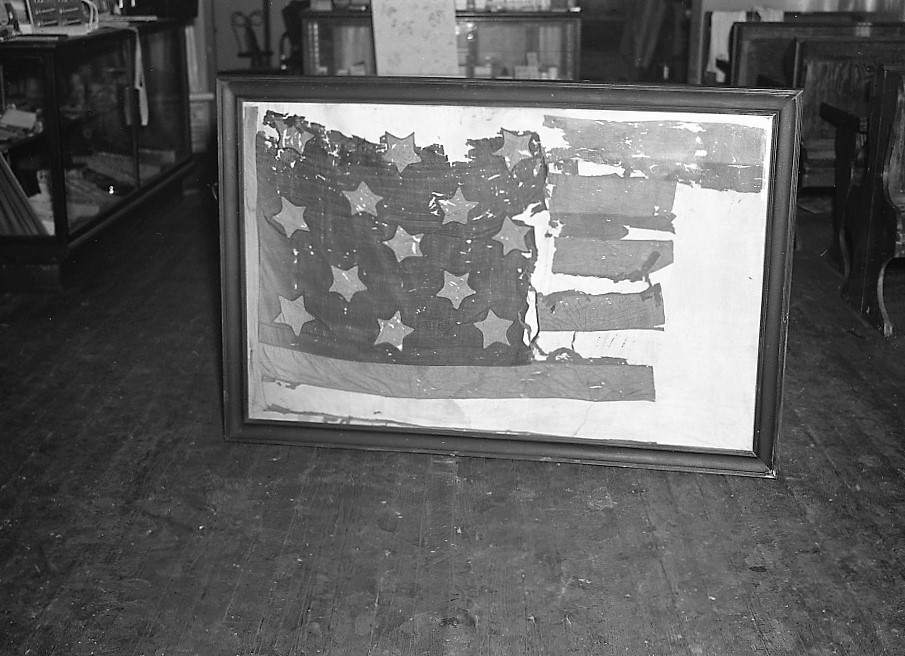 One of two Revolutionary War flags in existence. This one was carried at the Battle of Stoney Point, General Posey commanding (Library of Congress) 
Some of their descendants still remain on the bounty land they received. The soldiers in this volume include: JACOB HOLLAND, CHARLES M. HOLLAND, THOMAS HOLLAND, COL. JOSEPH HUGHES, CHARLES HOOKS, DIXON HALL, BOLLING HALL, WALTER JACKSON, WILLIAM HEARNE, THOMAS HAMILTON, GEN. JOHN ARCHER ELMORE, REVEREND ROBERT CUNNINGHAM, JAMES COLLIER, THOMAS BRADFORD, REUBEN BLANKENSHIP, HENRY BLANKENSHIP, DANIEL BLANKENSHIP with a special story about the patriotism of CHARLES HOOKS sister…MARY HOOKS SLOCUMB
Download and read ALABAMA REVOLUTIONARY WAR SOLDIERS VOLUME II on your computer or smart phone with FREE APPS! 
Use the Search/Find feature on your electronic device will assist you in finding names or places in this E-book. Click below to see how.