Founded in 1871, Birmingham was a model city at this time – railroads, blast furnaces and steel mills marked its landscape. It was a bustling industrial giant; and, it was here in this thriving metropolis that President Harding delivered the first speech given in the South by a sitting president which called for racial equality.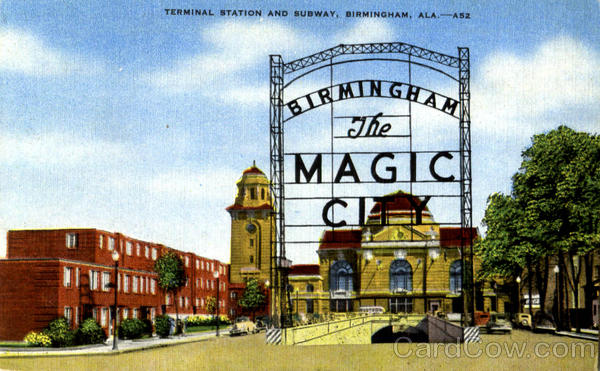 Lasted two days
The city of Birmingham had a huge birthday party which lasted two days on its 50th anniversary in October 1921. President Harding arrived at the Birmingham Terminal Station at 8:45 A.M. aboard a special train from Washington. A grand parade began at 10:00 A.M., in the lead car President Harding greeted thousands of onlookers waving American flags and eventually traveled to the Tutwiler Hotel. The Tutwiler's balcony served as the reviewing stand for the President and his party as the parade traveled past – Civil War veterans, groups of industrial workers, National Guardsmen – the whole city turned out for the Presidential visit.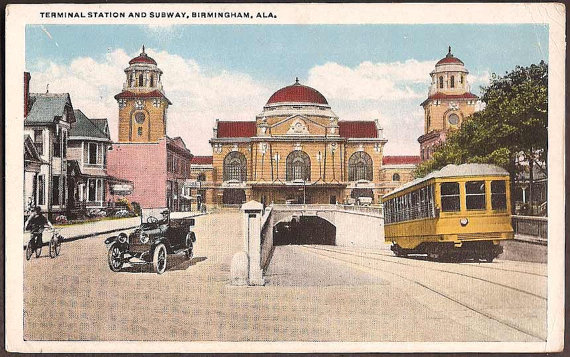 Birmingham Terminal Station
Let the black man vote when he is fit to vote
Harding's official address to the city was delivered in Woodrow Wilson Park at 11:30 A.M. to a large crowd. His plan was to use this speech to make his first public show of support for the Republican National Committee's plans to reorganize the party in the South.
In his speech, President Harding spoke of the great migrations of black laborers to the North during World War I, the meritorious service given by black soldiers during the war, and then spoke of political equality as a guarantee of the U.S. Constitution: "Let the black man vote when he is fit to vote; prohibit the white man voting when he is unfit to vote." While white listeners fell largely silent, African Americans cheered from their segregated section of the park. Calling for "an end of prejudice" Harding went further than any president since Abraham Lincoln.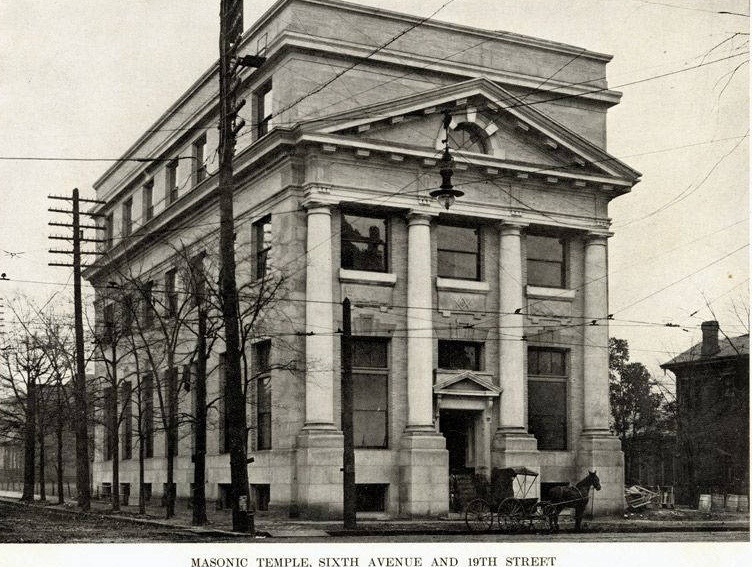 Above – Masonic Temple, Sixth Avenue and 19th Street
Participated in laying cornerstone at Masonic Temple
During the visit, President Harding also participated in the cornerstone laying ceremony of the Masonic Temple and was given an honorary degree by Birmingham-Southern College in ceremonies conducted at the First Methodist Church.
A great civic parade in which 67 beautiful women selected by the different counties of Alabama, and 1,000 members of the American Legion selected from every post in the state participated. Each Queen was provided a decorated car for their use in the floral parade.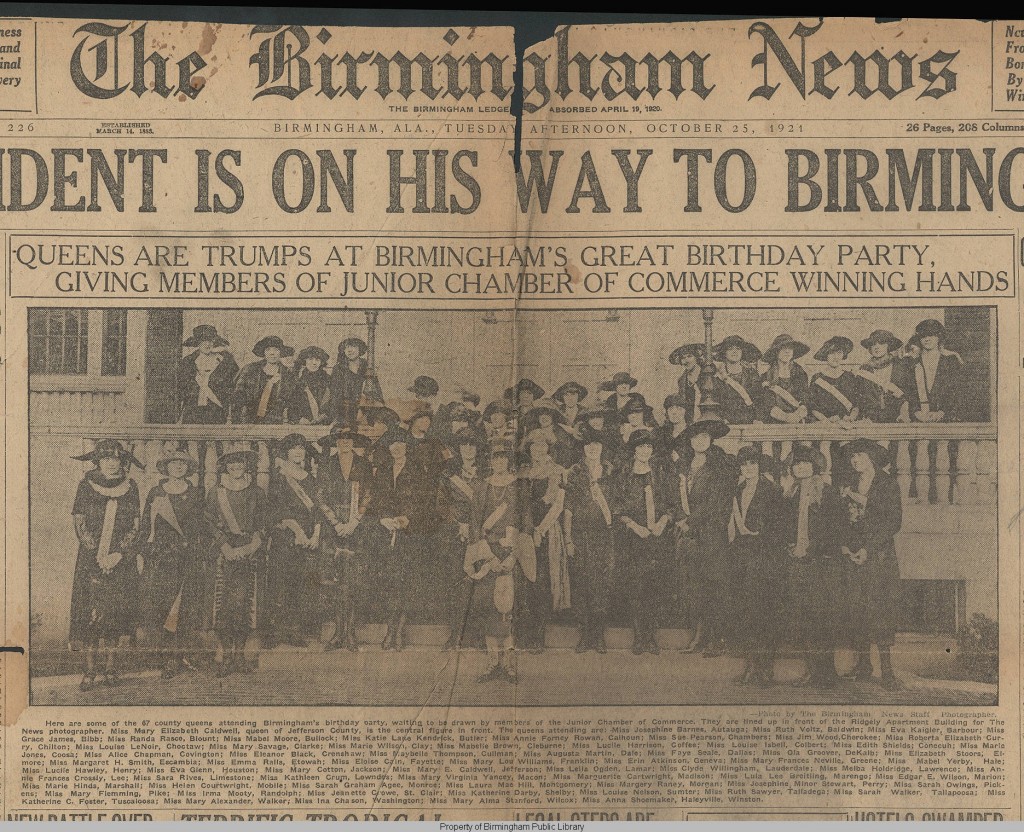 67 Ladies who were Queens for their counties
Commemorative coins and stamps are rare
Commemorative coins were also made that same year. The coins were half-dollars issued in 1921 to honor the 100th Anniversary of Alabama Statehood, which occurred a few years earlier in 1919. The coins were first placed on sale in Birmingham on Oct. 26,1921 in connection with Birmingham's celebration and the first coin was presented to President Harding. War time conditions had delayed the production of the coins until 1921.
A special postal cancellation stamp was made for that year in honor of Birmingham's anniversary. It was the first postal commemoration of Birmingham and the surviving copies are very rare.
The official start opened at noon on the 25th of October with the blare of bands and the blowing of whistles at every industrial plant in the district. The ceremonies started at Woodrow Wilson (Capitol) Park with a speech by Chairman Sydney J. Bowie.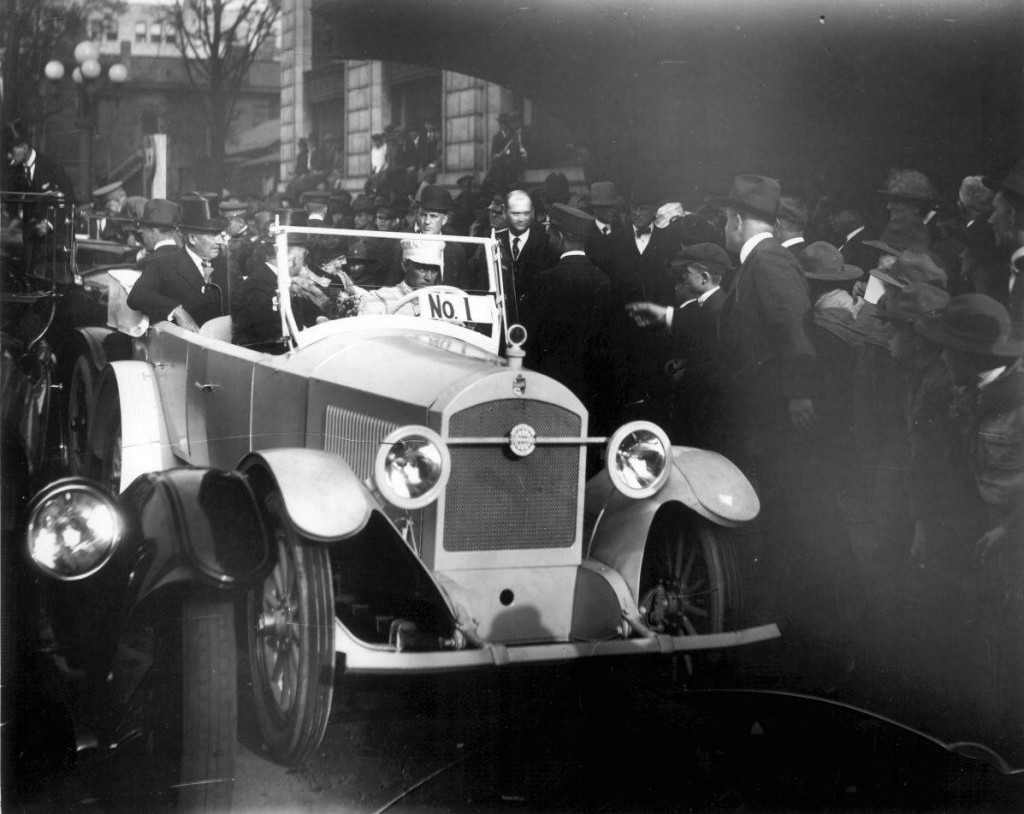 President Warren G. Harding arriving in Remocar
Activities planned
Activities included a fashion show by the Fashion-Industrial Exposition that took place in a long tent that extended the full length of West Twentieth Street. The Birmingham municipal band provided music. Henderson and his flying circus performed in the air over the middle of the city. His act ended with death defying stunts from an airplane while gripping the rope with his teeth.
Other activities included:
A children's costume and baby parades were held on Friday with prizes awarded.
Children held several competitive games with prizes for the winners.
Donald Robertson, As Prophet, And John Henley, As "Duke of Birmingham," performed in an Allegorical Play on Monday at Avondale Park presenting the life and changes of Birmingham.
Baseball at Rickwood Field took place with a double-header. The first game was according to rules in 1871 and second according to rules in 1921.
Free bank concerts and orchestras continued throughout the event. Some orchestras came all the way from West Virginia to perform for the President.
Queen of the event contest
Art lectures at the art museum
Masquerade carnival one night
Pageant at Avondale Park
Queen's Ball at the Tutwiler hotel on Tuesday night at 10:00 P.M.
President and Mrs. Harding arrived on Wednesday October 26 at the Terminal Station
President and Mrs. Harding and party headed the grand civic parade (they later reviewed the parade from the balcony of Tutwiler Hotel on 5th Avenue and 20th St. North
President Harding delivered an address at Woodrow Wilson park (Capitol Park)
President Harding attended at luncheon given by the Semi-Centennial committee at Tutwiler
Opening of Alabama division of American Cotton Association at Tutwiler
President Harding attended the Birmingham-Southern College inauguration of Dr. Guy Snavely and the President received degree of LL. D. Ceremonies were held in First Methodist at Sixth Avenue and Nineteenth Street, North.
President Harding moved across the street and took part in laying of cornerstone of new Masonic Temple.
President Harding attended the fashion-auto-industrial exposition
Reception in honor of Warren G. Harding at the Birmingham Country Club
President Harding witnessed mine demonstration at US bureau of mines station at West End. Then he took an auto ride through the city
Semi-Centennial pageant, President Harding attended
Fashion show at Capitol Park
Street dancing at Capitol Park
Huge Grandstand and many participants
Bands who participated in the event included:
Birmingham Municipal Band
Avondale Mills Band, Birmingham
Avondale Mills Band, Mignon
Alabama Boys' Industrial Band
American Steel and Wire Band
Masonic Home Band
The grandstand was 660 feet long and had a capacity of 6,000 persons in the unreserved sections. In the reserved sections there were 604 boxes which accommodated 12 persons each. The stand was erected by McDougall Brothers. More that 150,000 feet of lumber was used in the stand and the stage. The stage was 60×120 feet and was the largest in the South at the time. There were two 40 foot high pylons at each side.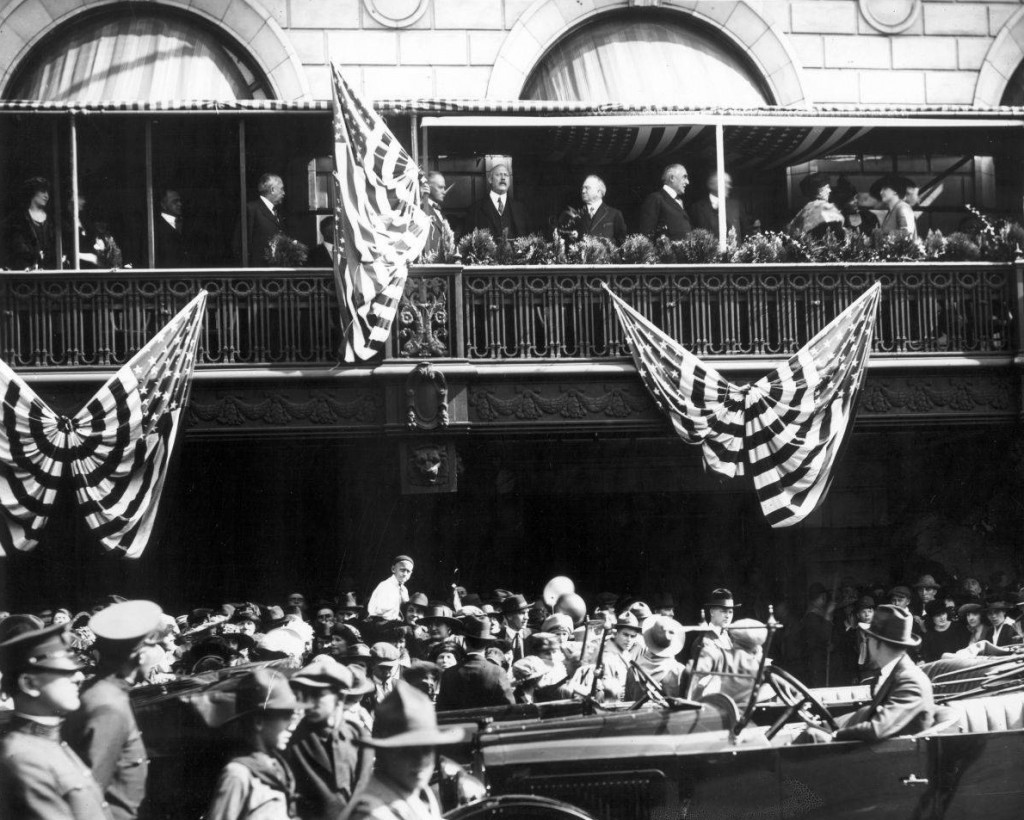 President Warren G. Harding standing on Tutwiler Hotel Balcony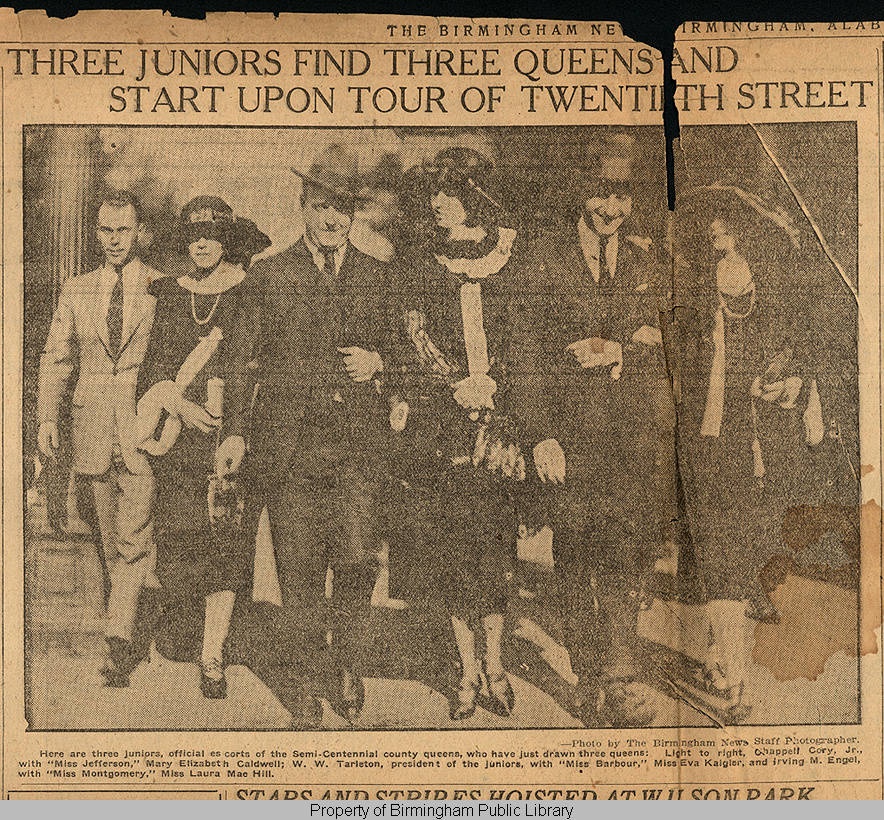 Left to right above, Chappell Covy, Jr. with Miss Jefferson, Mary Elizabeth Caldwell; W. W. Tarleton, Jr. with Miss Barbour, Eva Kalgler; and Irving M. Enget, Jr with Miss Montgomery, Miss Laura Mae Hill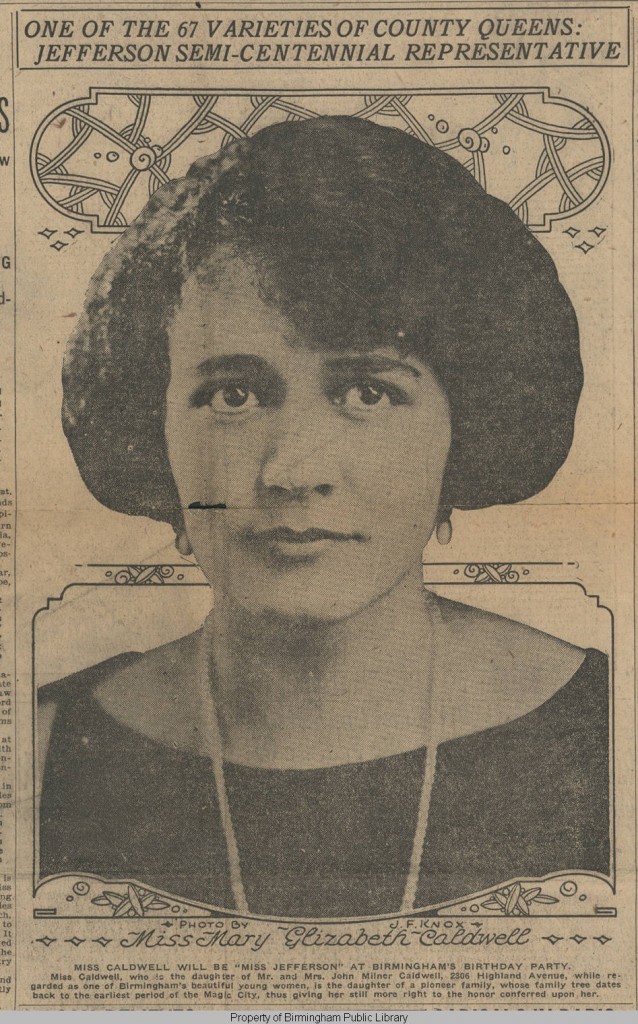 Miss Jefferson County, Mary Elizabeth Caldwell
SOURCES
"Crowds Pouring in as Birthday Party Reaches its Stride," Birmingham News, October 25, 1921
"Harding Says Negro Must Have Equality in Political Life; Does Not Mean Same Social Plane, He Tells South in Birmingham Speech. Warns Against 'Demagogy' Tells Audience He Will Speak Frankly, 'Whether You Like it or Not.' Praised By Underwood Alabama City Gives Rousing Welcome to Chief Executive, Who Receives College Degree.," New York Times, October 27, 1921
Freemasons contributed to America and the state of Alabama through their patriotic service and philanthropic work since 1811, but little is known about their backgrounds. Utilizing the bonds of their fraternity, but without fanfare, the freemasons built schools, orphanages, nursing homes, provided for the sick and elderly, fought wars, and were an integral part in building the state of Alabama and our country. They were, simply put, 'the epitome of good patriots and citizens.