Mayors
Diligent search has failed to disclose a satisfactory list of the names of those who have served as Mayor of Greensboro, but we give all that could be found, as follows: John Clement, Charles Whelan, James J. Garrett, James M. Hobson, Thomas R. Roulhac, Charles E. Waller, L. J. Lawson, Amasa M. Dorman, W. W. Powers, E. B. Randolph, Robert F. Otts, Wm. E. W. Yerby, N. L. Castleman, John G. Apsey, Jr.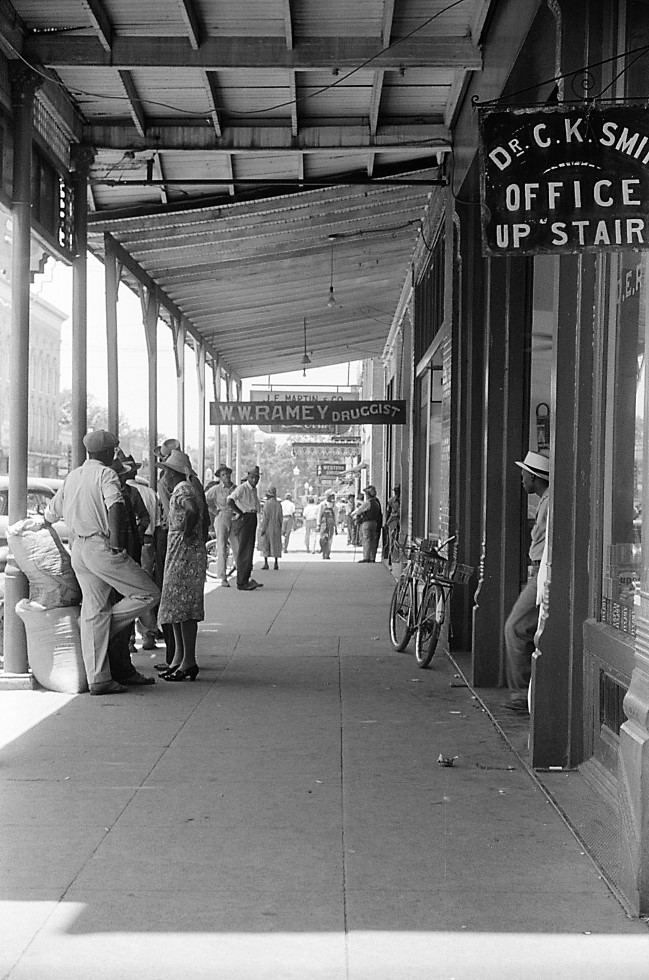 Street scene in Greensboro, Alabama 1941 by Jack Delano (Library of Congress)
Marshals
The office of marshal was not created until 1859, and since that time the following have served in that capacity: Jno. B. Williams, George W. Briggs, Wm. A. Bell, Wm. Roberts, J. D. Hamilton, F. H. Johnson, W. P. Johnson, A. B. Mackey, W. E. Torbett, J. W. Otts, John Erwin.
Night Watchmen
It seems that it has been only of recent years that Greensboro realized the importance of having a night watchman, for so far as the records of the old days show, no such office existed—that is to say as far back as forty years ago. Those who have held this office are: Ed. Gayle, M. C. Knight, C. C. Wilkerson, Reuben Johnson, D. A. Seale, Rufus DuBois, Walter Seale, Wm. Stokes.
On the night of October 16, 1874, two Greensboro citizens—John H. Atkins and J. T. Walker—became engaged in a personal difficulty on the sidewalk between the deGraffenried & Evins law Office and Dr. Carson's front gate, and opened fire upon each other. The night watchman at that time was M. C. Knight, who was standing across the street. He rushed in between the two men, and a ball from one of the weapons struck him and killed him almost instantly. It was never definitely known from which of the two pistols the fatal shot was fired. Both the men were tried and acquitted. Knight was a comparative stranger in Greensboro, coming, he stated upon his arrival here, from McMinnville, Tenn. Very little was ever learned about who he was, or why he came to this place.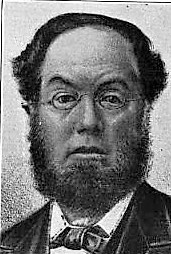 FRANCIS MARION PETERSON, M. D., a distinguished physician and honored citizen of Greensboro from 1846 until his death in 1898.
Physicians
Greensboro has always been blessed with the best medical skill in the person of her physicians. Among those who formerly practiced their profession here may be mentioned Francis Marion Peterson, Wm. Jones, John H. Parrish, T. C. Osborne, Charles Whelan, Beverly Griggs, James J. Peterson, Elisha Young, Joseph M. Pickett, Thomas R. Ward, David J. Castleman.
SOURCE
Transcribed Excerpt from HISTORY OF GREENSBORO, ALABAMA From Its Earliest Settlement by William Edward Wadsworth Yerby, Montgomery, Alabama
Faith and Courage: 2nd edition -A Novel of Colonial America 

Inspired by real people and actual events, the family saga of colonial America continues with Ambrose Dixon's family and their life during

 Pre-Revolutionary War days of America, intertwined with a love story.