Brunswick stew is a traditional dish that is popular in the South. The origin of the dish is uncertain, but it is believed to have been invented in the early 19th century. The states of Virginia and Georgia both make claims for originating the stew, in addition to claims of a German origin.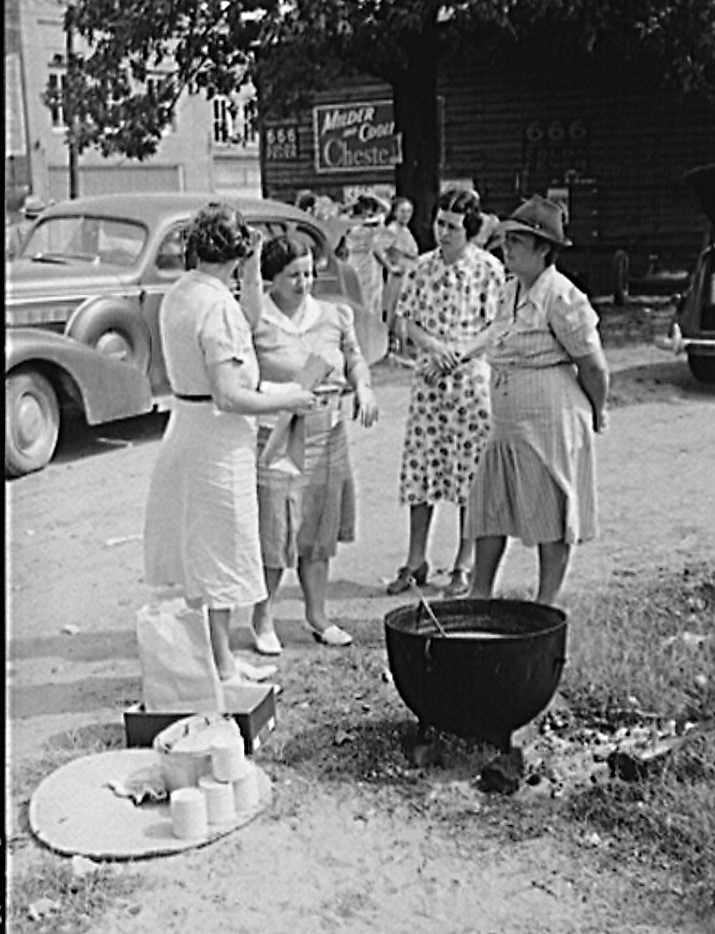 Parent Teachers Association of Prospect Hill, Caswell County, serving and selling Brunswick stew dinner in Mebane, North Carolina, on opening day of tobacco market to raise money for a new gymnasium for the Prospect Hill consolidated school in Caswell County, Oct. 1940 (Marion Post Wolcott, Library of Congress)
Here is a recipe from 1940s Alabama cookbook.
4th Dressed Hen
4 cups diced Irish Potatoes
2 cups diced carrots
1 cup finely minced onion
1 cup chopped green pepper
1 cup chopped celery
1 can tiny peas
1 can green lima beans
2 cups tomatoes
1 cup corn
1 bottle catsup
1/2 cup Worcestershire sauce
Tabasco Sauce to taste
Salt and pepper to taste
Boil hen until meat falls off the bones. Cut meat into medium pieces. Use the broth that hen was cooked in to cook the raw vegetables. When vegetables are tender, add the hen and other ingredients except corn and cook slowly for 2 or 3 hours, stirring occasionally to keep from sticking. Add the corn at the very last as it will make the stew thick and burn easily. Make stew the consistency of a real thick, thick soup and serve over sliced bread.
Mushrooms and bay leaves may be added if you like.
When fresh vegetables are in season, they make the stew better.