Reflections from the Blue Rocking Chair
by
Joyce Ray Wheeler
PROLOGUE:
Just when my grandchildren were beginning to outgrow their early childhood, I was browsing in an art shop one day. My attention was caught by a large print created by California artist, Ivan Anderson. This picture depicted a small boy and girl walking side by side along a pathway. The artist had chosen to show these little ones walking away on this path with no destination in sight. The viewer sees only their backs — no faces.
I purchased the print and it has become a treasure. The picture was my inspiration for the following thoughts on journeys and departures. It was written while sitting in the blue rocking chair on the front porch of AFTERMATH, our log house retreat, on April 22, 1993.
JOURNEY (jur'ni) Noun: Passing from one place to another: sometimes applied figuratively to the passage through life; a journey is a going from a starting point to a destination.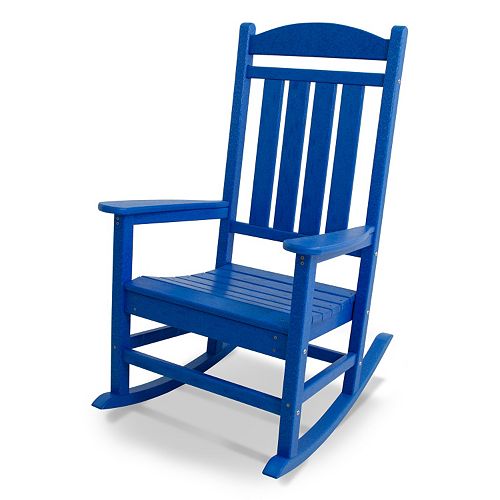 THE DEPARTURE
JOURNEYS – most times – begin long before the journeyer goes anywhere. (At least the best ones do.)
JOURNEYS – first times – are engineered by eager parents. Kneeling and stretching forth hands to encourage, parents implore "Come to daddy. Come to mommy." – and trustingly with bright eyes on the smiling faces, the tiny journeyer takes faltering steps and grasps the welcoming fingers.
JOURNEYS – early times – begin free of burdens. (A few bumped heads and scraped knees bring tears which are quickly loved away.
JOURNEYS – sometimes – begin with an angry spirit. (I'll just run away.) – but these short journeys end – most times – just half-way round the block (and returning home for a hug feels so good.)
JOURNEYS – most times – are gloriously happy for the journeyer, but are sometimes sad for those left behind. "I'm happy for you," they say, " but please hurry safely home."
JOURNEYS – sometimes – begin with going in the opposite direction from that where one is ultimately destined to go. (The wise journeyer is soon aware of this fact.)
JOURNEYS – all times – gradually change directions as the journeyer marches determinedly AWAY from the security of extended hands. He begins to pick himself up when he falls down – (and returning home times grow shorter and farther and farther apart.)
JOURNEYS – sometimes – most times – make those who journey and those who stay behind draw closer to each other in heart and spirit, because each – at last – in spite of rough spots along the road – are nourished by the knowledge of just how good their time together has been.
EPILOGUE
JOURNEYS – after times – I know about, for I, too, was left behind to watch two "gradual departures" – and it continues to be a wonderfully fulfilling view.
As family historian, do you have friends and family ask you how to get started in family research? This is a hard question to answer in a few minutes. Refer them to the book below to help them get started in this fun hobby. Purchase several – Books make great Christmas gifts!