PERSONAL REMINISCENCES OF FATHER RYAN1
(Taken from an undated collection of papers and essays in the collections of Virginia Clay Clopton Chapter U.D.C., Huntsville, Alabama. Mrs. Donegan at the time was historian of the Chapter.i)
It was my good fortune to know Father Ryan personally, as he was a frequent visitor in the early seventies to the old Donegan home, and we always enjoyed those visits of our Southern Bard, our poet Laureate of the Southern Confederacy.
His beautiful book of sad, sweet memories of our "Lost Cause" will ever be a sacred volume to me, because it breathes of loyalty, sings of patriotism and dreams of love and pathos of the Old South. He would withdraw himself from the world and live in the realm of thought, and the "Story Runneth Thus" which is full of beauty and pathos, I have heard is the Story of his own life. There was a shade of melancholy on his face and his writings are tinged with sadness. Once I heard him preach a sermon and his subject was "The Sea of Galilee." His description of the face of our Saviour while he lay asleep in the storm-tossed ship, was like a beautiful poem, and you could almost see the light of divine love pictured in the countenance of his Holy and peaceful face.
Appearance not prepossessing
Father Ryan's personal appearance was not prepossessing and he did not look very much like a poet. Still he had the soul of a poet and the heart of the Priest and with this tender combination the result was worthy of the pen of one who 1 would have given his life's blood for the success of the "Cause" he so dearly loved and the good of his church both of which he loved with a devotion worthy of admiration. His rare conversational powers, his charming manner, and earnest expression were charms to attract and hold the attention of those within reach of his voice, both as a lecturer and in private conversation. He would tell us often of incidents in his life freighted at times with pathos, then again sparkling with Irish wit and he would sometimes spice his lectures with a good joke. He rather prided himself on wearing an old long black waterproof coat, that came down to his heels, fastened at the waist with a belt. Especially would he don this garb when he gave his lectures in the Northern States and would enjoy asking them if they took him for a Ku Klux.
Bronze statue of Father Joseph Abram Ryan, priest, poet and patriot of the Confederacy. ca. 1930 (Alabama Department of Archives and History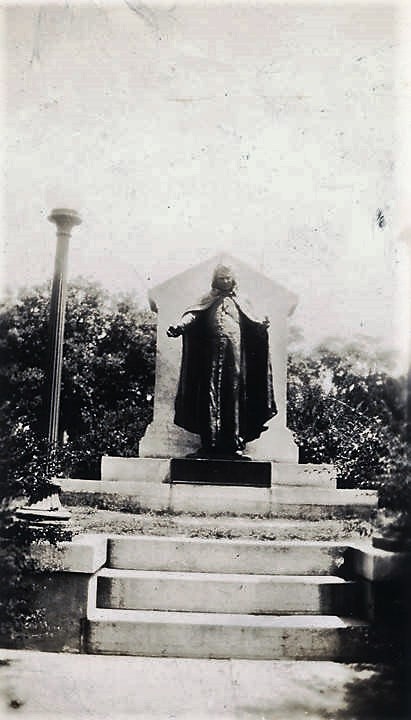 While visiting his brother's family in Virginia, he arose one morning early and meeting his little niece in the hall he took her in his arms and walked into the dining room. Over the mantel hung a large picture of the Crucifixion and in a very serious manner, he asked her if she knew who those wicked men were, that were crucifying Our Saviour? Instantly she replied, "0 yes I know/' and you can imagine his chagrin when she replied—"The Yankees." He told us about his visit to Pope Pius the IX and the sympathy expressed by him for the South, endeared him more than ever to his heart. He spoke of the Pope's simple manner of living at the Vatican, his fatherly reception and the benediction he bestowed upon him. He told us also of a lonely Southern girl whom he rescued from a most unfortunate marriage. She was his godchild and when she came to him and told him of her betrothal, her face beaming with joy he said to her, "I must withhold my blessing dear child until I find out for myself if this young man is worthy of your love." Full of trust and devotion she allowed him to go to New Orleans and awaited his return with confidence and hope.
Alas! What did the good man find? He found a villain, with a wife and child but he saved his godchild from a wrecked life.
The memory of Father Ryan is embalmed with the sweet flowers of the South and in the years to come will live in the hearts of every true Southerner as the sad-faced Poet-Priest and the Sweet Singer of the Southern Confederacy.
Ryan Park, so called in honor of Father Ryan, the poet-priest of the Confederacy. The Inge-Bondurant Sanatarium can be seen to left. (Alabama Department of Archives and History)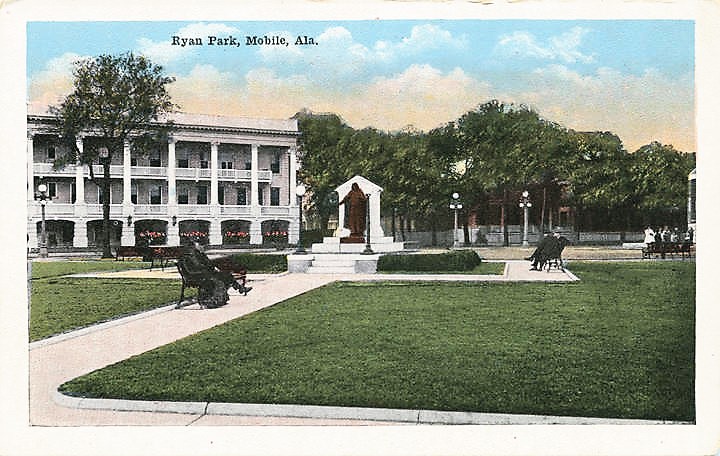 Noble heart
These reminiscences of Father reveal the nature of his character and his big, noble heart was ever ready to serve others and aid those who needed his kind words of cheer.
He was a man who had suffered and his suffering had taught him a quick and ready sympathy, developing a rare and beautiful unselfishness that grew with years.
Let us, the Daughters of the Confederacy, wreathe sweet immortelles and crown his works and deeds of mercy.
It is at Springhill Avenue Scott and St. Michael Streets, Mobile, Ala. He wrote The Conquered Banner.
1Rev. Abram Joseph Ryan was an American poet, an active proponent of the Confederate State of American and a Catholic Priest. He was called, the Poet-Priest of the South.
iTranscribed from The Alabama Historical Quarterly, Vol. 07, No. 03, Fall Issue 1945
ALABAMA FOOTPRINTS – Volume I – IV: Four Volumes in One (Volume 1-4)