BUTLER COUNTY CEMETERIES
WRITTEN IN STONE
by
Sherry S. Johnston
In researching the Sims line, I came across the Hilson name enumerated alongside the Sims family in the 1880 census, and it turned out that the person I was looking at was a mother-in-law to Bro. Sims; this lady is interred at Shacklesville Cemetery along with her husband, in one of those unmarked graves mentioned in a previous column. Many of the cemeteries visited over the last month show Sims among the stones: Rev. Americus Arastus (A.A.) Sims, born 1855 & died 1895 is at Shacklesville; as well as several Sims are at Mt. Pisgah.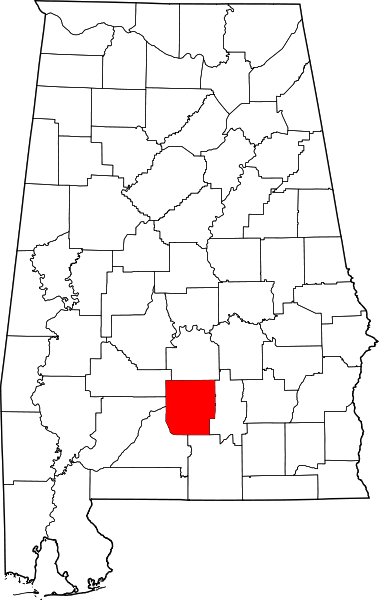 According to information included in Rev. J.W. Joyner's book: "A History of the Baptists in Butler County (1819-1957)" the Shackleville Baptist Church was organized on the 4th Sunday in January 1881.
Charter members of this church included B. F. Saucer, J.J. Fail, W. B. Hobbs, B.M. Reaves, J.W. Edward, Sallie Blackmon, D.L. Hawthorne, Elidie Harthorn, Edward Weaver, Mary Fail, R.G. Hobbs, Julie Reaves, and R.S. Parmer. The following were pastors serving the church: Seaborn Moore, L.B. Cohron, W.L. Hughes, J.L.P. Cook, J.B. Byrd, S.J. Williamson, J.R. Griffith, F. M. Fletcher, T.L. Lee, M.C. Griffin, D.W. Eiland, and a Brother Kelsoe. Shackleville Church was part of the Pine Barren Association.
Originally, the Baptist Associations in AL date back to 1816 when the Beckbe Association was formed; and it was changed to Bethlehem Association in 1827. The purpose of the association was to support local churches, help start new churches and do local ministries. They met annually and covered a large territory. Some of the missionary Baptist Churches in our area, including Butler County, were affiliated with Conecuh, Bethlehem, Pine Barren, Alabama or Zion Associations. Many of these names are found buried in those cemeteries visited in Butler County a few weeks ago.
Butler County Courthouse in Greenville, Alabama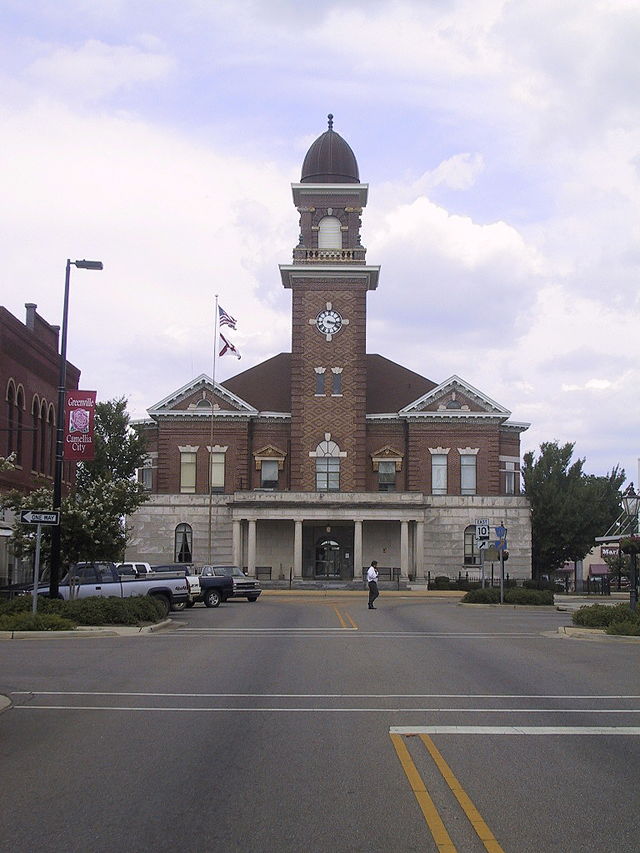 A side note-having just enjoyed the first vacation in many years, Written in Stone was absent for the last two weeks, and thanks to all of you who have called and said you missed it! I took a couple of trips-went to NC for one week; traveled to Orlando FL for the second week; and of course, I combined work and pleasure by visiting a cemetery near Orlando last week, and will be sharing more of that with my readers in a future column. As we go to print, several area churches are planning or they are in the midst of revivals or homecomings. Please consider attending these important functions, as the smaller area churches are beginning to see a sharp decline in attendance, and we owe it to our ancestors for keeping them an active part of the community in which we live.
WHERE DO I START? Hints and Tips for Beginning Genealogists with links to Free On-line resources As family historian, do you have friends and family ask you how to get started in family research? This is a hard question to answer in a few minutes. Refer them to the book below to help them get started in this fun hobby. It also makes a great gift to help someone get started!