ANDREW DEXTER, JR.
BIOGRAPHY and GENEALOGY
(1779 – 1837)
Montgomery and Mobile, Alabama
Andrew Dexter, Jr., founder of the city of Montgomery, was born in Brookfield, Massachusetts on March 28, 1779 He was the son of Andrew and Mary (Newton) Dexter, of Boston, who were married in Woodstock, Connecticut and the grandson of Samuel and Hannah (Sigourney) Dexter, of Massachusetts and Connecticut, and of Simon and Mary (Richardson) Newton; great-grandson of Samuel and Catharina (Meats) Dexter, the former a graduate of Harvard and an early minister of Dedham, and nephew of Samuel Dexter, secretary of war, 1800, and secretary of the treasury, 1801, under President John Adams.
Mr. Dexter was educated in the schools of Boston and graduated from Rhode Island College (later called Brown University), in 1798. "His salutatory address expressed the heady combination of reverence for the leaders of the Revolution, anxiety about the future, and soaring ambition that marked the Revolutionary generation."i
He studied law with his uncle, Samuel Dexter, (1761-1816), a prominent Massachusetts politician later appointed to John Adams' cabinet and served as his private secretary while he was a member of the cabinet. "Among his uncle's associates, young Dexter found professional and social contacts that shaped the course of his erratic career. One of them was Perez Morton, a famed Revolutionary orator whose postwar career was checked by sexual scandal, and who would become Dexter's father-in-law."ii
He was admitted to the bar in 1800 practiced law in Boston and in 1809 he was president of the Boston bank. "Finance rather than law would soon become his milieu. He joined forces with a group of 'middling interest' financiers–men outside the city's Federalist banking elite–who incorporated in 1804 a brokerage called the Exchange Office."iii
The business of the Exchange Office was currency arbitrage. At the time, banks issued their own paper notes and the Exchange Office helped to establish their relative values. In 1805, Andrew Dexter was named the Exchange Office's superintendent trustee. "The following summer, he became a director of the Berkshire Bank of Pittsfield, Massachusetts,"iv the firs of many rural banks in which Dexter assumed a controlling interest. Using the authority of the Exchange Office to launder the bills from under capitalized and remote banks, Dexter circulated millions of paper dollars backed by very little gold or silver.
He used the bills issued by his banks to buy land south of Boston State Street. "In January 1807, he announced in the Boston Gazette his intention to build on that site 'an elegant Exchange and Hotel in this metropolis," which he declared 'utterly deficient in those public conveniences, which are usually attached to every city of trade in the world."v
Workers broke ground in 1807 and Dexter spared no expense on the building's exterior. He furnished his household in similar style, including a pair of wedding portraits from Gilbert Stuart, the painter artist of the presidents.
In December 1807, an embargo of foreign trade brought commerce in Boston to a standstill. Dexter stayed afloat with more spurious bank notes, but "in late 1808 a cartel of merchants led by Nathan Appleton sounded the alarm in the Boston press. Duly warned, shopkeepers began to refuse the bills issued by Dexter's banks"vi and by year-end, Dexter's banks were on the brink of collapse. In March 1809, the Farmers Exchange Bank of Gloucester, Rhode Island–controlled entirely by Dexter– became the first chartered bank in the United States to fail. His other banks folded and he was left with obligations of over a million dollars in 1809. He and his wife removed to Nova Scotia but remained only a short while. During the War of 1812, he moved to his father's estate on the Hudson River in New York where he engaged in the ship timber business and under the state's lenient insolvency laws, he tried to start over.
In 1816, he inherited from his father's estate a considerable amount of Georgia land script, which he located on the Alabama River including the site in part of the city of Montgomery. He gave the name of New Philadelphia to the location.
Among other far-sighted acts was the reservation of the site of the present State Capitol building, for that particular use, in the belief that someday the seat of government would move to this section of the State. The main street, first known as Market Street, was changed to Dexter Avenue in his honor. He also gave five acres of land for a burial ground, now a part of Oakwood.
His wife died August 17, 1819, only twelve days after her arrival in New Philadelphia and was one of the first to rest there. The cause of her death was unrecorded, but it could have been yellow fever since she went through the towns of Blakeley and Mobile, two towns ravaged with the disease at the time. When Alabama entered the Union, the name New Philadelphia was changed to Montgomery after Revolutionary general Richard Montgomery.
Engraving of Dexter Avenue, Montgomery in 1837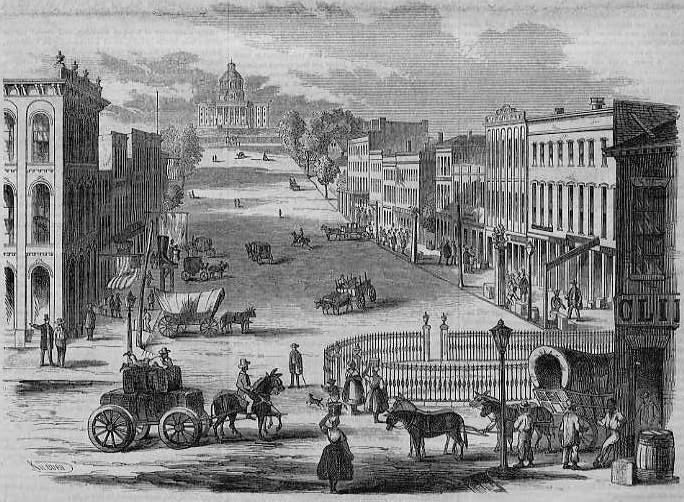 He eagerly set about the up-building of his town and the surrounding country. A freshet about 1830 destroyed a large mill he had erected on Catoma Creek, and he also had other business reverses. The three years, 1830 to 1833, he spent in Mexico and Texas. In 1833, he located in Mobile where he had somewhat reduced his former business prestige, and where he died, still in his prime, a victim to an epidemic of yellow fever. When the city father of Montgomery sought to raise a monument to their founder, his burial site could not be found in the potter's field where he was consigned.
Andrew Dexter was a Whig; and a Methodist.
He married, Charlotte Apthorp, daughter of Perez and Sarah (Apthorp) Morton, the former a soldier of the American Revolution and attorney-general of Massachusetts. Their children were:
Andrew Alfred Dexter married Harrietta Sarah Williams
Charlotte Sophia Dexter, d. unmarried
Samuel Dexter, d. at San Augustine, Tex., unmarried.
Andrew Dexter died of yellow fever in Mobile on November 2, 1837. Dexter Avenue which leads to the state capitol building is the street named for him. When the city father of Montgomery sought to raise a monument to their founder, his burial site could not be found in the potter's field where he was consigned.
SOURCES
History of Alabama and Dictionary of Alabama Biography, Volume III 1921
American National Biography online