[Col. Hawkins, a member of President George Washington's staff and aristocrat, held the longest period of peace with the Creek Indians prior to 1812. I wonder how he managed that? Here is his story]
Colonel Benjamin Hawkins was born in Warren County, N. C., August 15, 1754, died June 6, 1816. He was on George Washington's staff, a Delegate in the Continental Congress, a Senator from North Carolina, and appointed by President Washington as Agent for Indian Affairs from the Spring of 1796 until his death.
Painting (1805) of Benjamin Hawkins on his plantation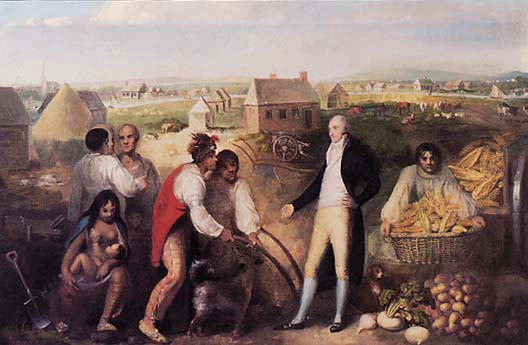 He learned the Muscogee language, was adopted by the tribe and married Lavinia Downs, who some believe was a Creek woman, with whom he had seven children.
Colonel Benjamin Hawkins
(from Alabama Department of Archives and History)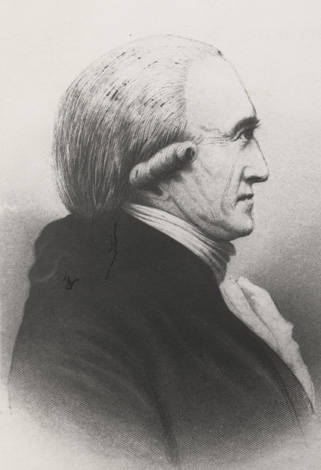 Hawkins had an interesting background
His parents farmed and operated a plantation in what was then Granville County, North Carolina, but is now Warren County.
He attended the College of New Jersey (later to become Princeton University), but he left college in his last year to join the Continental Army. Hawkins was commissioned a Colonel and served for several years on George Washington's staff as his main interpreter of French.
Taught agricultural practices to the Creek
When he was appointed Agent for Indian Affairs by President Washington, Hawkins began to teach European-American agricultural practices to the Creek, and started a farm at his and Lavinia's home on the Flint River.  They built a sawmill, gristmill and a trading post for the agency. Hawkins expanded his operation to include more than 1,000 head of cattle and a large number of hogs. For years, he met with chiefs on his porch and discussed matters there. His personal hard work and open-handed generosity won him such respect that reports say that he never lost an animal to Indian raiders.
Made his children legitimate in United States Society before he died
"He remained Superintendent until his death on June 6, 1816. At the end of his life, he formally married Lavinia Downs in a European-American ceremony, making their children legitimate in United States society. They already belonged to Downs' clan among the Creek, who had a matrilineal kinship system. The children gain status from their mother's clan and people, and their mother's eldest brother is usually more important in their lives than their biological father."
"They had a total of six daughters: Georgia, Muscogee, Cherokee, Carolina, Virginia, and Jeffersonia, and one son, Madison Hawkins."
Philemon Hawkins, may have been a son of Colonel Benjamin Hawkins. He was Sub-Agent to the Creeks, is shown in the Official Register of 1816 as Acting Agent. He was stationed at Fort Hawkins on Okmulgee River opposite the city of Macon.
Col. Benjamin Hawkins grave is located on a small knoll on the eastern bluff above the Flint River and is accessed from Benjamin Hawkins Road off Georgia Highway 128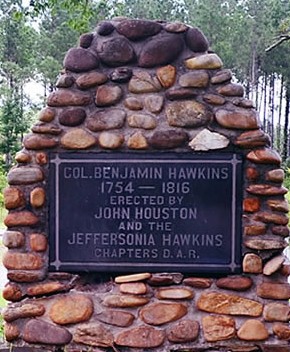 Other Indian Agents
James Seagrove, born in Ireland, first Indian Agent among the Creeks, served until the appointment of the Commissioners in 1796. After the report of this Commission, Colonel Hawkins, a member, became Agent of Indian Affairs, serving until 1816, when he died at the Agency, in Crawford County, Ga.
David Brodie Mitchell was born near Nuthill Perthshire. Scotland. October 22, 1766, and died at Milledgeville, Ga., April 22, 1837. He was a State Senator from Baldwin County. Governor of Georgia, 1809-13, and Indian Agent for two years, but was removed on account of irregularities in office.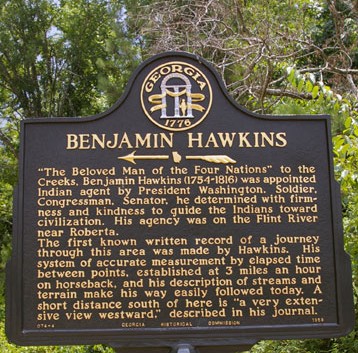 The last Agent, John Crowell, was born in Halifax County, North Carolina, 1785. He served as Territorial Delegate from the Alabama Territory, and as first Congressman from this State. He was appointed by James Monroe as Creek Indian Agent in 1821. He removed the agency from the Flint River site, Georgia, to Fort Mitchell, in Russell County, Alabama, and served until the removal of the Indians to the West in 1838. He died at his home at Fort Mitchell, June 25, 1846.
Woodward says of John Crowell,  "He sleeps upon Fort Mitchell hill, where rests a crowd that no man need be ashamed to be picked up with. in a coming day." The administration of this Agent was wrought with numerous contentions, in that, during its early years, controversies arose between Governor Troup of Georgia, the U. S. Government, the Lower Creeks, and Colonel Crowell, the Agent, caused by certain treaties and land sessions which were made contrary to the wishes of the majority of the Nation.
SOURCES
Woodward, Reminiscences of the Creek Indians (1859); U. S. Official Registers
Wikipedia
An essential book for research in Alabama around the turn of the century. This KINDLE book includes all the deaths from World War I, listed by the county where they last resided, over 60 pages of names.
Download this Kindle book to your Kindle in less than 30 seconds or to your PC, iPAD, iPhone, MAC or Android device with FREE Apps from Kindle.
(Visited 2,083 times, 1 visits today)